Emmy Rossum Is Turning Heads With A Rare Photo Of Her Daughter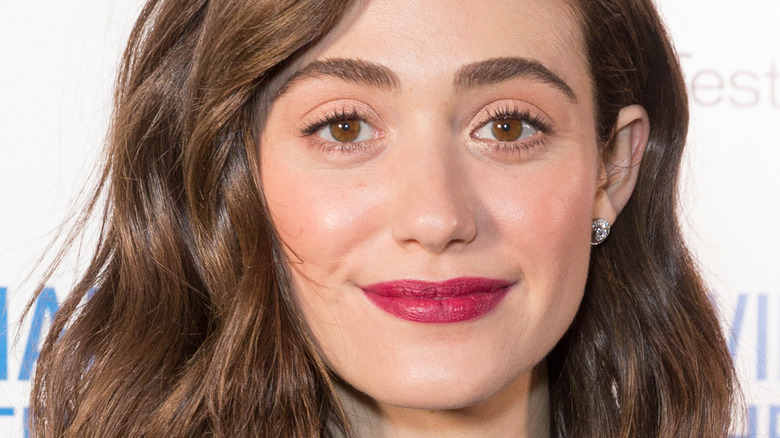 lev radin/Shutterstock
Emmy Rossum and husband, Sam Esmail, had a daughter in May 2021. The "Angelyne" star kept her pregnancy quiet and surprised fans with her post on Instagram when she wrote, "5.24.21.On a sunny Monday morning, at 8:13 AM, we welcomed our daughter into the world." But the new mama's Instagram post didn't tell the dramatic story of her baby's birth. Rossum nearly experienced her nightmare scenario when she had her kid.
On a May 19 visit to "Live With Kelly and Ryan," the "Shameless" star said she was "real close" to giving birth to her first baby in an Uber. "I was basically 10 minutes away from having a child. It had progressed very quickly," Rossum told Kelly and Ryan (via Page Six). "I ended up getting a lovely and very conscientious Uber driver, which is not what you want when you're in labor," Rossum told the hosts. The actor told her driver to go through the yellow lights because she was "fully in contractions" and "nine centimeters dilated."
That Uber ride sounds like a Hollywood script! But just a year later, Rossum is turning heads with a rare photo of her daughter.
Emmy Rossum celebrated her daughter's COVID vaccine
Emmy Rossum shared a photo of her daughter after the CDC approved vaccines for children from 6 months to 5 years old. Rossum posted a photo of her 1-year-old's arm with a bandaid post-vaccine and wrote on Instagram, "An exciting day we've waited a long time for! Our daughter got her first covid vaccine!" Mama Rossum took to her page to encourage COVID-19 vaccines last year as well. The "Shameless" actor posted in July 2021, "When I was pregnant, I got vaccinated," wrote Rossum with a photo kissing her baby. "Not only did we have a healthy, beautiful baby girl, but we also just learned our daughter now has antibodies. In short, stop being an irresponsible idiot and get the vaccine."
Like her "Shameless" character Fiona Gallagher, the 35-year-old isn't afraid to speak her mind. In 2016, the actor refused to sign on to the eighth season of the show unless she was paid more than her co-star William H. Macy. According to the Daily Beast, Rossum asked for more than Macy to make up for the years she was underpaid for her role as Fiona. "I don't particularly like the private aspects of my life, specifically monetarily and business-wise, to be public," Rossum told the Beast. "But I understand that when it did kind of leak out, it was part of a larger conversation, and that's important." Rossum walked away from "Shameless" in 2018.
And it looks like Rossum remains just as fierce post-motherhood!