The True Story Of How Reese Witherspoon Met Her Husband Jim Toth
Even though Reese Witherspoon and Jim Toth have been married for more than a decade, many still might not know much about their relationship. Before her current marriage, Witherspoon was linked to fellow high-profile celebrities like Ryan Phillippe and Jake Gyllenhaal, both of whom she met on film sets, while Toth is a change from her well-known exes. Despite going through some public ups and downs over the years (most notably that one), they've continued to support each other and their love seems stronger than ever.
While Toth is more private than Witherspoon's past partners, not acting with or without her, she's still taken to social media to flaunt the happy relationship. In the past few months alone, she has posted Instagram shoutouts to Toth for Valentine's Day, their anniversary, and Father's Day. She captioned the anniversary post, "11 years of adventures, love & laughter. I feel so lucky to share this wonderful life with you." Witherspoon and Toth also share a son together, Tennessee, and Toth has taken on step-father duties for Ava and Deacon, Witherspoon's kids with ex-husband Phillippe.
Since someone can simply turn on "Cruel Intentions" to see how Witherspoon met Phillippe, they might be wondering how she met Toth. Without further ado, here's the whole story.
Reese Witherspoon met Jim Toth at a friend's house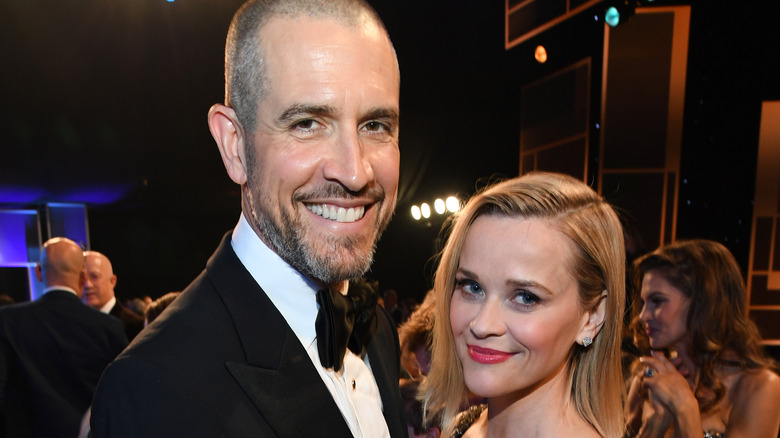 Kevin Mazur/Getty Images
He might not be in any movies, but Jim Toth still runs in Hollywood circles. Rather than being in front of the cameras, he was a talent agent for CAA and worked at Quibi until its demise. While he never took on Reese Witherspoon as a client, they met at a 2010 party hosted by a mutual friend, where he saved her from an uncomfortable interaction.
Witherspoon spilled about the awkward meeting to Elle in 2012, saying, "This really drunk guy was hitting on me, making such an idiot of himself, yelling at me. He was like, [slurring, scowling, pointing finger in her face] 'You don't know me.' And I was like, `Yeah, I know. I don't know you!'" Then, her now-husband came to the rescue. The actor continued, "Jim came over and said, 'Please excuse my friend. He's just broken up with someone.' Jim was a really good friend, pulling him out of that situation. That's just kind of who he is, a really good person."
While no one should ever have to deal with a belligerent drunk guy coming onto you in the first place, at least something good came out of it. Neither Witherspoon nor Toth have ever revealed the man's identity, so it's a mystery who brought them together and whether he and Toth are still friends. It could go either way, but what we do know is that Witherspoon and Toth are still happy at home and the workplace.
Jim Toth has encouraged Reese Witherspoon's behind-the-scenes work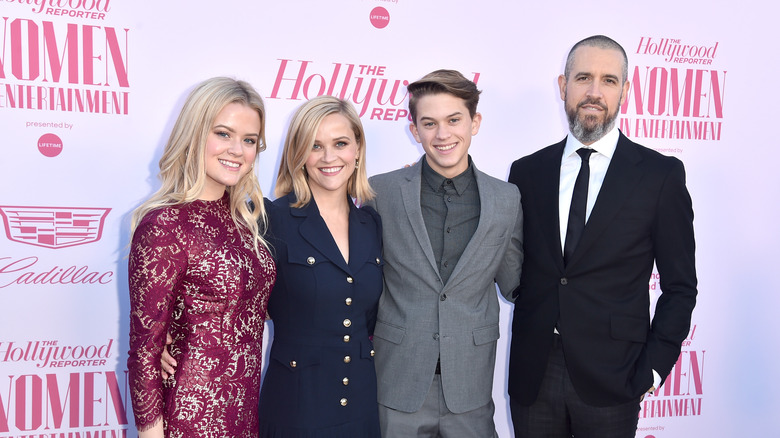 Alberto E. Rodriguez/Getty Images
Reese Witherspoon's acting career is still going strong as ever, with hit streaming titles like "Big Little Lies," "Little Fires Everywhere," and "The Morning Show." However, she's taken on a few new roles in recent years: producer, author, and book club curator. Through her production company, Hello Sunshine, all three of the aforementioned shows have racked up 18 Emmy nominations. As a big reader, many of Witherspoon's productions are book adaptations, with some being part of Reese's Book Club.
Jim Toth has supported Witherspoon's production ventures, with The Hollywood Reporter naming him as a co-owner of Hello Sunshine. In 2016, Witherspoon revealed to Harper's Bazaar that Toth encouraged her to start her niche of producing book adaptations: "He said, 'You should produce movies. You read more books than anybody I know. You should just buy some of them and turn them into films.'" Witherspoon is enough of a go-getter to accomplish things with or without her husband's advice, but given how successful she's been as of late, it certainly didn't hurt.
In 2018, Witherspoon shared with Marie Claire that Toth told her to advocate for herself as a female producer: "I get a lot of support from my husband, who cares deeply about equality and always tells me, 'Why wouldn't you call the person in charge of a company and have a personal relationship with them?' He's encouraged me to be outspoken." It sounds like Witherspoon has found her real-life Emmett!