Khloé Kardashian's Flirting Kryptonite Is Definitely Out Of The Ordinary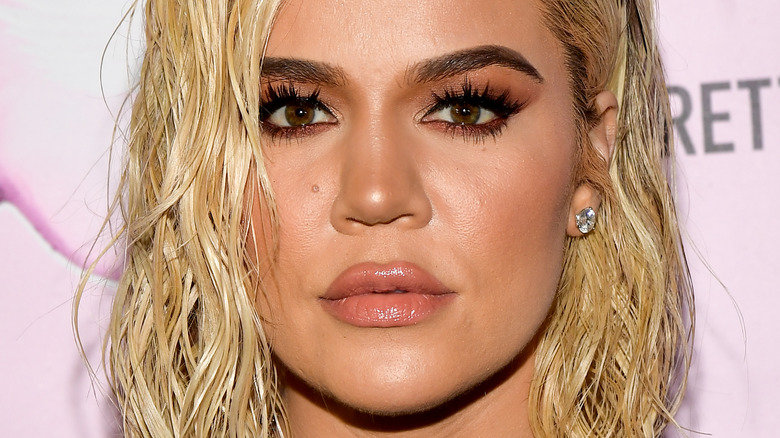 Matt Winkelmeyer/Getty Images
Plain and simple — Khloé Kardashian has been through a lot in her love life. Following a highly-publicized marriage and divorce to Los Angeles Lakers star Lamar Odom. Followed by several cheating scandals that plagued her relationship with NBA pro Tristan Thompson, we think that Kardashian deserves her happily ever after. As with all of her sisters, Kardashian's love life has been at the center of plenty of drama, making one headline after another.
In 2016, Kardashian shared a post on her blog (via People), detailing what she was looking for in a man at the time. The star noted that there are "a lot" of things that she finds "sexy" in a partner before listing a few. "Obviously, I have to be physically attracted to some degree, but I've learned that really comes and goes," she wrote. "If the guy doesn't have a good personality, then the physical connection will get old REALLY quickly!" Kardashian then touched on a few past relationships she was in where the man was attractive, but there was no "substance" to him. She continued, "I like a man with a sense of humor. I'm really silly and goofy, so I need someone who can appreciate that and serve it back to me." Another requirement? A partner who is "driven."
The reality star doesn't seem to have any unreasonable expectations about romance, but she's just revealed a weird thing about her love language. 
Khloé Kardashian talks organized pantry and flirtation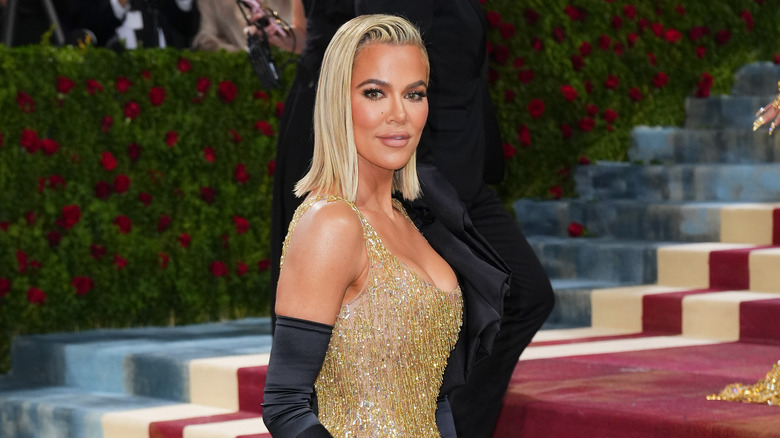 Gotham/Getty Images
Khloé Kardashian is giving fans a glimpse into the way her mind works when it comes to flirting. The reality star talked about the topic on an episode of "Hot Ones" with Sean Evans, where the pair ate wings while talking about some of the happenings in Kardashian's life — like her pantry of all things. Evans congratulated the reality star on building her "dream home" (which is right next door to Kris Jenner's) and gave her a nod for having the "most organized and impressive kitchen pantry I've ever seen in my entire life."
Kardashian made it no secret that she loved Evans' compliment. "I don't know if you're flirting with me, but that's the best flirting you could ever give me ... complimenting my pantry. Sure, whatever you want after this, you're going to get, okay?" she told the host. The reality star then elaborated further on her "vision" for her pantry and how she got inspiration from other places but still made it her own. "I love a good organized anything. It's a big turn-on for me ... as you can see," she told the host.
It seems like Kardashian is putting her flirtation to use. According to People, "The Kardashians" star has moved past her relationship with Tristan Thompson, and she's dating a totally different person — one who isn't in the spotlight. The outlet links the star to private equity investor, who she met through sis, Kim Kardashian.