The Real Reason Jennifer Hudson Doesn't Drink Alcohol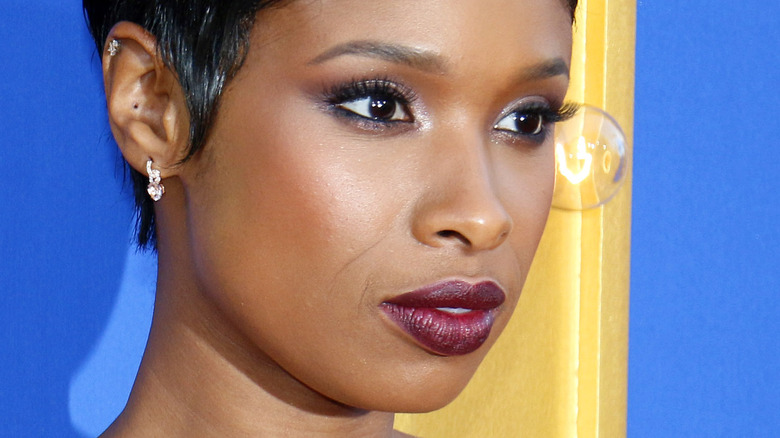 Tinseltown/Shutterstock
In Hollywood, alcohol isn't for everyone. More than a handful of actors have battled alcoholism, sobering up later in their lives after experiencing the effect alcohol had on their careers and personal lives. This can often happen to young actors, when stardom turns their lives around in the blink of an eye. For example, "Harry Potter" actor Daniel Radcliffe and "High School Musical" heartthrob Zac Efron have each spoken about their relationship with the substance and have since sobered up. 
"I was drinking a lot, way too much," Efron told The Hollywood Reporter. "...I mean, you're in your 20s, single, going through life in Hollywood, you know? Everything is thrown at you. I wouldn't take anything back; I needed to learn everything I did. But it was an interesting journey, to say the least." Radcliffe, meanwhile, admitted that he was a little "smug" about finally getting sober. "Seriously, in the last three years of drinking I blacked out nearly every time. Blacking out was my thing," he told ShortList.
However, there are some people who have never really even touched the stuff. Blake Lively, for example, told Allure, "I don't drink. I've never tried a drug." Another huge star who has never been one for a drink is Jennifer Hudson. 
Jennifer Hudson had to dig deep to portray addiction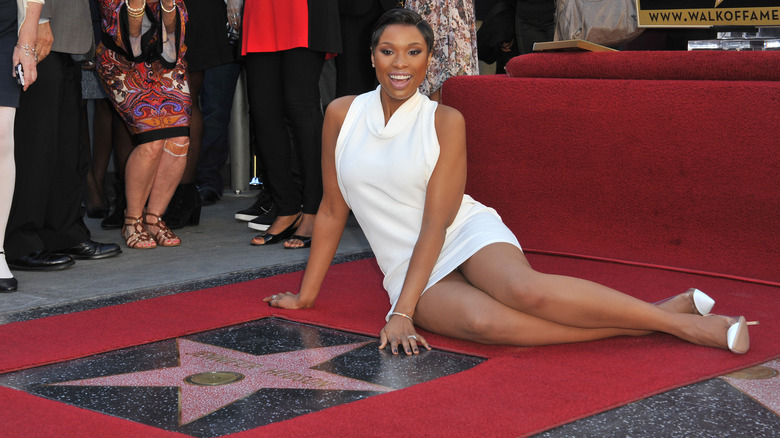 Featureflash Photo Agency/Shutterstock
Jennifer Hudson first gained fame on Season 3 of "American Idol," placing only seventh despite her lauded vocal power. She then went on to show off her talent in the film industry, winning an Oscar for her role in "Dreamgirls" and portraying the superstar Aretha Franklin in the biopic "Respect." In 2022, she became one of just a handful of people to achieve coveted EGOT status. And throughout all of that, she never even tasted alcohol. 
In a 2013 interview with comedian Chelsea Handler (via E! News), the "Cats" actress revealed that she's "never had a drink in her life," nor has she done drugs. She then went on to explain how as an actor, she turns to real-life experiences to portray a character truthfully. However, the role she played in the movie "Inevitable Defeat of Mister & Pete" was a heroin addict, so it was difficult at times to portray the character because she didn't have any life experiences to "pull from." She told Handler that she talked to recovering addicts and listened to their stories in to better understand her character.
"What do you mean you've never had a drink?" Handler asked Hudson. "What are you waiting for?" The singer simply replied that she's "never been interested" in drinking alcohol. Around the same time, she told Manhattan Magazine (via DM Fashion Book), "I stick with Diet Coke and Crystal Light and water." 
Jennifer Hudson had to dig into Aretha Franklin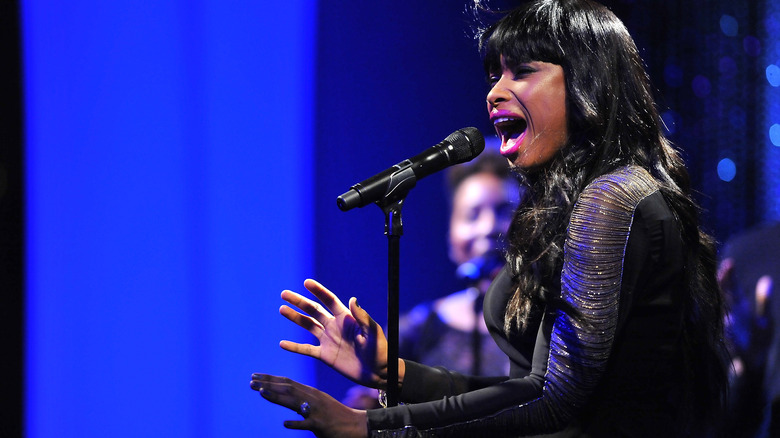 Larry French/Getty Images
Not only did Jennifer Hudson portray a heroin addict, but she also had to portray a person whose life had been affected by alcoholism: Aretha Franklin. The 2021 biopic "Respect" tells the life story of the soul singer, including a traumatic childhood, a pregnancy at a young age, and a battle with alcohol addiction. 
Hudson took her own experiences from the murders of her mother, brother, and nephew, as well as the abuse allegations against her ex-fiance David Otunga, in order to have an understanding of what Franklin was feeling throughout her life. Even if they weren't directly about alcohol, Hudson revealed that she was able to tap into these painful life experiences to portray the legendary superstar. "I needed to be in a certain place, and to have gone through what I've experienced in life, to be able to portray [Franklin]," Hudson told the Global Times at a screening in Los Angeles. "At least at this point that's how I feel." 
For her songwriting work in the film, Hudson picked up Grammy and Golden Globe nominations — clearly, some of that hard work paid off.