The Physical Feature Kirsten Dunst Refused To Change For A Movie Role
As a child star working alongside Tom Cruise and Brad Pitt in "Interview With the Vampire," Kirsten Dunst had to display a maturity beyond her 10 years. Her character was forever young, but out in the real world, fans watched Dunst grow up before their eyes. The cheer comedy "Bring It On" made her a teen star; she jumped on the superhero trend early by joining the "Spider-Man" franchise; and she embraced prestige TV by signing on for the folksy dark comedy "Fargo."
Dunst is willing to go the extra mile for her roles and it shows. On how she prepares to play a character, she told Interview in 2011, "It's very personal to me, but it's about, mostly, creating an inner life so that you feel like that person before you even step on screen." And, after she undergoes the physical transformations her projects regularly require, Dunst often easily loses herself in her roles. "I don't really look in the mirror and see Kirsten when I'm working," she told Net-a-Porter in 2019.
The changes to Dunst's appearance can be pronounced, but aren't permanent. For her role in the TV series "On Becoming a God in Central Florida," she rocked fake braces. "Every time on set, I'd take them off and there'd be a line of saliva coming off," she told Variety. "They're kind of nauseating to wear." But, while she endured the discomfort of the clip-on dental device, for another role, she refused to make a lasting change to her smile.
Kirsten Dunst wouldn't fix her teeth for Spider-Man
When Kirsten Dunst was cast as Mary Jane in "Spider-Man," she was expected to get her crooked front incisors fixed. According to the Independent, one of the movie's producers even drove her to a dentist, but she did not leave with a mouth full of metal. "I love my snaggle fangs," she told Elle UK (via HuffPost) in 2011. "They give me character and character is sexy." However, her teeth were digitally straightened on the "Spider-Man" poster, per the Independent.
Dunst credits director Sofia Coppola for convincing her that her smile was fine just the way it was. As a teen, the actor worked with Coppola on the 1999 coming-of-age drama "The Virgin Suicides," and they later collaborated on the flamboyant 2006 historical film "Marie Antoinette." Dunst recalled to Net-a-Porter, "[Coppola] said, 'Don't fix your teeth. People will tell you to fix them, but you're beautiful. You don't need to.'" Because Dunst looked up to the filmmaker so much, the remarks did wonders for her self-confidence. "If she thinks I'm pretty, I'm pretty," Dunst remembered thinking.
However, Coppola later asked Dunst to drop a few pounds for their 2017 collab "Beguiled," which was shot in Louisiana. Dunst blamed the lack of healthy restaurants in the area for her refusal to do so. "I'm eating fried chicken and McDonald's before work. So I'm like, 'We have no options! I'm sorry I can't lose weight for this role,'" she explained to Variety.
Kirsten Dunst changed her mind about changing her appearance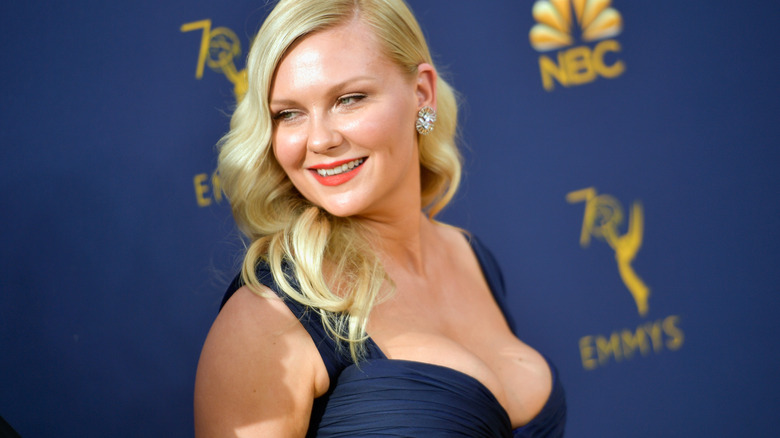 Matt Winkelmeyer/Getty Images
In 2001, Kirsten Dunst's rising star status made her a tabloid target, and she addressed one rampant rumor of the time in an interview with Nylon. She denied that she had gotten breast implants, saying, "If anything, I've got way too much going on here. Boobs can be so annoying. I envy those stick women with tiny, cute boobies. I'd give just about anything to be a flat girl in a wife-beater shirt."
But by 2012, Dunst felt differently. When Hello! asked her if she had a physical attribute that she would like to change, she replied, "If you'd asked me that about five years ago, I would have had a list of answers, but now I'm comfortable with what I have and I know that if I work out and stay healthy, I feel my best." She also revealed that she's never been a fan of dieting, and that she prefers to have fun when it comes to fitness, joining her friends in classes that incorporate dance and upbeat music.
Dunst became so confident about her appearance that she didn't bother hitting the gym before filming a nude scene for "Melancholia," a 2011 drama that captured the bleak beauty of the apocalypse. "I don't have any real body issues," she told Elle UK (via HuffPost). "I never really overeat, I shed weight in the summer, put it on in the winter and yes, I do have big boobs."