How Tall Is Ryan Seacrest?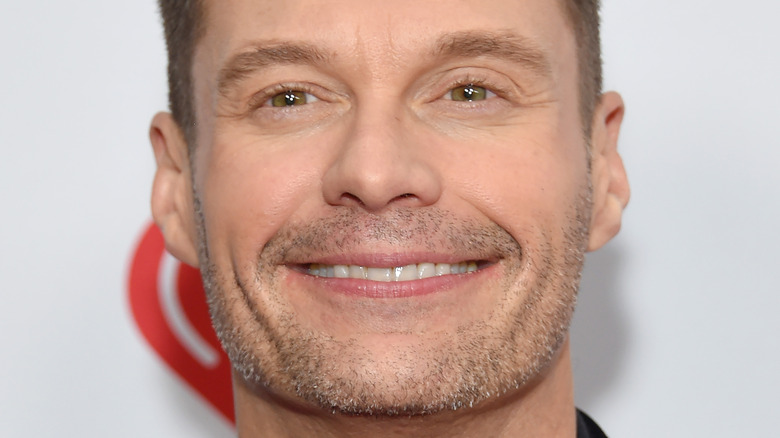 DFree/Shutterstock
Thanks to the fact that Ryan Seacrest is famous for his work as a successful television host on popular and long-running shows like "American Idol" and "Live! With Kelly And Ryan," a fair share of his fans are surely familiar with how he looks on a regular basis. That's also why they likely notice when he changes things up with his appearance, which happens to be just what he did in March on "On Air With Ryan Seacrest." Although he claimed he wasn't trying out an entirely new hairstyle at the time, he did reveal that he had gotten a little trim. Apparently, that was all it took to get his minor makeover noticed by those around him.
Indeed, even the star himself has acknowledged the noticeable transformation he's experienced over the years, opening up back in April 2016 about one thing that has changed and one that has stayed the same for the majority of his time working in the entertainment industry. He told E! News, "I think the chemical bleach in my hair has changed since the beginning. I think I'm the same height, but some of the hair has changed a little bit."
Seacrest may claim that his height hasn't changed, but that doesn't mean that he hasn't altered his answer when it comes to how tall he really is. In fact, there are at least three different answers when it comes to that particular height-related query about Seacrest.
Ryan Seacrest may not be as tall as he says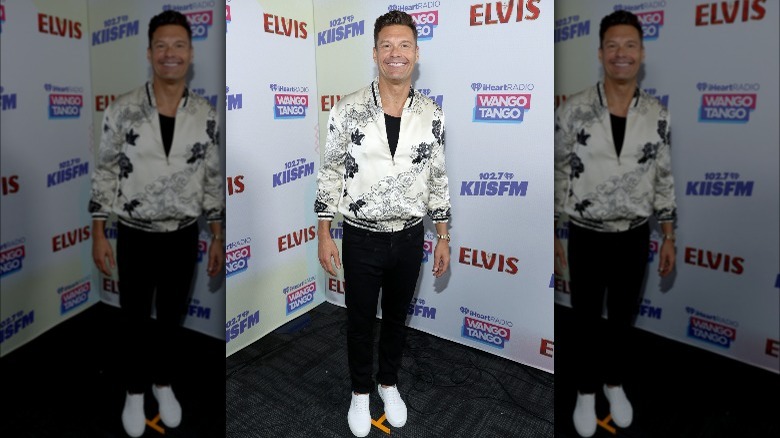 Rich Polk/Getty Images
If you happen to be curious, the average height of a man in the United States is five-foot-nine, according to The New York Times. Ryan Seacrest is somewhere around that height, but it's not exactly clear how tall he actually is despite the fact that he's answered that question more than once. For instance, back in January 2004, Seacrest was asked during an interview on CNN's "Larry King Live" how he felt about the buzz regarding his sexuality. He told the host, "Doesn't bother me. I mean, whether it be that or I'm 5'9" and people call me short or hey I don't like the color of your eyes."
However, when he was asked in November 2009 about his height by a Twitter user, the star had a slightly different answer. He responded by tweeting that he was five-foot-eight and a half. While there's a chance that he shrunk a little as he got a bit older, or was just mentioning what other people thought of his height in the earlier interview, he may also have just been rounding up a tad when he brought up the height of five-foot-nine.
Granted, Seacrest may not be five-foot-eight and a half or five-foot-nine. According to Celeb Heights, Seacrest may stand at five-foot-seven and a half inches tall. Whatever his exact height might be, there's no doubt that he's visibly taller than his co-host and shorter than his girlfriend.
Ryan Seacrest is taller than Kelly Ripa but not Aubrey Paige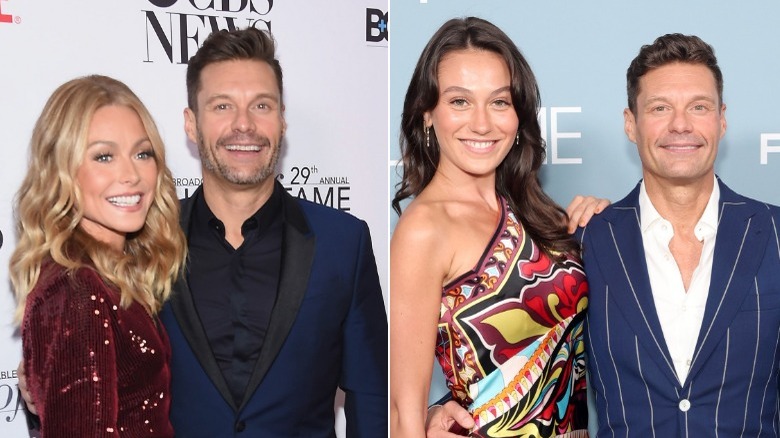 Gary Gershoff, Monica Schipper/Getty Images
Ryan Seacrest seems to be close to his "Live! With Kelly And Ryan" co-host Kelly Ripa. He told People in March that they met before they worked together and had been friends for 20 years. He added, "When we look at each other and talk to each other, there's obviously a tremendous amount of trust and respect, but also we can read each other's mind."
That kind of connection may stem from the fact that they work so closely, as they literally sit side by side when they host their show together on set. Of course, the fact that they're often seated may make it difficult to tell how tall they are compared to each other. Well, it turns out that Seacrest is a few inches taller than Ripa. When it comes to Ripa's exact stature, she stands at five-foot-two and a half, according to Celeb Heights.
As for another woman in Seacrest's life, his girlfriend Aubrey Paige happens to be taller than him, per People. While opening up in April about spending time with Ripa and her husband, Mark Consuelos, Seacrest recalled a conversation with his co-host's spouse that focused on Paige, saying, "Mark pulled me aside at the beginning of the night. He said, 'Can I ask you a question? ... She's really tall. She's taller than you, and much taller in heels. How does that work?' ... He was so confused." Apparently, it works just fine for Seacrest.