Kanye West's Surprise BET Awards Appearance Proves He's Not Done Talking About Kim Kardashian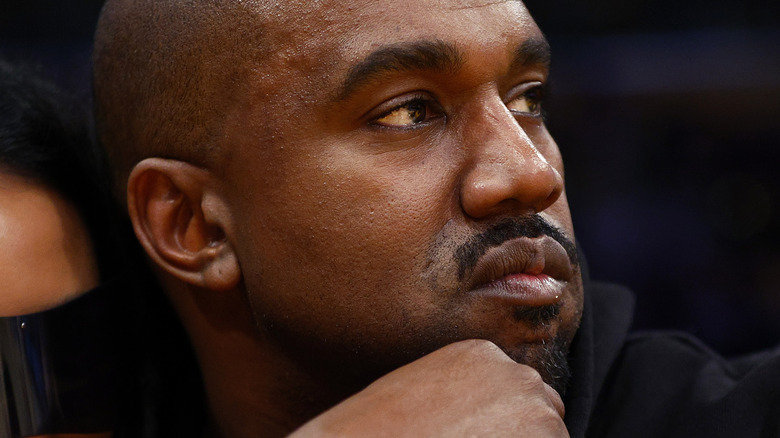 Ronald Martinez/Getty Images
Kanye "Ye" West can't seem to stop talking about Kim Kardashian in public spaces, despite issuing an apology to his ex-wife for dissing her on social media.
Ever since Ye and Kardashian announced their divorce, they have been a mainstay in the headlines, as the rapper continue to air out their dirty laundry. He has repeatedly accused her of preventing their kids from spending time with him and went on to constantly ridicule her new boyfriend, Pete Davidson, on Instagram and made the comedian the subject of his songs.
Fortunately, Ye eventually learned the error of his ways and issued a public apology to Kardashian. "I've learned that using all caps makes people feel like I'm screaming at them," he wrote in a now-deleted Instagram post (via E! News). "I'm working on my communication. I can benefit from a team of creative professionals, organizers, mobilizers and community leaders. Thank everybody for supporting me." He also said he's still learning, and offered an apology to Kardashian for sharing their private conversations. "I know sharing screen shots was jarring and came off as harassing Kim. I take accountability. I'm still learning in real time. I don't have all the answers. To be good leader is to be a good listener." 
Now, months after his initial apology, Ye is starting to shade the SKIMS founder once again.
Kanye West shaded Kim Kardashian at the 2022 BET Awards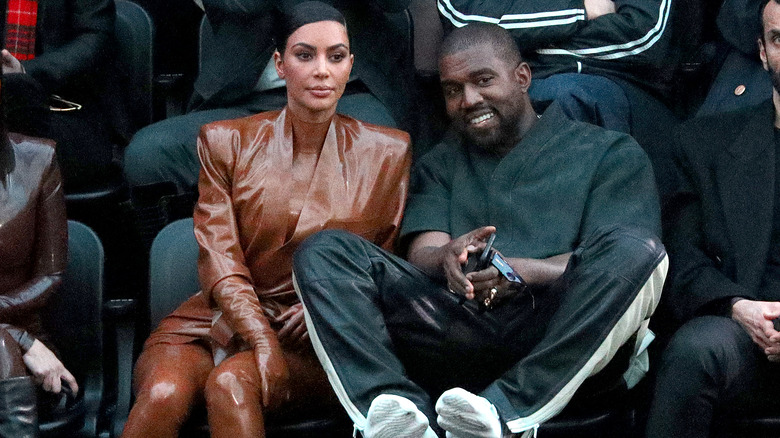 Pierre Suu/Getty Images
No one expected Kanye West to make an appearance at the 2022 BET Awards, but the "Donda" rapper graced the stage to deliver the Lifetime Achievement Award to his good friend Sean "Diddy" Combs.
Ye delivered a lengthy speech about how Diddy influences him — including his relationships. Apparently, that included Kim Kardashian. "I go to [Diddy] for advice to this day," he said. "He inspires so many of my choices. So many of my life choices. My wife choices. And here we are — thanks for that, Puff." Ye's remarks seemed to have elicited some laughs from the audience, but Twitter thought otherwise. "This man is crazy and he's obsessed with Kim just let her go move on man dam!!!!!!!" one user exclaimed. "Bet awards GHETTO & MESSY," another fan tweeted. "Kanye throwing shade at kim K per usual."
Meanwhile, Kardashian has always stressed the importance of keeping things on the down-low. During an appearance on "Today with Hoda & Jenna," the "The Kardashians" star shared that she'll never let the public know everything about her personal affairs. "I think that there's a lot that I share and there's also a lot don't and I don't think I ever will. You know ... people just go through things in relationships," she said. "Sometimes people post all the good things and that's OK, like, that's their picture and that's their story and that's their art that they want to put out. But I don't think everything is to be aired out. I don't."