The Truth About Sandra Bullock's Near-Fatal Plane Crash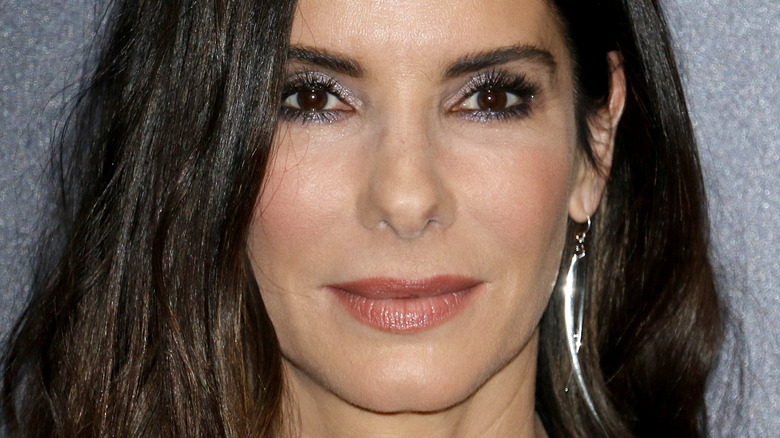 Tinseltown/Shutterstock
When it comes to some of Hollywood's most beloved and brightest stars, Sandra Bullock ranks up there with the best of them. Bullock has starred in plenty of well-known films, like "Miss Congeniality" and "The Blind Side." According to IMDb, she has 59 acting credits to her name and she's helped produce 17 movies.
In June, Bullock shared some surprising news with fans as she announced that she would be taking a step back from acting to spend some more time with her two children, Louis and Laila. "I don't want to be beholden to anyone's schedule other than my own. I'm so burnt out. I'm so tired, and I'm so not capable of making healthy, smart decisions, and I know it," Bullock told The Hollywood Reporter. Unfortunately, Bullock did not share further details about the hiatus.
Since Bullock has spent a good portion of her life starring in films, and said she considers herself "lucky," but she was stuck at a crossroads. "It was like opening up a fridge all the time and looking for something that was never in the fridge," she told the outlet. "I said to myself, 'Stop looking for it here because it doesn't exist here. You already have it; establish it, find it and be okay not having work to validate you." Believe it or not, many parts of Bullock's highly touted career may not have happened, as she was involved in a near-fatal plane crash.
Sandra Bullock narrowly avoided death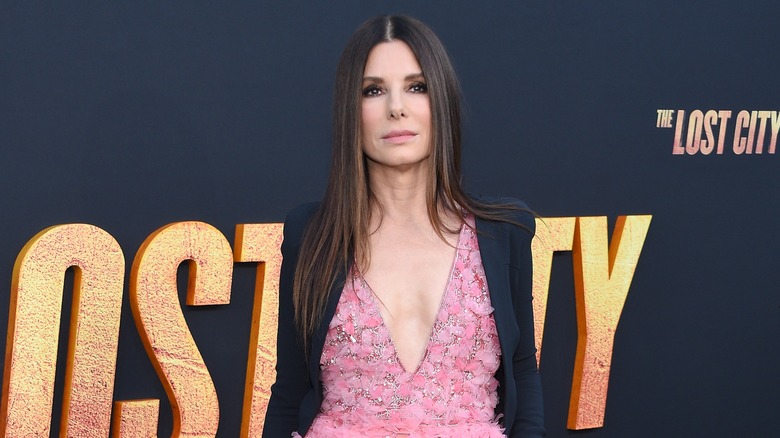 DFree/Shutterstock
In 2000, Sandra Bullock had a scary encounter with a plane that nearly cost the actor her life. According to The Guardian, Bullock and her boyfriend at the time, musician Bob Schneider, were traveling from Austin, Texas to Jackson Hole, Wyoming, by way of a twin-engine Hawker corporate jet (aka a private plane) when it went skidding off the runway. Luckily, Bullock, Schneider, and the two pilots on board walked away unscathed, but the aircraft suffered a fair amount of damage.
AirSafe suggests that the incident was due to pilot error because of the poor weather conditions in Jackson Hole and the lack of lighting on the runway. At the time, Teton County Sheriff Bob Zimmer told the New York Post that the plane may be "totaled." To paint a better picture of the timeframe, Bullock's film "Miss Congeniality" came out in theaters the next day. 
Bullock talked about the incident on an episode of "The Late Show With David Letterman," calling the ordeal "sketchy." She continued, ​​"You think that your whole life would flash in front of your eyes, but nothing happened. I sort of went to like a blank, which is sad, which I really need to deal with at some point." Like the AirSafe report, Bullock confirmed with Letterman that the pilot missed the runway. Interestingly, a similar scenario occurred in Bullock's 1999 film, "Forces of Nature," where she and Ben Affleck get into a plane crash during take-off — the catalyst for their on-screen love story. 
Inside Sandra Bullock's other scary incident involving a plane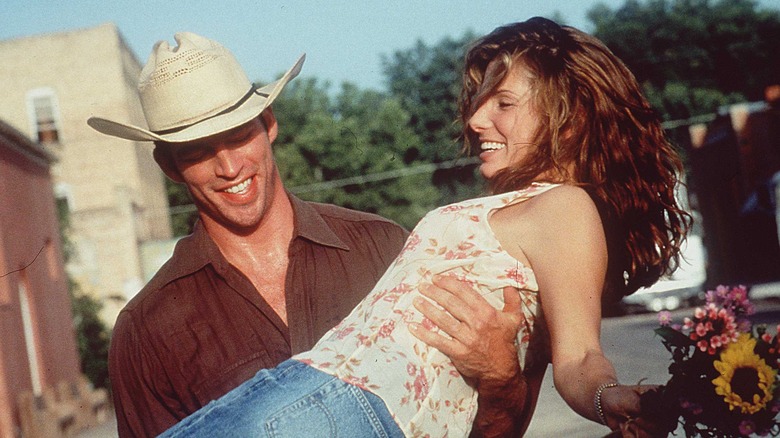 Getty Images/Getty Images
If you can believe it, the 2000 crash wasn't the only time Sandra Bullock had a run-in with a plane. If you count the "Forces of Nature" movie scene in the equation, she has actually been involved in three plane incidents. According to Entertainment Weekly, the star had another incident with a private plane, but this was due to her own personal error. "I'm not just clumsy. I injure myself," Bullock said, explaining that she and Harry Connick Jr. were making their press rounds for their 1998 film "Hope Floats" when she and a private jet got into a scuffle.
"I ran to get my bag, turned around, and all I remember is this flash of light, and then my glasses went flying," the Oscar-winner confessed. "I had no idea what had happened. And Harry just said, 'Nobody say anything. She just ran into the wing.'" Sadly, there was no first-aid kit and Bullock cut the skin above her eye, so they just improvised. "We found a bottle of vodka, and I cut up some Band-Aids and did a butterfly bandage over the cut. I had a black eye, so I couldn't even do the press junket," she shared.
Even though Bullock missed most of the press rounds for "Hope Floats," the film still fared pretty well at the box office. According to The-Numbers, it grossed a little north of $81 million. Not too shabby if you ask us!