What Tamra Judge Was Like Before She Became A Real Housewife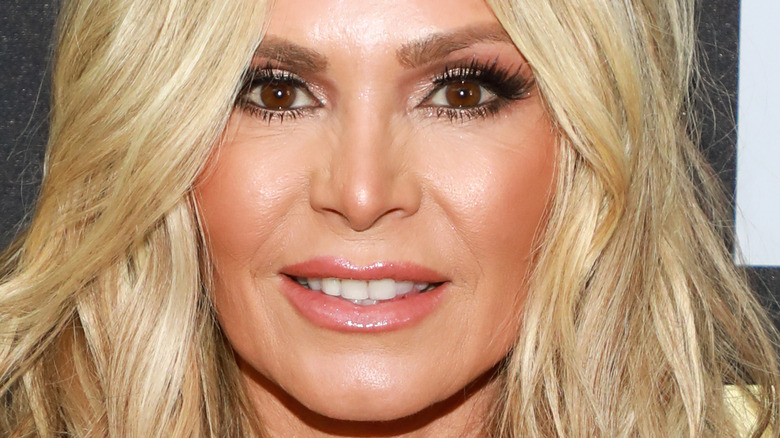 Jason Mendez/Getty Images
Tamra Judge was once one of the longest-running cast members of the "The Real Housewives of Orange County." Along with Vicki Gunvalson, she was one of the OG's of the OC and became a fan favorite. According to her IMDb page, Judge first started appearing on the show in 2007. At the time, she was married to Simon Barney, and fans saw their rollercoaster relationship play out on the series. Fans also saw her romance with her now-husband, Eddie Judge, bloom on-screen. And who could forget her crazy antics with BFF Gunvalson?
Sadly, like many members of different "Housewives" franchises, Judge's time on the series didn't last forever. In February 2020, she explained to People that several factors played into her not returning to the series, including her ex-husband, Simon Barney's battle with throat cancer. She said Barney's cancer diagnosis made her "reevaluate" her life. "The reality of it is, after Eddie's heart condition and now Simon with cancer, it's just very hard for me to want to go on a show where people are screaming and yelling and arguing about things that don't even matter," she told the outlet.
Luckily, fans of Judge can still see glimpses of her on re-runs from time to time, and seeing her on the series brings the nostalgia. But believe it or not, before she began as a series regular on "RHOC," Judge had a totally different gig that may come as a surprise to many.
Tamra Judge nailed her first career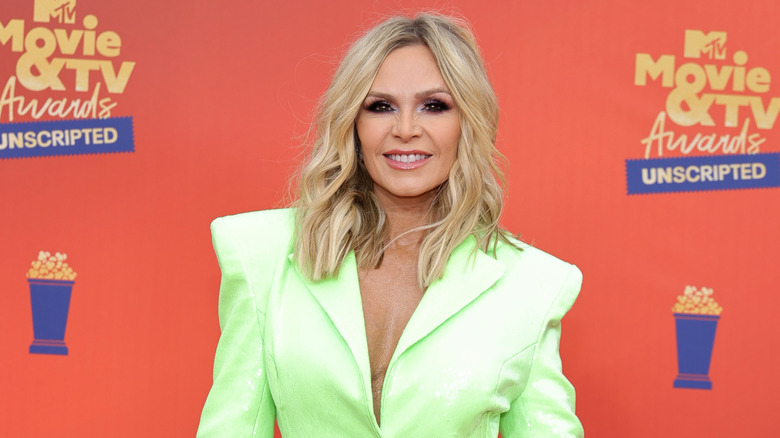 Amy Sussman/Getty Images
Before she found fame on "The Real Housewives of Orange County," Tamra Judge worked in the beauty industry. According to BravoTV, Judge conducted an "Ask Me Anything" question and answer session on Instagram, and a fan asked her to spill the details on how she gives herself top-notch manicures. "I was a licensed manicurist at 20," she informed her followers. "Worked at a salon in Covina for years." Who would have thought?
BravoTV also shared a since-deleted Instagram post that gave a few more details about her manicurist past. "At 19 I got my manicuring license. Who knew [it] would come in handy," she said, making sure to include a few hashtags to really drive her point home. In 2014, Judge also shared a photo from her past, where she rocked the signature '80s hair and oversized hoop earrings. Once again, she reminded her followers that she came from humble beginnings as she gave another nod to the start of her career as a manicurist. "Its never to early for TBT....when it's This bad ! My graduation pic from Covina beauty college," she wrote on the post. She also included the hashtag "manicurist" and the year of her graduation, which was 1986.
As fans know, Judge has also dabbled in the real estate industry on and off during her career, and it appears she's still selling some California homes, according to Agent Inc. But, her stint as a reality star isn't over.
Tamra Judge returns to reality TV
Amanda Edwards/Getty Images
With a fun personality like Tamra Judge has, it would be a shame to keep her off of television for long. Luckily, the star appears in the housewife's spin-off "Ultimate Girls Trip" with several other past housewives. According to IMDb, the series consists of seven episodes, and in true-housewives fashion, there will likely be plenty of drama. Judge will also have her partner in crime, Vicki Gunvalson, with her on the series, and we can only imagine that the two have plans to "whoop it up" as often as possible.
Judge has spoken about appearing on the series on a few different occasions, and she gave an exclusive interview to E! News about the show and how she felt about appearing with "The Real Housewives of Beverly Hills" alum Brandi Glanville, because of their past feuds. "We work things out pretty quickly. "By the first episode, we do talk, and we sit down, and we talk it through, and we decide we do like each other," she told the outlet. "We have some bumps moving forward, but for the most part we work it out, and towards the end, we have a lot of fun together." Sounds like must-see tv to us.
Judge has also been promoting the show on her Instagram feed. "2 more weeks until the new season of #RHUGT! Who's excited?!" she wrote on June 9. From manicurist to reality star, Judge has proven that she's the jack of all trades.