The Truth About Ana De Armas And Chris Evans' Relationship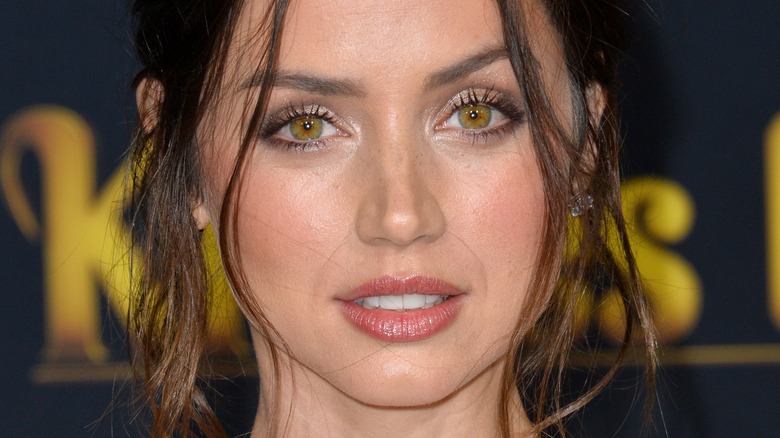 Featureflash Photo Agency/Shutterstock
Chris Evans is the kindest (and hottest) dog dad who just happens to be a global movie star. His multi-time on-screen cohort, Ana de Armas, is a gorgeous and talented actor predicted to soar to A-list status with her Marilyn Monroe film, "Blonde." Together, the two bombshell actors have graced screens together with their presence on a number of occasions. 
The two stars first worked together in the 2019 hit "Knives Out," where Evans and de Armas played Ransom Drysdale and Marta Cabrera, respectively. Interestingly enough, the collaboration almost didn't come to fruition, as de Armas initially considered shutting the role down. "Because of the character description, my imagination immediately went to a portrayal that was not necessarily very positive or exciting in relation to Latin culture," she told The Hollywood Reporter in 2019.
In the film, Evans and de Armas were intertwined in an all-encompassing mystery — but that's not the only time they've assumed such roles. The two also starred together in the Netflix thriller, "The Gray Man," where Evans plays a role that's "aggressively gone 180 [degrees]" from his "Captain America" days, per Empire. In working on-screen a number of times, many have wondered what de Armas and Evans' relationship is like off-screen. Here's the sitch!
Ana de Armas and Chris Evans enjoy working together
Featureflash Photo Agency/Shutterstock
On May 6, Ana de Armas and Chris Evans wrapped their third film, "Ghosted," together, and it seems they had fun! De Armas wrote on Instagram, captioning a black-and-white photo of herself: "'Ghosted.' That's a wrap for Sadie! Thank you @dexfletch and @chrisevans for being such great partners. I can't wait for everybody to see this one." Evans also commented a number of party popper emojis on the post. 
Going back on May 1, the "Knives Out" star shared a video of her birthday celebration on the set, writing on Instagram: "This is 34! Loved spending this special day on set. Thank you for all the wonderful birthday love." Evans was in the video, clapping for de Armas.
In March, Hollywood Life reported Evans and de Armas seemed rather close while shooting "Ghosted," but is there a romance between the stars or a case of fan shipping? Since the two ridiculously good-looking actors worked together on "Knives Out," there's been a steady drumbeat of fans shipping a romance — for example, a tweet about Evans following de Armas on Twitter. In 2020, one fan posted a video of Paul Rudd crying and tweeted: "me finding out that ana de armas is dating ben affleck and lowkey mourning that it's not chris evans." But is there any love happening between Evans and de Armas?
Signs of romance between Chris Evans and Ana de Armas?
Chris Evans talked about "Ghosted" and Ana de Armas during the "Lightyear" press tour and said de Armas "has an incredible watchability factor" — but that interview doesn't indicate there's a romance going on. However, going back to the days when de Armas and Evans were promoting "Knives Out," the chemistry between the co-stars is easy to see. Extra talked to the costars laughing during the interview about all the beans de Armas had to eat for scenes in "Knives Out." Evans exclaimed, "Poor Ana!" with de Armas chiming in, "All I eat is beans!" It appears de Armas eating beans became a running joke between the two actors.
In 2019, de Armas posted a pic of herself in a private jet, across the aisle from a huge balloon showing a cartoon of Evans (in a wedding dress) and Daniel Craig (in a tux) getting married. The actor wrote on Instagram: "Honeymoon planning is a full-time job." Craig and de Armas starred together in the latest Bond thriller "No Time To Die."
There are adorable interviews featuring the two "Ghosted" stars, but we are sorry to report to Evans-slash-de Armas shippers we can't find any hard facts that back up a romance between the two stars. The two gorgeous actors do appear to have a good friendship, though, which is a beautiful thing regardless.