The One Person That Paris Hilton And Lindsay Lohan Both Dated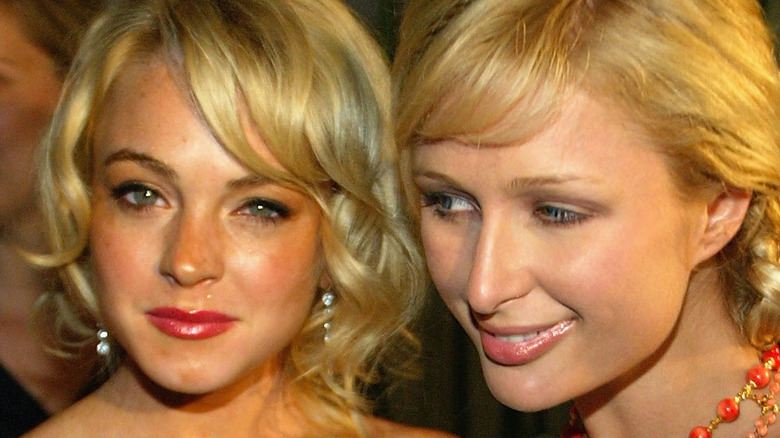 Michael Buckner/Getty Images
Lindsay Lohan and Paris Hilton haven't exactly had the closest friendship over the years. They've been perhaps the most famous example of frenemies as two of the most photographed stars of the 2000s (and beyond!) and their notorious drama has been very well-documented in the gossip columns over the years.
You may remember all the tension between the two from back in day, including all those infamous comments the two made about each other. One of the most infamous? When X-17 Online claimed back in 2006 the two had an altercation in a club which allegedly resulted in Hilton yelling at Lohan, "You're a f*****g coked-out w***e. Don't ever say you're my friend again!" That came after Hilton was spotted out with Brandon Davis (remember him?) who coined the now infamous "firecrotch" comment as the hotel heiress laughed, though her publicist told TMZ at the time, "It is unfair to characterize Brandon's statements as being reflective of Paris' feelings about Lindsay. We're dealing with two different people."
But don't think this drama was all one-sided. As their feud hit the headlines, Lohan made her feelings about Hilton pretty clear. During an August 2006 interview with Elle (via Oh No They Didn't), the "Mean Girls" star took a swipe at Hilton's famous sex tape, saying, "Obviously, she's very comfortable making videos." Yikes! But how did all this drama actually start? Well, it sounds like it all might have stemmed from one man...
Lindsay Lohan dated Paris Hilton's ex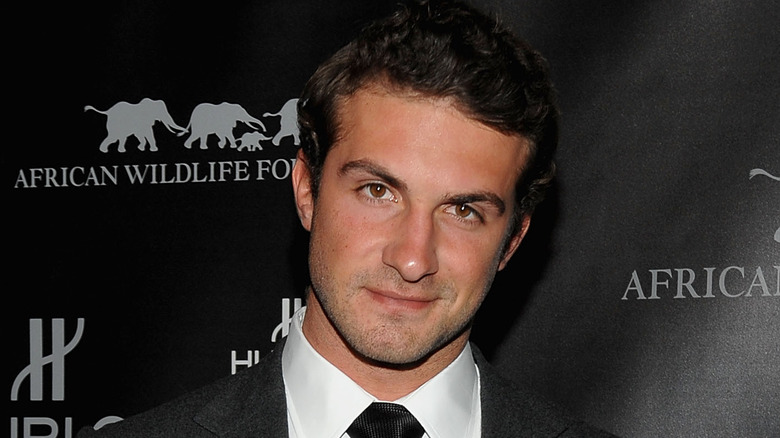 Jamie Mccarthy/Getty Images
There were rumors that Lindsay Lohan and Paris Hilton drama may have come to light because Lohan started dating Hilton's ex, Stavros Niarchos III. According to Who Dated Who, the businessman was with Hilton from 2005 until 2006, before getting together with Lohan later that year. TMZ claimed in September 2006 that Lohan was supposedly spotted getting very cozy with Niarchos in a Hollywood club, but was supposedly trying not to be photographed with him. Around that same time, Lohan was filmed by X-17 Online paparazzi calling Hilton the C word. Yikes.
Lohan was asked about her relationship with Niarchos while chatting with Elle though, where she denied she was feuding with Hilton over him. "You mean Stavros? He's not being fought over. I would never fight with a girl over a guy," she claimed (via Oh No They Didn't). "I mean, they'll say you date all these people, that you're a slut, or stealing boyfriends, or a man-eater, as I've been called. But I would never steal anyone's boyfriend. It's bad karma."
But who is Niarchos exactly? Well, he's the grandson of the Greek business tycoon he was named after. Celebrity Net Worth estimates he has a whopping $100 million and is a professional kiteboarder who graduated from the University of Southern California Film School. He's pretty well-travelled too and has lived in the U.S. and France, while he's also been linked to Mary-Kate Olsen. That's quite the dating history!
Lindsay Lohan and Paris Hilton made up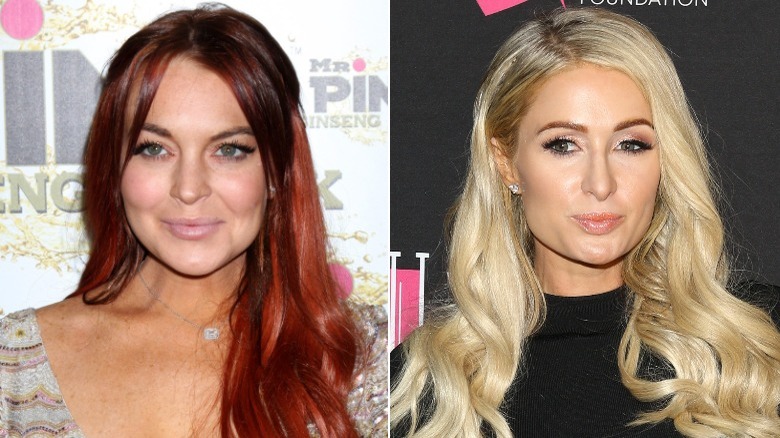 Kathy Hutchins & Kathy Hutchins/Shutterstock
Despite their apparent drama over Stavros Niarchos III, Paris Hilton and Lindsay Lohan managed to kiss and makeup (although not literally, we're assuming). The two have both moved on in their lives and found new love, with Hilton seemingly confirming much of their drama did stem from Niarchos on "Watch What Happens Live" in January 2022, saying, "We're grown-ups now. I just got married. She just got engaged. We're not in high school. I think it was just very immature and now everything is all good." And, ironically, it was a relationship that brought these two back together. Hilton explained she learned of Lohan's engagement to Bader Shammas while on her honeymoon with Carter Reum and sent a congratulations message.
Hilton also shared her happiness for Lohan the month prior on her "This Is Paris" podcast, saying, "I know we've had our differences in the past, but I just wanted to say congratulations to her and that I am genuinely very happy for her." She then added, "I think that love is the most important thing in life, it's something that really just changes you and makes you grow, and when you find that special person that is your other half and is your best friend and you can trust... that's just an amazing feeling."
As for Niarchos, he married businesswoman Dasha Zhukova in 2019, with Daily Mail reporting they went all out with a $6.5 million bash. We love a happy ending!