What We Know About The Prison Where Josh Duggar Will Serve His 12-Year Sentence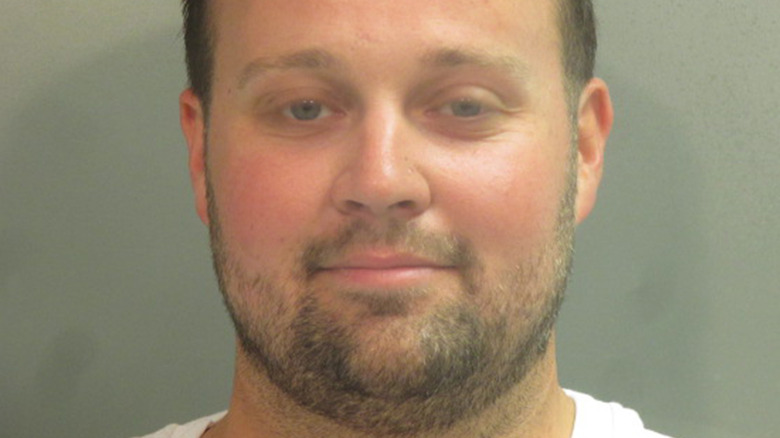 Handout/Getty Images
Josh Duggar is about to see the inside of a place that many reality television stars have seen before him: a prison cell. The former "19 Kids & Counting" star was hit with a guilty verdict back in December after he was slapped with two counts for receiving and possessing child pornography. Back in May, reports indicated that Duggar was facing 12 years and seven months in prison, per KNWA FOX24. Those Duggar reality show residual checks hopefully came in handy for his $51,000 in fines that came along with his sentencing. Cousin Amy Duggar told The U.S. Sun at the time that the Duggar family might never be the same again now that one of them will be spending a good chunk of his life behind bars. "Everyone's lives have been altered because of what my cousin has done," she said.
While Josh's parents Jim Bob and Michelle Duggar have been relatively quiet about their son's prison ordeal, there's new information available about the prison where he will be serving his 12-year sentence. It's safe to say that the description does not sound like a cozy bed-in-breakfast somewhere in the outskirts of Arkansas at all.
Inside Josh Duggar's new home for the next 12 years
According to KNWA FOX24, former reality television star Josh Duggar will be spending a lot of nights with his thoughts at the Federal Correctional Institute Seagoville in Texas, near Dallas. His name is already listed in the Bureau of Prisons inmate roster. Because Duggar is a registered sex offender, he'll be spending his time at a designated facility within the prison that will help rehabilitate offenders. According to the Federal Bureau of Prisons, inmates in this program will attend group meetings "2-3 times per week for several hours" for a period of "9-12 months." In these meetings, "participants learn basic skills and concepts to help them understand their past offenses and to reduce risk of future offending." 
Additionally, Duggar will also have limited access to things that he can purchase on the prison's commissary shopping list. For instance, he'll have to forgo the convenience of an Apple Watch, but can purchase a Sony Walkman for $44.10. A Casio Digital Watch will set him back $12.75, while a pair of Reebok sneakers will make him look 1990's cool for just $42.00. Those are not the only limitations Duggar will have to learn to deal with, either.
Anna Duggar might have trouble visiting Josh
As far as family visits are concerned, Anna Duggar will be able to visit her husband Josh Duggar twice per month for two hours at a time, per the prison's guidelines. Josh must sign up for the visits, which take place on specific days and are dictated by the the prison's rotating schedule for every individual unit. In addition, KNWA FOX24 also reports that Josh will be subjected to another 20 years of supervision upon his release, which means that he will have to be on his best behavior when he gets out of jail. 
While Josh waits for that day, it's clear Anna will maintain her support. Via an Instagram Story on June 23, Anna revealed her birthday plans seemingly involved a visit behind bars. "Fourteen years since I said 'YES!' Road-tripping to visit my bestie," she gushed, possibly she visited her controversial husband before he got transferred to Seagoville. In other words, Anna is keeping her marriage vows intact, prison visits, Casio watches, and all.