Sabrina Carpenter Has An Unexpected Connection To Miley Cyrus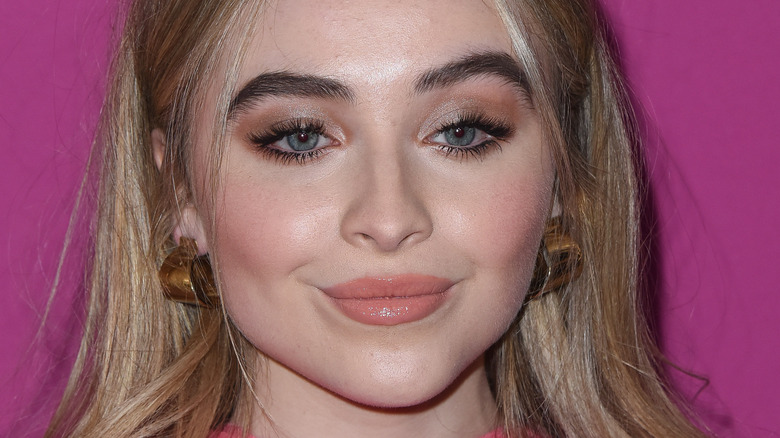 DFree/Shutterstock
Miley Cyrus and Sabrina Carpenter both launched their entertainment careers on the Disney Channel, and they simultaneously recorded music while acting on their respective shows. But the connection between the two entertainers from different generations goes much deeper than their House of Mouse origin stories.
When Disney Channel stars grow out of their roles, they leave their shows with bragging rights and invaluable showbiz experience. However, their feelings about their time working for the children's entertainment network are mixed. Carpenter's biggest Disney gig was the "Boy Meets World" spinoff "Girl Meets World," and she told W magazine she was grateful for the gig. "I was really lucky that I was on a show when I was on a show, and I always say that because, for anybody, those years are primarily made for learning and taking in your surroundings and making mistakes, because you are allowed to make mistakes without being so harshly criticized," she said.
Cyrus, on the other hand, had a hard time coming to terms with the way fans viewed her after she said farewell to her blonde "Hannah Montana" wig in 2011. "I had to evolve because Hannah was larger than life, larger than me. I felt like I was never going to amount to the success of Hannah Montana," she told Rolling Stone. But when Cyrus first met Carpenter, it was during a search to find the next Miley Cyrus, not the next Hannah Montana.
Sabrina Carpenter has one regret about her encounter with Miley Cyrus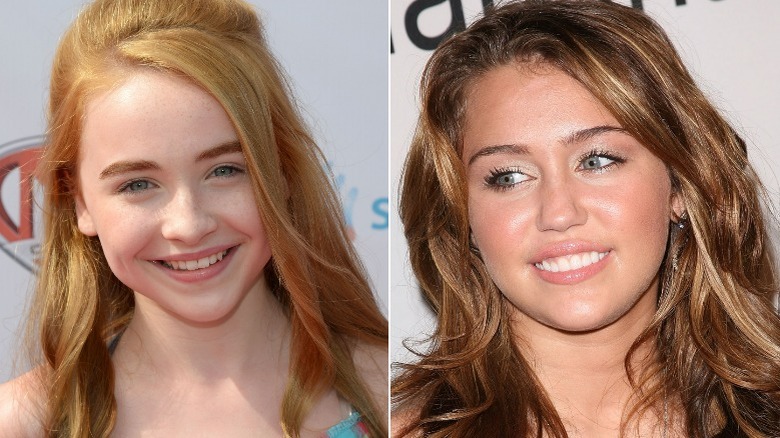 Amanda Edwards & Jason Merritt/Getty
Sabrina Carpenter credits Miley Cyrus with inspiring her to pursue a career in front of the camera. "When I was 6 years old, I was watching the pilot episode of 'Hannah Montana,' and my queen, Miley Cyrus, was acting and singing," Carpenter recalled to Teen Vogue, "and I was like, 'That looks fun.'" Carpenter told "Access Hollywood" that she was such a huge fan of Cyrus that she received a paid membership to the Disney star's fansite, MileyWorld, as a gift.
Through the website, Carpenter entered a singing competition called "MileyWorld Superstar." She shared videos of herself performing covers of songs, including the Beatles classic "Come Together." She was just 10 at the time, but beat out thousands of other hopefuls to finish in third place. "That was the reason why I started my YouTube channel, which eventually led me to signing with my label when I was 12," Carpenter told "Access Hollywood."
While she didn't win, Carpenter did get to meet her idol. She could have peppered the pop star with questions about how to succeed in the entertainment industry, but Carpenter recalled to Red Brick, "My mom was like, 'I've never heard you say less in your entire life,' but she was Hannah Montana and I was awestruck.'" However, being tongue-tied isn't what makes Carpenter cringe when remembering the encounter. "I was wearing a fedora when I met her and I regret it entirely," she lamented to MTV News UK.
How the MileyWorld Superstar winner feels about Sabrina Carpenter's success
After the "MileyWorld Superstar" contest winner was announced in 2010, Sabrina Carpenter did not give up on her dream of becoming the next Miley Cyrus. She saw the value in the knowledge she had gained, telling Bucks Happening, "I learned how to perform, I learned how to act and feel the music. I also got a fan base through that, which helped me more than anything." The following year, Carpenter landed a small role on "Law & Order: Special Victims Unit," and at age 14, she signed a record deal with Disney. The entertainment conglomerate provided her with the opportunity to further follow in Cyrus' footsteps by casting her on "Girl Meets World" in 2013.
The winner of "MileyWorld Superstar" was a 16-year-old named Amy Colalella, per the Pittsburgh Post-Gazette. Like Carpenter, she was a songwriter, and she sang an original song for her final performance. The victor can now be found on YouTube under her married name, Amy Maggio. She's used her channel to share what her experience on "MileyWorld SuperStar" was like, revealing that the record deal she was promised never materialized.
In a Q&A, Maggio addressed suggestions that Carpenter got the career that she should have had. "It wasn't like she got a deal from the contest; it was just that her family and her didn't stop auditioning," Maggio explained. "I don't think it was related." She also praised her former competitor, saying, "Sabrina was amazing."