Who Is Mariah Carey's Famous Godmother?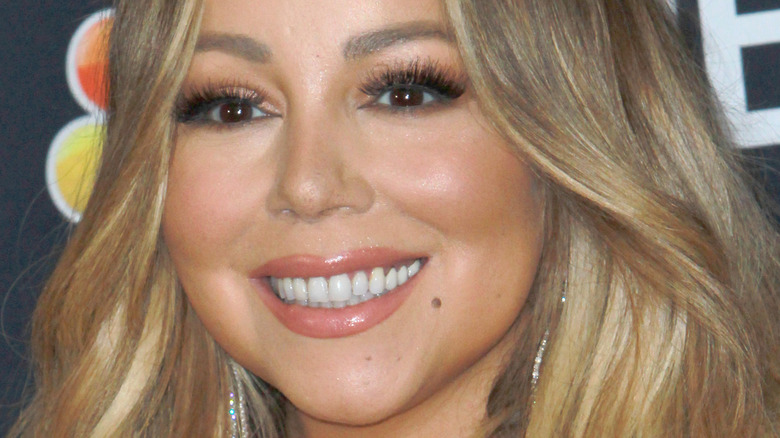 Kathy Hutchins/Shutterstock
For decades, Mariah Carey has dominated the music and entertainment scene, developing a reputation as the queen of Christmas, whistle notes, and celebrity shade. The chart-topping songstress is also known for her friendship with the late Whitney Houston and complicated marriage to ex-husband Nick Cannon. But there's someone else important in Carey's life. And this star-studded dynamic is almost too much superstardom to handle. Carey is tight with Patti LaBelle, who's wowed audiences with her soulful vocals since the '60s — long before Carey rose into the spotlight.
In 2010, LaBelle made an appearance on "The Wendy Williams Show." Williams asked LaBelle, "Is it true that you're Mariah Carey's godmother?" to which LaBelle replied with an enthusiastic "yes." How did this happen? "Because she wanted me to be. And I wanted to be. I love that voice. I mean, you don't find many voices like that, honey," LaBelle continued. This is definitely a case of divas attracting divas. And how does Carey express her love for LaBelle? "She sends me beautiful white flowers," LaBelle revealed.
Let's take a deeper look at LaBelle and Carey's close relationship.
The love between Mariah Carey and Patti LaBelle is undeniable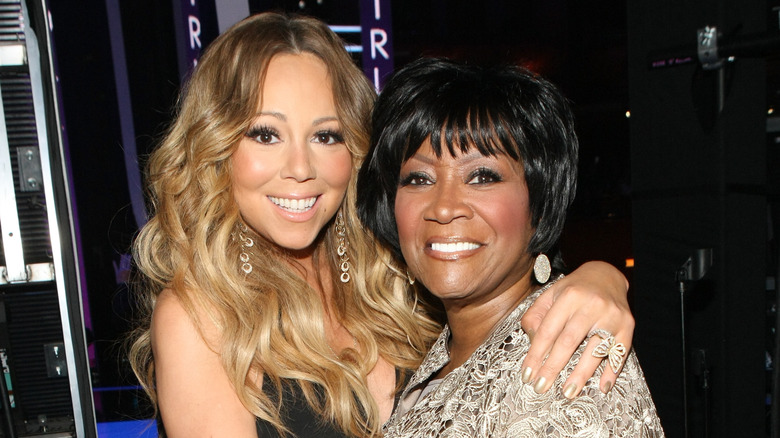 Bennett Raglin/bet/Getty Images
There's no denying the love between Mariah Carey and Patti LaBelle. In 2019, during Carey's Caution World Tour, the singer posted an Instagram video of her and LaBelle. Holding their wine glasses on a balcony, the divas looked as glamorous as ever harmonizing to Carey's 2018 hit "With You." As they were singing, Carey dropped the F-bomb to LaBelle's surprise. "See, she didn't know that. I cut it out," Carey spilled to the camera. In this interaction, the chemistry between the two was palpable.
It's not only behind-the-scenes you can witness the two's infectious love. The duo has been formerly seen together on many occasions, like when Carey honored LaBelle with the Living Legend Award at the 2013 Black Girls Rock! event. And the good vibes have been present for quite some time. In 1998, LaBelle and Carey sang a duet to Cheryl Lynn's hit "Got To Be Real" at The Hammerstein Ballroom. LaBelle gave Carey a warm welcome onto the stage, effusively shouting her first name repeatedly. Once the "Emotions" singer strutted on, the ladies held hands, smiled, and belted their hearts out, closing their soulful performance with a hug and a kiss.
That same year, Carey paid a tribute to LaBelle by singing a medley of "Somewhere Over The Rainbow" and LaBelle's 1983 hit "If Only You Knew" at The Essence Awards. The camera zoomed in to show LaBelle smiling in the audience like a proud godmother.
Patti LaBelle has some advice for Mariah Carey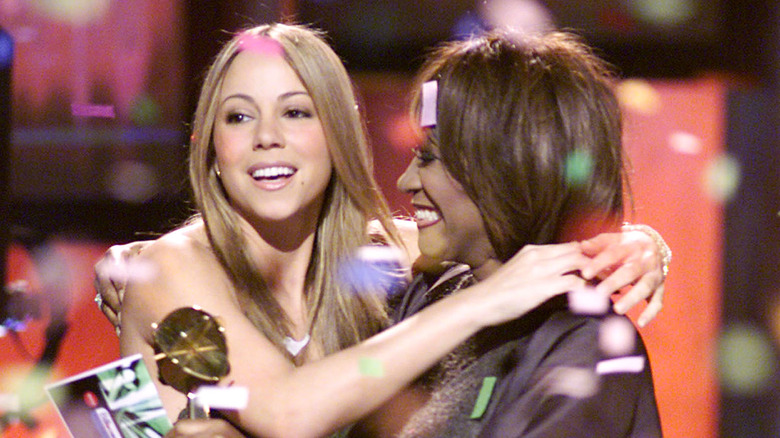 Scott Gries/Getty Images
In 2019, Patti LaBelle went on "Busy Tonight" and talked about which musicians she mentors. Here's the impressive lineup: Beyoncé, Mary J. Blige, and of course ... Mariah Carey. Speaking about her relationship with Carey, LaBelle told host Busy Philipps, "I slap her every now and then" in what appeared to be a joke. "She's so phenomenal, so good, she doesn't need to be slapped anymore. That's my baby." Perhaps she's referring to giving the famous singer some tough love?
In an episode of "Watch What Happens Live with Andy Cohen," a caller asked LaBelle what advice she had for Carey going into 2018. LaBelle was ready with some words of wisdom for her goddaughter. She responded, "Just to stay smart. She's a very brilliant lady. She had bad people around her, you know, sometimes, and it messed her up for a bit. But she's still the Mariah Carey who started. She's a good, wonderful person."
The R&B singer went on to say that the two talk about twice a month. LaBelle definitely has a protective instinct with Carey. In reference to Carey being involved with the wrong people, she said, "I have to keep my little girl on the right track, if I can." For these two vocal powerhouses, love is definitely in the air.