Why Isla Fisher Hasn't Always Been A Fan Of Her Red Hair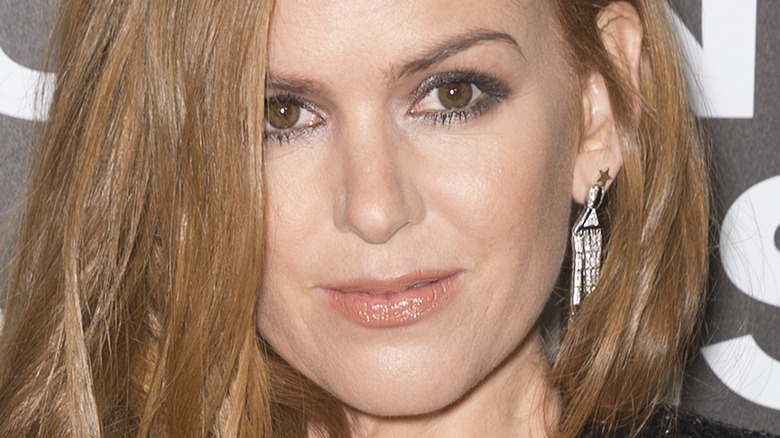 Ovidiu Hrubaru/Shutterstock
One Hollywood actor who stands out as both a talented and one-of-a-kind entertainer is Isla Fisher. The star is known for her memorable performances in projects like "Confessions of a Shopaholic," "Now You See Me," and "Wedding Crashers," among others. In addition to her noteworthy acting chops, a recognizable feature of Fisher's is her radiant red hair.
In 2019, Fisher spoke to InStyle (via Yahoo) all about her stunning red tresses, including how she cares for her hair and her outlook on being mistaken for Amy Adams, a fellow Hollywood redhead. The star said she "feel[s] very flattered" by the comparison and shared a funny story of using an image of Adams for a family picture. "Once, for our family holiday card, I cut out my face and hair and put Amy's in — and nobody noticed," Fisher recalled. 
The performer also explained that she visits hair colorist Tracey Cunningham to dye a few strands here and there "when [she gets] the odd gray." Furthermore, Fisher said embracing her unique hair color has made her feel more "connected to [her] own family" since her brother, aunt, and uncle are all redheads. Although she has positive feelings for her hair color now, this wasn't always the case for Fisher.
Isla Fisher was made to 'feel like an outsider' for having red hair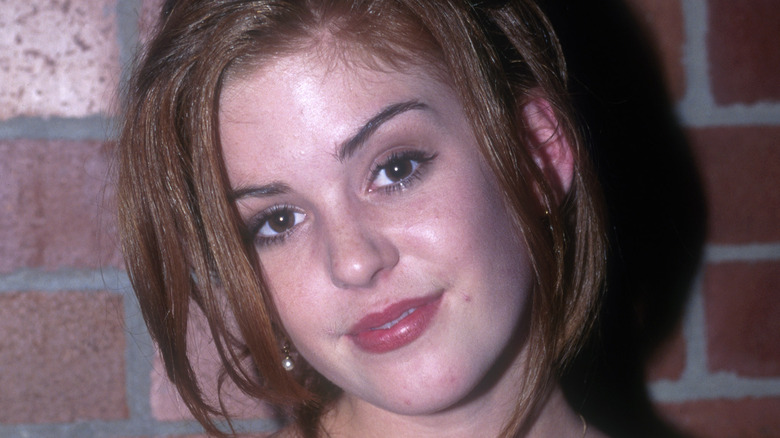 Peter Carrette Archive/Getty Images
Audiences worldwide may know and love Isla Fisher's hair color, but there was a time when she didn't feel this way about her mane. When Fisher spoke to Marie Claire Australia in 2021, she revealed she wasn't a huge fan of her hair color while growing up. "When I was going through adolescence, having red hair was something that made me feel a little different to people—I wouldn't say I naturally embraced that difference, I sort of wanted to blend in," Fisher said. She also told Men's Journal in 2018 she was "teased growing up" about her hair, which at times resulted in her "feel[ing] like an outsider." 
Eventually, Fisher recognized that her vibrant hair hue made her different, and she learned to accept this physical attribute. "In my journey, and when I got older, I really realized it made me feel unique," Fisher told Marie Claire Australia. In 2018, Fisher spoke to Ginger Parrot about another experience that helped her enjoy her locks. She explained that "[working] with a red-headed and proud actress on a TV show in [her] late teens" resulted in Fisher becoming "inspired to embrace [her] inner ginger."
Through this personal journey, Fisher has ended up celebrating every quality that makes her the person she is.
Isla Fisher has learned to love her red hair color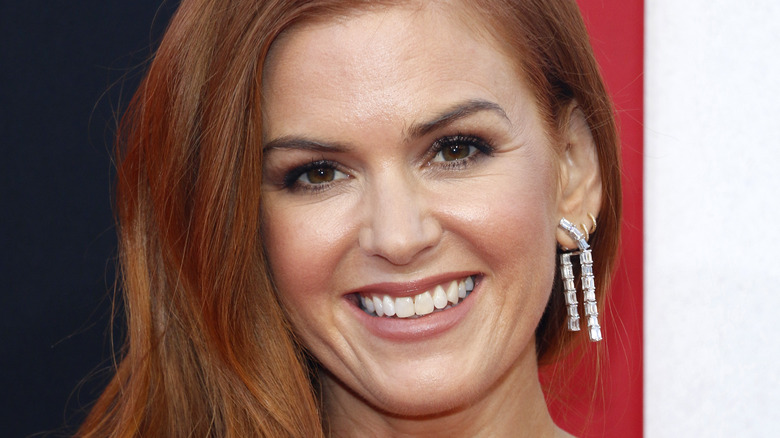 Tinseltown/Shutterstock
Isla Fisher is proud of her unique and lovely red locks! In December 2021 she was interviewed for her film "Back to the Outback" by digital creator Emma Berglund of Fancity Central. At the start of the interview, Fisher complimented the hairstyle of Berglund, who likewise has fiery hair. "I love that you're a fellow redhead, by the way," Fisher said to Berglund at the start of their chat. As the conversation went on, Fisher explained how her character in the film, Maddie, learns to enjoy her individual qualities, similar to her own experiences with having red hair.
"It was such a great journey, as you mentioned, being a redhead," Fisher said before going on to explain that "[Maddie] kind of accepts and learns to love her difference that actually makes her unique" during the movie. In the past, Fisher has also shown her red hair pride by paying tribute to another celebrated redheaded actor, Rita Hayworth. Fisher posted a throwback photo on Instagram in April displaying side-by-side images of herself and Hayworth both donning similar black evening gowns and matching gloves. "FB to my Rita Hayworth shoot ... #inspiration," Fisher wrote.
Everyone has those characteristics that may take time to embrace, and it's awesome that Fisher now recognizes the beauty of being a redhead!