Here's What Jessica Alba Looks Like Without Makeup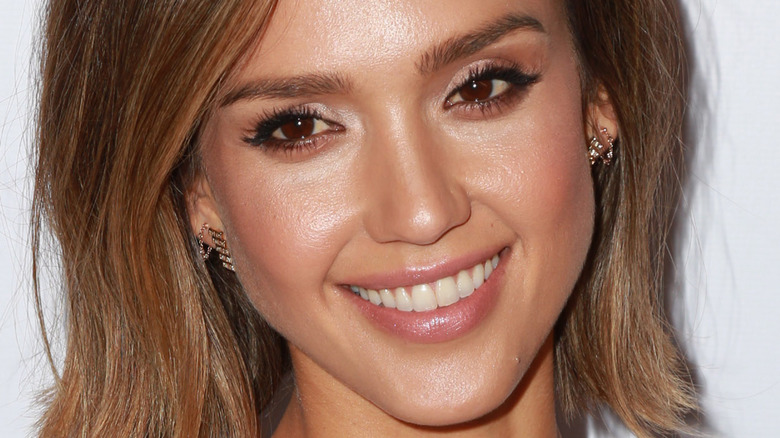 Kathy Hutchins/Shutterstock
It will likely come as a surprise to precisely no one that Jessica Alba is absolutely gorgeous with or without makeup. The star, who was once crowned Sexiest Woman in the World by FHM (via Standard), is a total natural beauty, and works hard to make sure other people can achieve her stunning look without all the cons. That's precisely why she launched her own Honest brand, and the makeup and skincare spin-off Honest Beauty, which pulls double duty as effective makeup without all the unwanted chemicals. "Frankly, in beauty, there are lots of gimmicks on natural, organic, and clean beauty. Consumers think they're buying something that's better for them, and it isn't most of the time," she admitted to Marie Claire in November 2019. "When you see companies use the language 'made without x, y, z...' but then they don't tell you it's also made with...it's impossible to know what to look out for," she added.
But don't think that just because Alba has access to any beauty product she wants as the company's big boss that she too doesn't enjoy a makeup free day. In fact, the star is (understandably) so confidant in her natural beauty that she's shown off her cosmetic-free complexion a few times before. So, what does Jessica Alba really look like without makeup? Let's get down to it...
Jessica Alba's guide to perfect skin
Jessica Alba gave us a glimpse at her flawless skin without a stitch of makeup when she shared all her beauty tips with Vogue in 2020. The star kicked things off without the cosmetics as she revealed her skincare secrets, showing exactly how she gets that blemish free glow using a face mask and face creams, which she massages in with a metal tool. The star also shared her biggest and best tips for glowing skin with British Vogue where she took off her makeup before our eyes — leaving us in awe of her stunning no makeup look! The star revealed that she's a big fan of putting Vitamin C on the face, before walking us through the machine she uses to keep her skin plump.
But Alba's skin hasn't always been quite so perfect. "All of the skincare products that I use are clean, and why I'm so passionate about it is because I've had such reactive skin literally since I was born," she told Vogue. "I thought I had chronic cystic acne when I was in my twenties, but what I realized is I'm just allergic to a lot of petroleum-based ingredients, and I'm also allergic to synthetic fragrances."
Jessica Alba's beauty secrets
But when it comes time to get all glam, it sounds like Jessica Alba isn't afraid to go all out. She revealed how she likes to do her own makeup in a video for Vogue in 2020, revealing she's a fan of a smoky eye in the daytime. "I used to be really intimidated with doing my own eye shadow. Then, I learned all you have to do is get a fluffy brush and you can buff out all your mistakes!" she revealed.
The super-rich Alba isn't afraid to try all the latest trends, either. In June, she attempted a new makeup application routine for her followers by dotting each product onto her face and then buffing each away one product at a time. "Ookay, hear me out ... I know I look cray, but I think @chloemorello just unlocked a next level makeup hack! not only is it quick n easy, but the final natural & dewy look is a vibe try it out if you haven't already!" she captioned the Instagram video, also revealing the Honest Beauty products she used.
But, as you can see above, she's not always about the full glam. Alba often shows off her no makeup look on Instagram while showing off her company's skincare products, like in January when she showed off her enviably glowy skin before treating herself to an Honest Beauty facemask.