Why Karol G's Collab With Blackpink Never Worked Out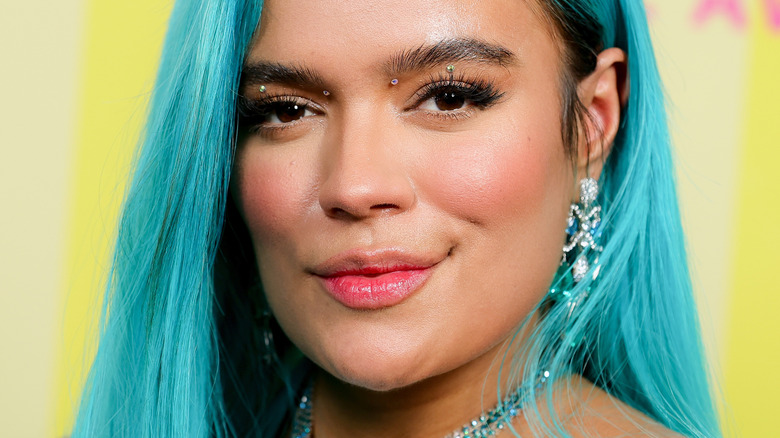 Rich Fury/Getty Images
When the world first met singer-songwriter Karol G on Columbia's iteration of "The X Factor" at 14, we had no idea this musical prodigy would reach the international heights that she did. Most of the time, competition singing shows only produce a handful of mildly successful careers and a select few superstars. Although she didn't win, Karol capitalized on her platform and her talent to become one of the artists at the forefront of modern Latin music.
Since 2017, the "EL MAKINON" singer has released three extremely successful albums; "Unstoppable," 2019's "Ocean," and 2021's "KG0516." And due to her music's global play, she has gotten the chance to collaborate with artists like Bad Bunny, The Jonas Brothers, Becky G, and even Nicki Minaj.
But it turns out that there is one incredible song feature that the world was sadly robbed of: Karol featuring the k-pop girl group Blackpink! That's right, there could have been a song that combined Karol's reggaeton sound with the "How You Like That" singers, who are famous for their epic EDM beat drops and vocals. Like Karol, the four ladies of Blackpink — Jennie, Lisa, Rosé, and Jisoo — found immense fame and recognition abroad, per Billboard, so a Karol x Blackpink track would have been a match made in heaven. But what kept the world from getting to hear this holy matrimony?
COVID-19 stopped a Karol G x Blackpink x Nicki Minaj collab!
After the success of her second album, Karol G dropped one of her most popular songs as a single for her third album in November 2019; "Tusa," featuring the queen of rap herself, Nicki Minaj. The song immediately popped off, with its music video having over 1.3 billion (with a B!) views on YouTube as of this writing. It even earned Karol two nominations at the 2020 Latin Grammy Awards for Best Song and Best Record of the Year.
But in a video with MTV from May, Karol revealed that she had more plans for the song. "If I would've done a remix, I would've done it with BLACKPINK," Karol explained. "We never tried because of COVID things. We spoke, but that would've been like, the remix of the life."
Unfortunately, when COVID protocols were put into place at the beginning of 2020, everything was thrown into question. Karol opened up to Billboard in 2021, saying that she had no idea what life would look like for her as a professional musical artist at the time. "I stopped making music and told my team to take advantage of ['Tusa'] as much as we could because I would probably be a one-hit wonder," she continues. "All my concerts were canceled. I thought everything was over. I became depressed, and it's a feeling I don't ever wish on anybody." Like the rest of the world, Karol had to reconsider everything.
Karol hopes to work with Blackpink in the future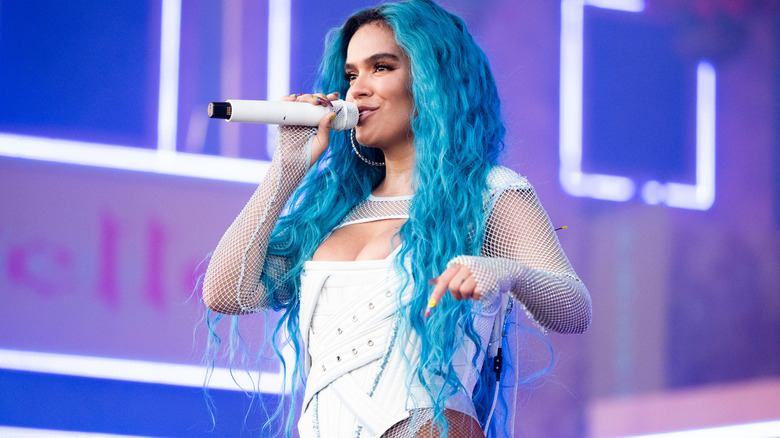 Scott Dudelson/Getty Images
Even though a global pandemic stopped the "Tusa" remix with Blackpink, Karol G was thankfully able to bounce back. "Tusa" solidified her as a global artist, and her 2021 album "KG0516" was a wild success. Karol is even embarking on tour as of this writing, and she is set to go around the U.S. in September. So does that mean that a Blackpink collab is on the horizon?
Well, Karol told MTV that even though the collab didn't happen, she still really wants to make some sort of joint project happen. "I would love, love, really love to work with Lisa from Blackpink," she gushed.
Although Blackpink still makes music together, members of the group have branched off into their own solo projects as well. Lisa, the group's rapper, released two trap/EDM singles in 2021, "LALISA" and "MONEY," which have each earned hundreds of millions of streams on Spotify. But Lisa isn't the only Blackpink member Karol supports. Karol posted an Instagram Story (via Twitter) listening to Blackpink vocalist and dancer Rosé's solo song "Gone." So even though we hope that there is a purely Karol x Blackpink collab, there is a real chance we can also get songs with Karol and each individual member. Imagine!