Tristan Thompson Seems To Have Fully Reentered The Dating Scene Amid Kardashian Drama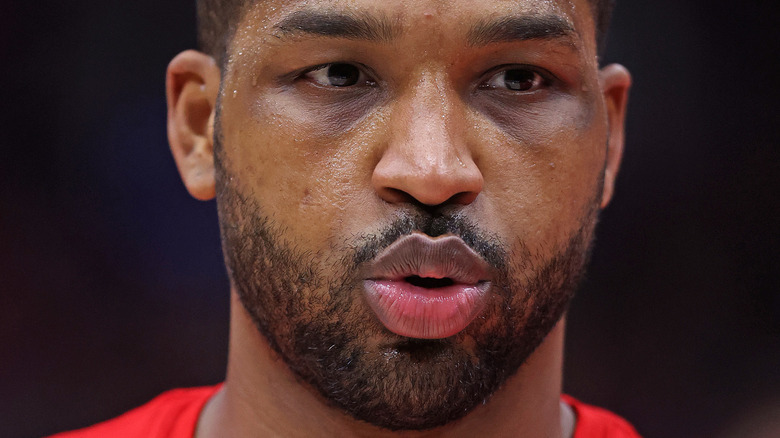 Jonathan Daniel/Getty Images
For a while, it seemed like Tristan Thompson was determined to win back ex-girlfriend Khloé Kardashian after they broke up over his various cheating scandals. In February, a source told Entertainment Tonight, "Tristan of course wants Khloé back, but Khloé's mindset is 'Once a player, always a player.' She sees that very clearly now, and it would take a miracle for them to get back together at this point." Kardashian and Thompson had reconciled in 2021, but news that Thompson fathered a child with fitness trainer Maralee Nichols — while he and Kardashian were still together — was enough for the reality star to pull the plug for good. These days, the two aren't anything more than amicable co-parents. The Good American founder is also taking the high road by refusing to bad-mouth her ex, as she explained on "The Drew Barrymore Show."
As of June, Kardashian has reportedly moved on bydating a private equity investor, whom she met through big sister Kim Kardashian. Unsurprisingly, the news didn't jive with Thompson. "Of course Tristan isn't thrilled that Khloé is dating again but he knows he doesn't have a say in the matter," a source told Hollywood Life. "He also knew this day would be coming eventually but he's trying not to think about it too much. Tristan still has feelings for Khloé." Still, perhaps seeing his ex get back out on the dating scene has been the catalyst the NBA player needed to do the same thing.
Tristan Thompson parties at a Las Vegas nightclub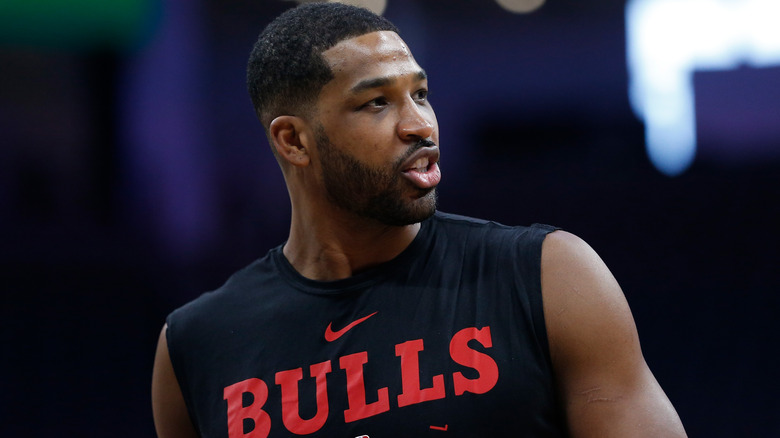 Lachlan Cunningham/Getty Images
Tristan Thompson certainly had a fun Fourth of July weekend! Over the holiday, TMZ reported that the Chicago Bulls player was spotted partying at the Marquee Nightclub in Las Vegas with a bevy of women. The Daily Mail corroborated this report, adding that Thompson seemed invested in one woman, in particular. According to TMZ, he and this mystery woman "were very touchy-feely" throughout the night, with Thompson allegedly "holding on to her tight" and even "whispering in her ear." The group left the club around 3 a.m., but TMZ was unclear about everyone's identity, which didn't include those "in his immediate circle."
Thompson might have frequented nightclubs in the past, but the good news is that this time around, he can do whatever he wants; since his split with Khloé Kardashian, he's just a single man doing this thing. Still, heading out to the club may be Thompson's go-to move. In 2019, InTouch Weekly reported that he was seen looking worse for wear after a night partying at an L.A. nightclub fresh off a recent split from Kardashian.
Thompson also doesn't appear to be looking for anything serious. In January, he was seen snuggling up to a mystery woman in a TikTok video uploaded by user Tricia Caracoza, per Stylecaster. The clip was recorded just two weeks after Thompson publicly apologized to Kardashian for his infidelities on Instagram. It looks like fans might be waiting awhile for the NBA player's next long-term relationship.