Tom Hanks Finally Speaks About Tim Allen's Exclusion From Lightyear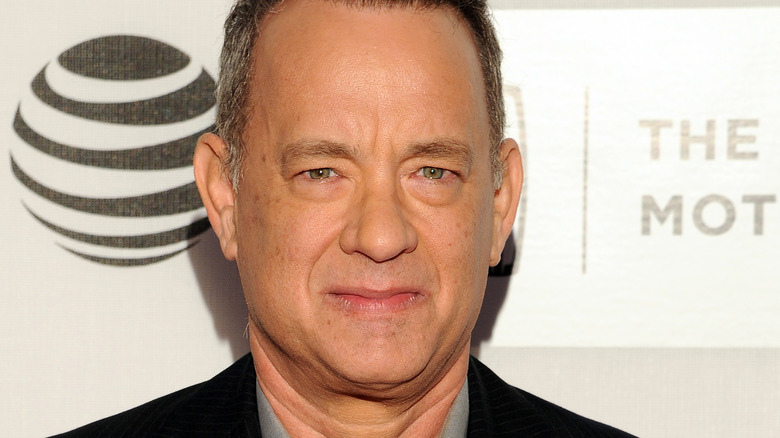 Ron Adar/Shutterstock
Despite its iconic title character, "Lightyear" hasn't reached infinity and beyond at the box office. As per Forbes, the spin-off film has yet to make back its $200 million dollar budget. Although the original "Toy Story" movies are beloved by audiences, boasting a 100% rating on Rotten Tomatoes, "Lightyear" is a rare bomb for Disney amid competition from franchises like "Jurassic World" and "Minions," as well as backlash from conservatives for its LGBTQ characters.  In addition, "Lightyear" replaced Tim Allen, the original voice actor, with "Knives Out" star Chris Evans. Evans has explained (via Radio Times) what makes his Lightyear different from Allen's version: Allen plays the toy, while Evans plays the human that toy is based on. Get it?
Amid the controversies, Allen mostly stayed quiet until he told Extra, "The short answer is I've stayed out of this 'cause it has nothing to do [with my Buzz Lightyear]." Patricia Heaton of "Everybody Loves Raymond" even jumped in, saying "Why would they completely castrate this iconic, beloved character?" Yikes! Now, Allen's "Toy Story" co-star Tom Hanks is joining the chorus.
Tom Hanks wanted to go 'head-to-head' with Tim Allen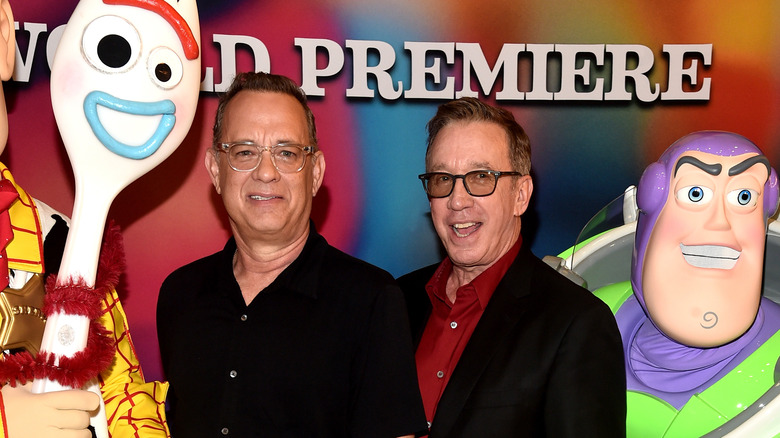 Alberto E. Rodriguez/Getty Images
There's been plenty of controversy (via Forbes) around Disney's new movie, "Lightyear." And now Tom Hanks has expressed how he feels about recasting Tim Allen. In a new interview with CinemaBlend, the legendary actor who played Woody in the original "Toy Story" series, said "How about that? I wanted to go head-to-head with Tim Allen and then they didn't let Tim Allen do it. I don't understand that."
Hanks is referring to his own film "Elvis," where he plays the King of Rock and Roll's manager Tom Parker. While "Elvis" and "Lightyear" don't necessarily share the same target demographic, they're currently in theaters at the same time. "Elvis" is ahead of "Lightyear" on Box Office Mojo, at third and sixth place respectively, with the newly-released "Minions: The Rise of Gru" crushing everything in its path.
Even though Hanks expressed confusion at the new "Lightyear" film sans Allen, he still closed out the soundbite in a diplomatic fashion: "Just as long as people come back to the motion picture theater...I want to go back in the theater with a bunch of strangers and leave with something in common." Amen!