Megan Fox Raises Eyebrows With Latest Confession About Dating Machine Gun Kelly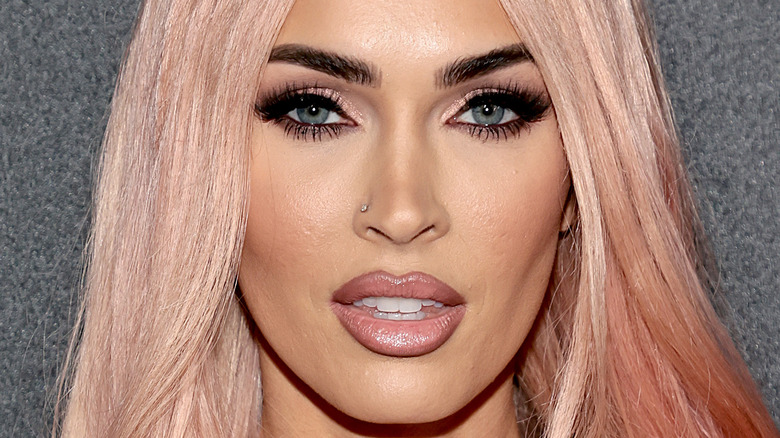 Jamie Mccarthy/Getty Images
Back in April, Megan Fox proved that her relationship with Machine Gun Kelly was as strong as ever when she reaffirmed her love for the chart-topper on his birthday. The Hollywood star took to her Instagram account on April 22 to recall a story that MGK's mom had told her. She wrote, "As a baby you were both 'cuddly and fussy at the same time' and I couldn't have imagined a more apt description of you," before going on to describe his "gentle, beautiful heart," and calling him "the most unique human I have ever met." If that weren't enough, Fox and MGK also got tattoos to prove their Hollywood relationship is anything but fake. Fox told British GQ in 2021 that they got tattoos that say, "The darkest fairytale," because the phrase "alludes back to one of the first text messages we ever sent each other." Perhaps most surprisingly, Fox even admitted that she and Kelly sometimes drink each other's blood.
Now, Fox has made another surprising confession about their romance.
Megan Fox wanted to know if Machine Gun Kelly was breastfed as a child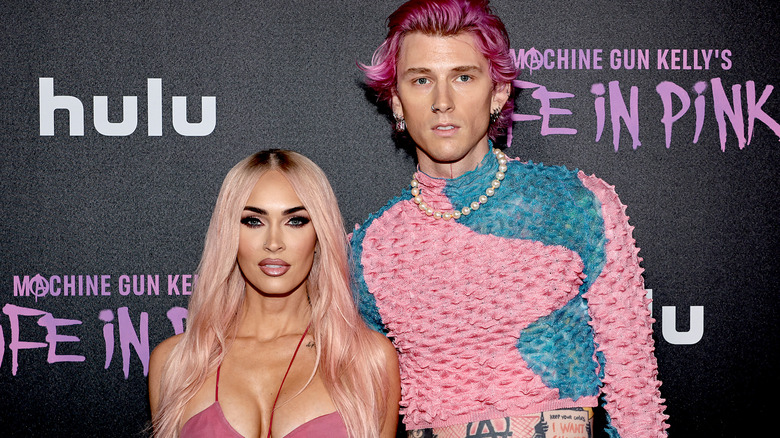 Jamie Mccarthy/Getty Images
Sometimes first dates include light conversations that allow two people to get to know one another, such as their favorite flavor of pizza or the last true crime series they might have binged on Netflix. Well, Megan Fox apparently went one step further when she asked Machine Gun Kelly some pretty "deep" questions about his life, including whether or not he was breastfed. That's because she wanted to learn more about the psychology behind his temperament, apparently. Speaking to E! News in a new interview, Fox put it this way: "If you know me and I know you, it's impossible for me to not know almost everything about you."
MGK apparently didn't mind being asked that question at all, because when the two were quizzed about one another during their British GQ interview, Fox aced every question about her beau. He said at the time, "If you were my 'Jeopardy!' partner you would honestly win every single category. You are an almanac, and encyclopedia, and dictionary all in one." It sounds as though Fox doesn't just want to love her partner, she wants to know everything about him, including his shoe size, the last meal he ate, and maybe even the grades on his first grade report card, too.