The Truth About Lala Kent And Raquel Leviss's Relationship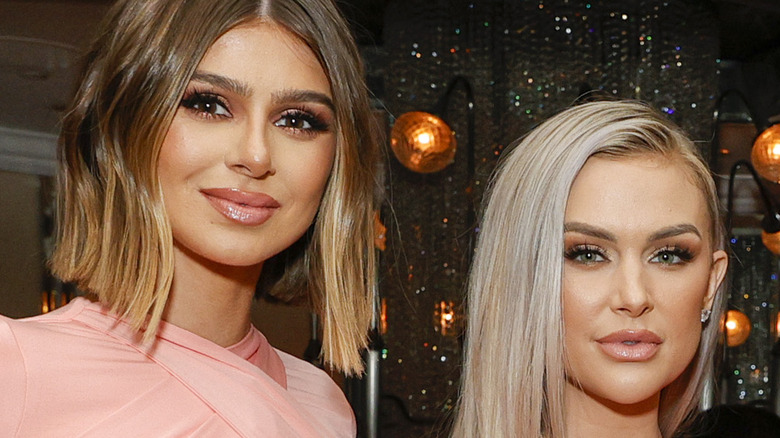 Amy Sussman/Getty Images
It's safe to say that "Vanderpump Rules" stars Lala Kent and Raquel Leviss are no strangers to a feud or two. There have been plenty of falling outs over the years on the popular Bravo show, with Kent in particular being involved in quite a few dramatic moments with her co-stars.
Of course, her most notable and biggest fallout has to be with her former fiancé and the father of her daughter, Randall Emmett, as Kent has repeatedly taken aim at the TV and movie producer on multiple occasions since they split. The reality TV star has repeatedly accused her ex of lying to her (even about her engagement ring), as well as claiming Emmett cheated on her, and allegedly once physically assaulted her (something Emmett has denied).
But anyone who's ever seen "Vanderpump Rules" will know that Kent has had another rocky and high profile relationship, this time when it came to her friendship (or sometimes lack thereof) with Leviss. But where do the frenemies actually stand today in the wake of all their televised drama?
Lala Kent called Raquel Leviss a 'Bambi-eyed b***h'
Drama, drama, drama! So, it's no secret that things have been up and down between Lala Kent and Raquel Leviss, with Kent throwing out one of the most infamous disses in "Vanderpump Rules" history at her co-star. It all went down on Season 7 of the reality show when Leviss spoke out about how Kent was handling the death of her father. Leviss suggested Kent had not taken responsibility for some of the things she'd said or done, to which Kent hit back by claiming Leviss did not empower other women, before calling her a "Bambi-eyed b***h." Ouch. Appearing on "Watch What Happens Live with Andy Cohen," shortly after, Kent continued to shade Leviss, stating, "Just when I thought she can't get any dumber or lose any more brain cells."
As for Leviss, she later explained on the "Vanderpump Rules Season 8 After Show" that she felt she'd been constantly disrespected by her co-star. "[Kent] treated me so poorly last season, and really came after me in a way that's unacceptable," Leviss said. For her part though, Kent (kind of) apologized, saying on the show, "I felt really badly about me attacking her last year," but also claimed she didn't think Leviss really felt the weight of some of the things she said.
Thankfully, though, it seems like things may have taken a turn for the better for these two frenemies since it all exploded in front of the cameras.
Lala Kent and Raquel Leviss made up
It seems like all's well that ends (hopefully?) well, as Lala Kent and Raquel Leviss appear to be on a much better path today. In April 2020, Kent issued a (proper, this time) apology to Leviss via Instagram, sharing a snap of them together alongside the caption. "Raquel, I'm sorry I've been an a**hole. 'If we can't all agree Lala's a bully, we can all agree she's a b***h'. #TRUTH."
Then, in January 2022, Kent gave an update on their friendship on "Watch What Happens Live with Andy Cohen." She denied being extremely close with Leviss, but told Cohen after admitting Leviss was the only cast member to call her regarding the "Vanderpump Rules" Season 9 reunion, "She's hard not to adore. I mean, not only is she beautiful, but she has the heart to match."
And now it seems the two really have buried the hatchet as they actually teamed up for a business venture. In March 2022, Kent's beauty line, Give Them Lala, confirmed on Instagram alongside video footage from a photo shoot the two did together that it would be teaming up with Leviss for the "Bambi Eyed B***h" eyeshadow palette. Now that's a name! Kent also shared snaps from the shoot on her Instagram that same month, writing, "Thank you for being the biggest part of this @raquelleviss." Now, maybe just cross your fingers this friendship reconciliation goes the distance...