Britney Spears Couldn't Care Less About Social Media Haters Amid Honeymoon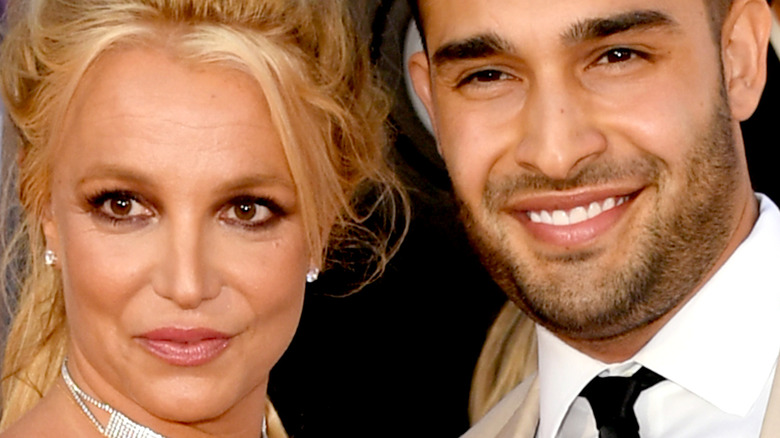 Kevin Winter/Getty Images
"Toxic" pop star Britney Spears has never had a problem clapping back at the haters in her life. In June, she used her ever-popular official Instagram account to call out Kelly Clarkson for a perceived slight from 2008, which Britney classed as "bullying," per HollywoodLife. Also in June, she clapped back at her mother, Lynne Spears, who commented she was "soooo happy" for her daughter's recent nuptials with Sam Asghari, per Page Six. "Am I happy enough mamma?" she captioned her post, as only Brit can.
Back in January, she called out her younger sister Jamie Lynn Spears for writing a tell-all book that mentioned Britney's supposed mental state and 13-year conservatorship, per People. "The 2 things that did bother me that my sister said was how my behavior was out of control. She was never around me much 15 years ago at that time .... so why are they even talking about that unless she wants to sell a book at my expense??? REALLY???"she wrote on social media. 
Now, the "Oops I Did It Again" songstress has done it again, this time on her honeymoon with Asghari after their star-studded wedding in June.  She has used her much-beloved Instagram to post video compilations of their yachting honeymoon, full of sand, surf, and bikinis. But this time, she couldn't care less about the comments from everybody else.
Britney Spears calls her PDA 'obnoxious,' but ignores the haters
It's Britney, beach! "Gimme More" singer Britney Spears is currently on a tropical honeymoon with hubby Sam Asghari in an undisclosed location, and she has two IG video compilations as evidence. The first shows her and Asghari cavorting and canoodling on a yacht at full speed. "Am I obnoxious enough ???" she jokes in the caption. The second shows her frolicking in the surf and showing off her svelte bikini bod, even going topless at one point. "No this is not a girls gone wild campaign ... It's simply me living my life !!!" she writes, in part, in the caption. "This is what happens when you do a two week yacht island vacation ... jumping from island to island is literally insane !!!"
While the "Work B***h" singer looks happy and carefree, the comments section is not as pleasant. "This guy seems like he does not love her he does not even wanna kiss her," one troll said, while another opined, "We think he's using you and not genuine." One troll had the gall to write, "you guys need to do a welfare check on Britney spears make sure she is on and is free and not being held against her will."
For now, the "Piece of Me" crooner hasn't clapped back, but considering that Asghari has added two heart-eye emojis in the comments, we're betting that's the only opinion that matters to her right now.