What Really Happened Between Edie Falco And Stanley Tucci?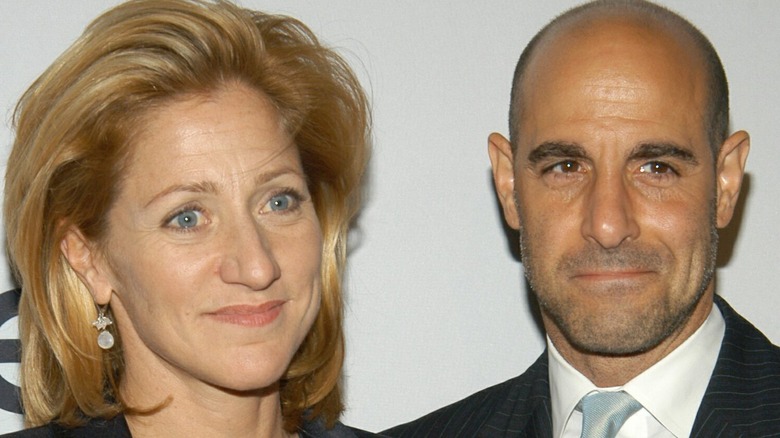 Lawrence Lucier/Getty Images
Edie Falco is widely known and beloved across America and the world as one of the most acclaimed actors in television. After first scoring her big break as the female lead in HBO's "The Sopranos" from 1999 to 2007, she then went on to further dominate the industry with her role as the eponymous lead on Showtime's "Nurse Jackie" from 2009 to 2015. Falco is also a celebrated stage actor, appearing in a number of Broadway productions over the years, which even culminated in a Tony Award nomination in 2011 for her performance as Bananas Shaughnessy in the revival of "The House of Blue Leaves."
Falco's portrayal as Carmela Soprano has made its impact on the television industry as a whole, even over a decade after the acclaimed HBO drama came to an end. This was in no small part due to the astounding chemistry she shared with her co-star James Gandolfini, who portrayed her on-screen husband, Tony Soprano. However, many fans may not know that Falco's real chemistry was really with another actor all along — one who had nothing to do with "The Sopranos" at all. This actor was Stanley Tucci, with whom Falco had a yearslong affair. 
Edie Falco and Stanley Tucci's explicit Broadway scene started it all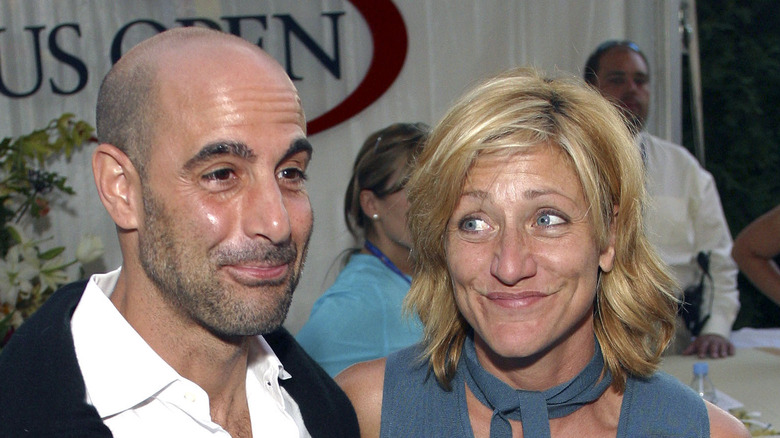 Mychal Watts/WireImage/Getty Images
Although their romantic affair only started years later, Edie Falco evidently first developed a crush on Stanley Tucci before she even knew him — while she was getting her bachelor's degree at SUNY Purchase, which Tucci had attended a few years prior. "He was like the boy who made good," she told Vanity Fair in 2018. "The shining example of what we all wanted to be." A few years later, the two would end up meeting while acting together on Broadway. 
In 2002, Falco and Tucci first appeared together in a revival of Terrence McNally's "Frankie and Johnny," a play which started with the two leads in bed together — naked. However, it began as no big deal to either of them, who saw it purely as work. "There's sort of no way to make an audience believe" that their characters weren't having sex, Falco told the New York Times at the time. "I trust Stan implicitly. He's in love with his wife and has a family, so it's not as weird as it might be were that not the case."
Indeed, Tucci was married at the time, to the late Kathryn Spath, with whom he had five children – two of whom were Spath's from a previous marriage. However, Falco's faith in Tucci's devotion to his wife may have been misplaced, as she would soon come to find out. 
Stanley Tucci briefly left his wife for Edie Falco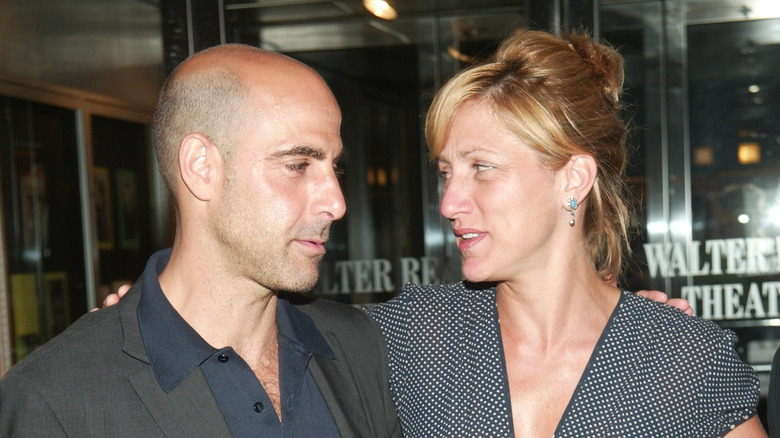 Evan Agostini/Getty Images
Although Edie Falco first had faith that her relationship with Stanley Tucci would be purely platonic (despite the on-stage nudity they shared together), that isn't quite what ended up happening. 
Eventually, Falco and Tucci developed a romantic relationship, which led to Tucci briefly leaving his wife, Kathryn, for Falco. Understandably, however, neither have been very forthright about the details. Falco, however, did give a brief rundown about it to the New York Times in 2004, shortly after it ended. "We were together and then we broke up," she said. "Because there's no way for that to be a good thing. He's a lovely man, and he's back with his wife and kids, and I'm thrilled."
Their relationship, however, was not meant to last, as Tucci ended up reversing course and leaving Falco shortly thereafter, returning to his wife, with whom he would remain until her death from cancer in 2009. For her part, Falco never ended up marrying or having any other serious relationship that we know of, though she is a mother of two children she adopted in 2005 and 2008. Whether she and Tucci still so much as remain in contact is not known, though they will almost certainly never forget each other.