Who Is The Mother Of Elon Musk's New Twins, Shivon Zilis?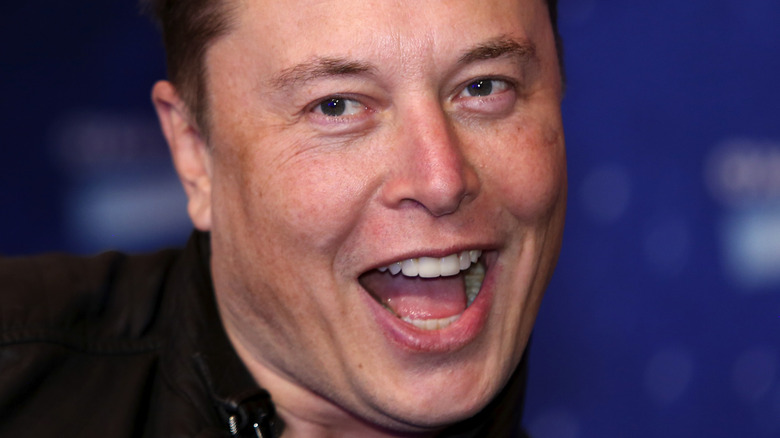 Bloomberg/Getty Images
Everybody knows just about everything about Elon Musk by now. His Twitter feed offers insight into his deepest thoughts and feelings. It's an existential journey through the controversial genius' mind — often confusing and amusing in equal part. Musk has reached triumphs other mere mortals could only dream of. The New York Times hailed him as "the most successful and important entrepreneur in the world."
Yet, despite all the trappings of wealth and the multitude of undeniable achievements, Musk is terrified of living a solitary life and desperate to find a lifelong partner. It's hard out here for a billionaire. "If I'm not in love, if I'm not with a long-term companion, I cannot be happy," he told Rolling Stone in 2017. "I will never be happy without having someone. Going to sleep alone kills me."
Musk has also experienced heartbreaking tragedy in his life. His first son, Nevada Alexander, died from SIDS at 10 weeks old. Although he can never replace Nevada, he has had multiple other children. Musk uncharacteristically displayed great empathy by emailing a grieving father who lost his son in an accidental Tesla car crash. "There's nothing worse than losing a child," he wrote, per Bloomberg. "My firstborn son died in my arms. I felt his last heartbeat." Musk's personal life took an unexpected turn recently. Insider reported he'd secretly fathered two babies with one of his company executives. Now the whole world is asking, who is Shivon Zilis, the mother of Musk's new twins?
Shivon Zilis is super smart
Shivon Zilis, the mother of Elon Musk's new twins, maintains a much lower public profile than her boss. However, her Twitter feed reveals a lot about her. Zilis loves to indulge in goat yoga and slice watermelons with a samurai sword, but who doesn't? She also shares many similarities with Musk. According to her bio, the Canadian is passionate about "artificial intelligence, biological intelligence, and whatever exists in between and beyond."
Plus, Zilis loves to post random existential musings with her 81.2K followers. "I think, therefore I am not an NPC," she shared. "I'm less interested in knowing who let the cat *out* of the bag than knowing what crazy person thought it was a good idea to put a cat *in* a bag in the first place," she announced. Per LinkedIn, Zilis is "all about machine intelligence for good." She worked at OpenAI for six years as an advisor and then a board member before becoming Director of Operations and Special Projects at Neuralink in 2017.
So, not surprisingly, she's a smart cookie. According to her website, Zilis graduated from Yale, where she'd played goal on the ivy league university's ice hockey team. In 2015, she was listed on Forbes 30 Under 30. "Zilis has led nine investments since launch, four of which have since raised capital at higher valuations," they wrote, noting she "looks for startups using data and machine intelligence in new ways."
Elon Musk's new twins are likely the start of legions more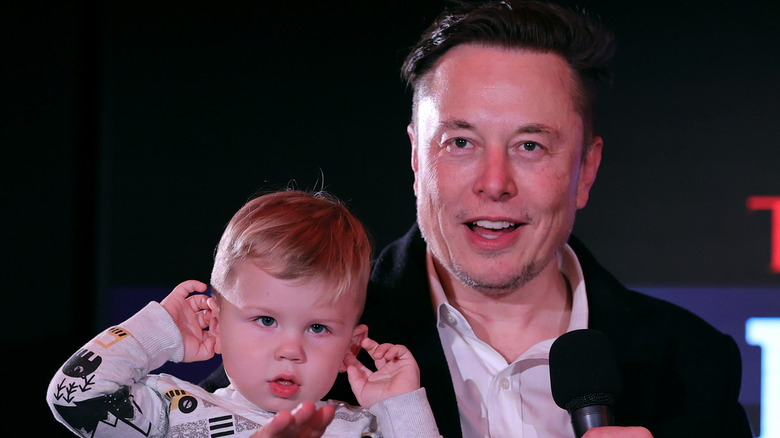 Theo Wargo/Getty Images
Realistically, Elon Musk usually gets what he wants. After being a habitual tweeter for years, he decided he wanted to buy the platform. So, after some serious negotiating, Musk engineered his Twitter takeover. He now appears to be on a one-man mission to conquer Mars and repopulate the world, and he's doing pretty well on both counts.
Musk has reportedly had 10 children so far, nine still living, per The New York Times. Three arrived in the past year. He welcomed twins with Shivon Zilis in November. In December, a surrogate gave birth to the daughter he shares with Grimes, with whom he also has a son and a fluid relationship. 
Musk has pinned a chart documenting the fertility slump in the U.S. to the top of his Twitter feed. "USA birth rate has been below min sustainable levels for ~50 years," he commented. Musk has vowed to up the ante. "Doing my best to help the underpopulation crisis. A collapsing birth rate is the biggest danger civilization faces by far," he tweeted. Musk answered David Bowie's longstanding question in his following tweet by declaring that there is no life on Mars. Then, he shared his hopes that everyone has "large families." Musk's rallying call received mixed reviews. "You're disgusting," radio host Tara Dublin replied. "Way to rub it in that my uterus is s**t," another commenter tweeted. "You have thousands," gushed a fan, referring to Musk's bitcoin "family."