Inside Harry Styles' Budding Acting Career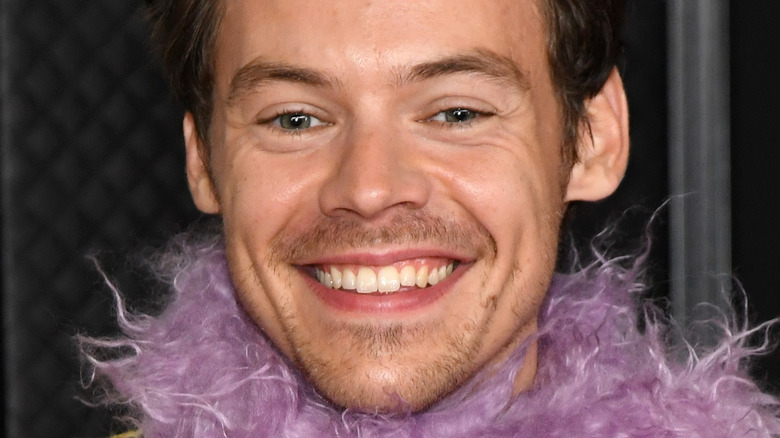 Kevin Mazur/Getty Images
Harry Styles has come a long way from being the curly-haired crooner in One Direction. After his departure from the band, he's been working hard on establishing himself as a jack of all trades in the entertainment industry. Styles has released three albums since becoming a soloist and in 2021, he bagged his first-ever Grammy, a Best Pop Solo Performance award for his chart-topping track, "Watermelon Sugar."
But fans know that music isn't Styles' only talent. The singer-songwriter has dabbled in projects outside of music in recent years, most prominently acting gigs. As of this writing, he has starred in three blockbuster films, including "Dunkirk," "Eternals," and the upcoming "Don't Worry Darling," directed by his current girlfriend, Olivia Wilde. "[He's] an up-and-coming actor with no other career that I'm aware of," she joked at CinemaCon in April, per Page Six.
Despite being a fledgling actor, Styles has managed to rake in high-profile roles. According to the star, he dived into acting because he likes the challenge.
Harry Styles said acting is out of his comfort zone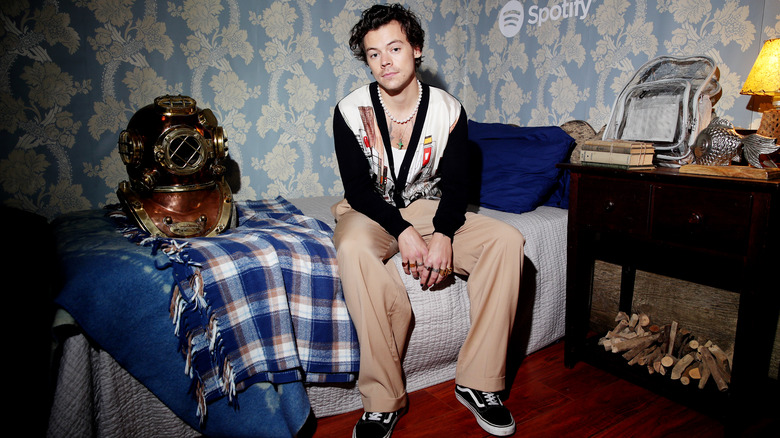 Rich Fury/Getty Images
Harry Styles would be the first one to tell you that acting is out of his comfort zone, and that's precisely why he dabbles in it in the first place. Speaking with Dazed, the "As It Was" singer said he enjoys the challenge involved in playing different characters on-screen.
"I like to challenge myself and do something different, and movies are definitely where I feel most out of my comfort zone," Styles said (via People). "I'm coming from music where I don't think anyone really knows how it works, but I am somewhat in my comfort zone! But in movies, when I show up, I'm the new guy. I haven't been [an actor] for a long time and that's really cool, I feel like I've learned so much and life is about learning."
In an interview with Howard Stern, Styles also admitted that he sometimes finds acting "uncomfortable," especially if the role demands him to do something he's not particularly fond of, like love scenes. "Acting is kind of very uncomfortable at times," Style dished (via GQ). "I think you have to trust a lot. It requires a lot of trust if you want to give it everything. I think being able to trust your director is a gift," he added. "That was very helpful. It really meant for kind of a really nice experience working on that movie."
Harry Styles' colleagues in the film industry praised him for his talents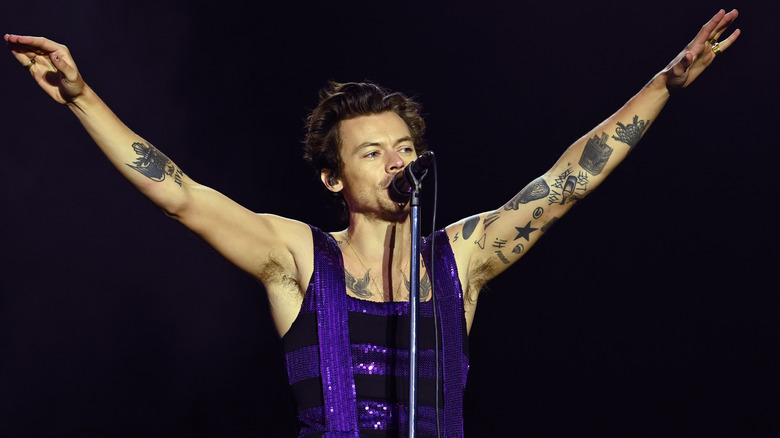 Dave J Hogan/Getty Images
Harry Styles may be a newbie in the acting world, but his colleagues never fail to shower him with praise whenever they get the chance to work with the star — one of them being "Star Trek" actor Chris Pine, with whom Styles stars in "Don't Worry Darling."
"He's one of the most professional people I've ever met," Pine told Entertainment Tonight. "Couldn't be kinder, more gracious — I mean, really, I was stunned by this kid. He's off-the-charts cool." As if that's not enough, Pine also praised Styles' determination. "To be that young and to be that famous and have your head screwed on right, he's a humble hard worker," Pine told "The One Show," per Metro UK. "He shows up to set earlier than everybody else, hungry to learn, and he and Florence [Pugh], I saw the film actually, just knock it out of the park."
Even directors can't help but gush over the singer. "Eternals" director Chloé Zhao said casting Styles was a non-negotiable. "Harry as Eros was very much a package deal for me," she told Deadline. "After meeting him I realized he is that character—the same way I cast the rest of my cast. There's so much of Eros in him. For me, if he says yes, and Kevin says yes, then it's a go. And I'm very happy they both did." Christopher Nolan shared the same sentiment when he cast Styles on "Dunkirk." Speaking with the Los Angeles Times, he said, "I auditioned literally thousands of young men with different combinations of young men. And he had it."