Billy Bob Thornton Has Been Married More Times Than You Think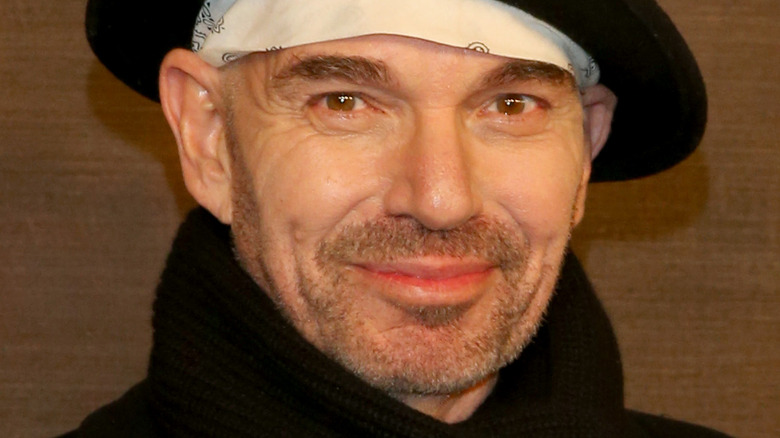 Gabe Ginsberg/Getty Images
Celebrated American movie star Billy Bob Thornton is perhaps one of the most recognizable faces in the industry. Having first skyrocketed to fame in the 1992 thriller "One False Move," which he both starred in and co-wrote, Thornton went on to receive numerous Academy Award nominations, both for acting and writing. With two Golden Globes, an Emmy nomination, and a Hollywood Walk of Fame star under his belt, Thornton is also a celebrated musician, having released four solo albums as a vocalist and drummer, and is also the lead singer of the rockabilly band The Boxmasters. 
Fans may recall that Thornton's career received a notable boost in attention during his widely covered marriage to celebrity superstar Angelina Jolie in 2000, which ended only three years later in 2003. Despite the unavoidable surge in media attention surrounding this marriage, Thornton has been open about his disdain for celebrity culture, preferring to stay on the down-low as best he can as a celebrity. 
It is perhaps because of this low-key lifestyle Thornton employs that many fans may not know about the many marriages he has had — to more than just Jolie. So, how many times has the famed actor been married? Well, the answer is likely more than you think. 
Billy Bob Thornton has been married six times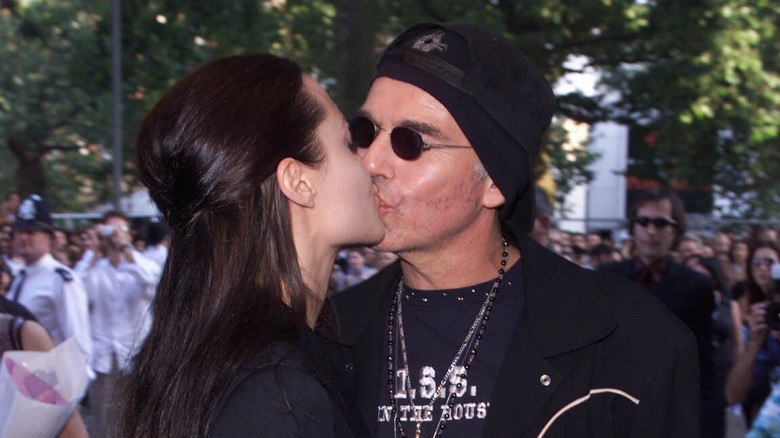 Dave Hogan/Getty Images
Billy Bob Thornton, who turns 67 in August 2022, has been married to six women over the years. Most of his wives, however, are not celebrities themselves — appropriate considering Thornton's disdain for celebrity lifestyle — and none are as high-profile as his brief marriage to Angelina Jolie. Most, however, were relatively brief themselves, and came to pass even quicker than his conjugal bond to the "Mr. and Mrs. Smith" star. 
Thornton's first marriage was to an Arkansan woman named Melissa Lee Gatlin, a relatively low-profile private citizen, which lasted from 1978 to 1980, per People. In 1983, three years after his divorce from Gatlin, Thornton married a relatively unknown actor named Toni Lawrence, who starred in projects such as the 1973 thriller "Pigs" (written and directed by her father, Marc Lawrence), and the television series "Quincy M.E.," starring Jack Klugman. Thornton and Lawrence would divorce three years later. 
In 1990, he married arguably the highest profile of his wives (apart from Jolie), Cynda Williams, an actor with whom he co-starred in "One False Move," which launched both of their acting careers. She was even nominated for an Independent Spirit Award in 1993 for her lead role in the film. They would end up divorcing, however, in 1992. The following year, Thornton married Playboy model Pietra Dawn Cherniak. Four years later, they underwent an acrimonious divorce, with Cherniak accusing him of physical and emotional abuse, sometimes in front of their two sons, per People.
Billy Bob Thornton may have found his life partner
David Livingston/Getty Images
After his final (and most high-profile) divorce to superstar Angelina Jolie in 2003, Billy Bob Thornton understandably seemed to want a break from marriage. In 2008, he told Maxim that he would "probably not" marry again. 
"I told Connie I didn't want to put her through that," Thornton said, referring to Connie Angland, his then-girlfriend. "If we get married, then the press will start calling her 'Number Six.'" He even claimed at one point after divorcing Jolie that marriage "doesn't work" for him. However, despite these comments, all seems to have changed for him, as he ended up marrying Angland in secret in 2014. Their wedding was publicly revealed the following year. 
Thornton and Angland have been married for nearly 8 years now, which is twice as long as Thornton's longest previous marriage. They were also together longer before marrying than Thornton had been with any of his other wives, having gotten together in 2003, shortly after his divorce from Jolie, per People. Together, the two have a daughter, Bella, who was born in 2004. The birth of Bella marked Thornton's fourth (and likely final) child. In the end, Thornton proved that, despite statistics, and a fast-paced Hollywood lifestyle, true love can always find a way, and marriage can indeed work out for even the most unlikely of folks.