What Kim Kardashian Did With Her Engagement Ring From Kris Humphries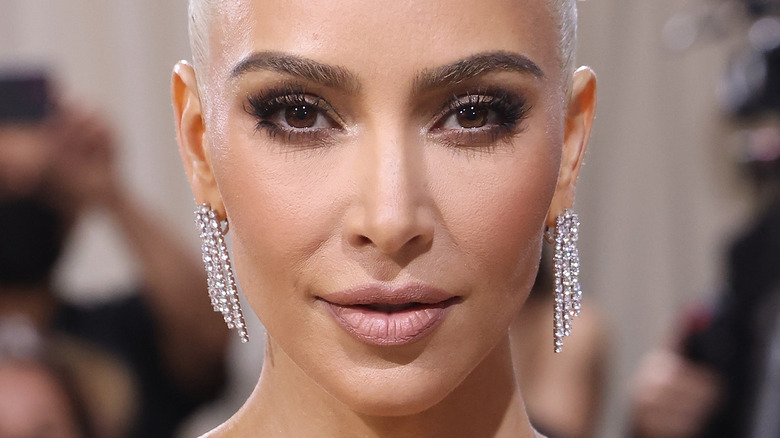 Taylor Hill/Getty Images
Before Kim Kardashian split from her ex-husband Kanye "Ye" West, she had another divorce that rocked Hollywood. Fans who "Keep Up" know that the reality star mogul was previously married to NBA player Kris Humphries for just 72 days, per BuzzFeed. In fact, their whirlwind courtship, marriage, and split occurred so suddenly that the whole thing led momager Kris Jenner to roast her daughter in the "Keeping Up With The Kardashians" Season 12 premiere. Can you say clapback?
As Kardashian noted on "Watch What Happens Live" (via People), she knew on her honeymoon that her relationship with Humphries was doomed to fail. "I just thought, 'Holy s***, I'm 30 years old, I better get this together. I better get married," she revealed. "I think a lot of girls do go through that where they freak out thinking they're getting old ... It was more of that situation." 
In a separate interview with Andy Cohen (via Insider), Kardashian mused that she never wanted to be cast as "the runaway bride forever," so she went through with the wedding despite her misgivings. However, the reality of the mistake she'd made quickly set in. "I was so nervous to break up with someone," Kardashian added. "I totally handled it the wrong way." It wouldn't be the first time that the SKIMS founder was unsure of how best to handle a tricky situation. In 2018, she even admitted to hiding her ring from then-husband Humphries in order to spare a special someone's feelings.
Kim Kardashian hid her engagement ring from Kanye West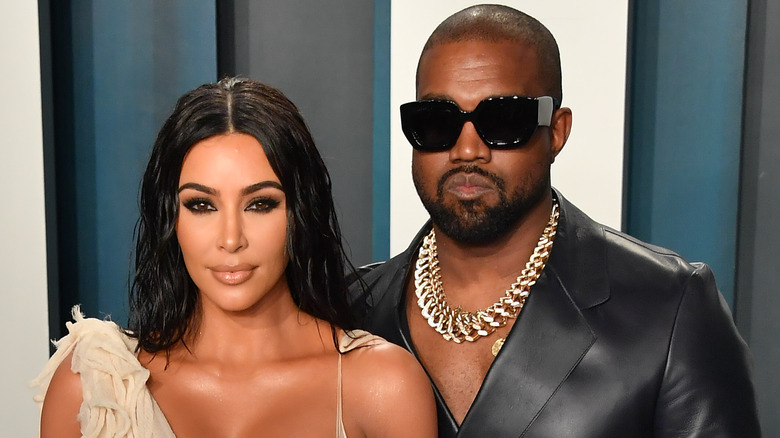 Allen Berezovsky/Getty Images
Kim Kardashian and Kanye "Ye" West didn't get together until after she split from Kris Humphries, but the mother of four knew that the rapper had feelings for her during her marriage. In a 2018 interview with Big Boy's Neighborhood radio show, she revealed that Ye had an interesting reaction to seeing her engagement ring. Explaining that the pair ran into each other while she was presenting an award, Kardashian said, "So I am talking, and I just see him looking at my ring and his face would just get heartbroken. So I sat on my hand for the rest of the dinner and spoke like this with one hand."
To hear Kardashian tell it, things remained strictly platonic with Ye during her marriage to Humphries. Still, it was knowing that Ye had feelings for her, as well as beginning to accept her own feelings, that led Kardashian to split from Humphries. "I went to New York and started filming ... and I was like, 'You're right. I'm miserable.' I made the wrong decision," she said. Following the divorce, she took matters into her own hands and called up Ye, per E! News. "I called Kanye ... and then — he's always been a good friend to me, like we've always been there for each other — then he invited me to a fashion show of his in Paris ... and then the magic happened," Kardashian said.
When did Kim and Kanye first get together?
Kevin Mazur/mg19/Getty Images
Kim Kardashian and Kanye "Ye" West's romantic timeline remains a little muddled, even today. In 2012, the rapper's ex, Amber Rose, told Page Six that she believed Ye and Kardashian got together in 2010 while filming "Kourtney and Kim Take New York." "Kim is one of the main reasons why me and Kanye are not together," she explained. Furthermore, TMZ reported that Kris Humphries was suspicious that Kardashian cheated on him with Ye when the rapper didn't make their wedding guest list.
In 2012, Ye confirmed suspicions about his relationship with Kardashian when he dropped the track "Cold," per E! News. In it, he raps, "I'll admit I fell in love with Kim around the same time she fell in love with him. / Well, that's cool, baby girl, do you thing / Lucky I ain't have Jay drop him from the team." The "him" in the verse allegedly refers to Humphries, who played for the Brooklyn Nets at the time. Jay Z, with whom Ye has a complicated relationship, owns a share of the basketball team.
Naturally, Kardashian played coy about the whole thing. "I've said before, I mean, Kanye and I have been friends for years," she said on TODAY in 2012. "You never know what my future holds or where my life will take me." Indeed, few could have predicted the end of her marriage to Ye, let alone her steamy romance with Pete Davidson. Cheers to love!