Mickey Rourke Completely Lashes Out At Tom Cruise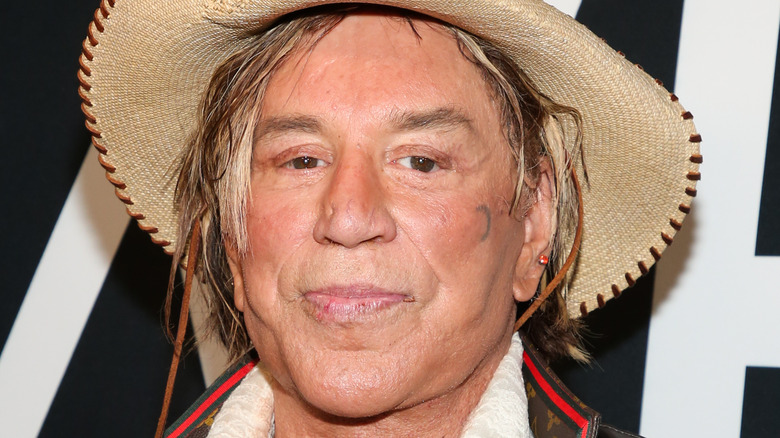 Paul Archuleta/Getty Images
From defending Harvey Weinstein (via TMZ) to his vendetta against Marvel movies, actor Mickey Rourke has been known to cause a stir in interviews and onscreen. While he continues to act, mostly in on-demand and direct-to-video movies, recent headlines involving the "Sin City" star are more about his real-life drama. Rourke has also extended his controversial statements to social media: in 2021, over a decade after appearing in "Iron Man 2" as villain Whiplash and being unhappy with the final cut, he took to Instagram to claim that Marvel films don't have "real acting" in them.
Marvel isn't the only issue, though: Rourke seems unhappy with Hollywood, period. A self-proclaimed dog lover, he previously stated "If I could get a job walking dogs and get paid the same amount I do from making movies, I'd never make another movie again." Perhaps his money issues are why he appeared on "The Masked Singer" in 2020, although he took off his costume before the judges were able to guess his identity.
Now, in a new interview on "Piers Morgan Uncensored," Rourke is setting his sights on a new target: Tom Cruise. While the two actors have never worked together, Rourke still had plenty to say about the "Top Gun" star and this time he may have too far, even for Piers Morgan.
Mickey Rourke calls Tom Cruise irrelevant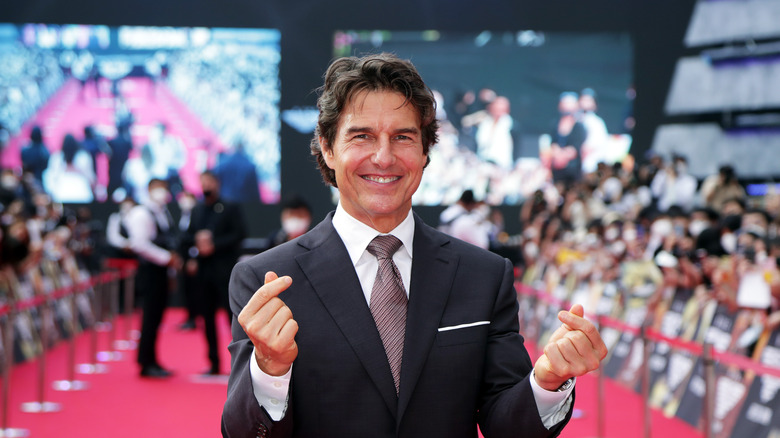 Han Myung-gu/Getty Images
Rather than going after Tom Cruise for something controversial, like his long, close relationship with the Church of Scientology, Mickey Rourke has instead decided to discredit his acting. When talking about his acting inspirations with Piers Morgan, The "9 1/2 Weeks" star said, "Monty Clift and [Marlon] Brando back in the day, a lot of guys that tried to stretch as actors." The British broadcaster then asked "You don't think Tom Cruise is a good actor?" to which Rourke responded, "I think he's irrelevant, in my world."
Per the Daily Mail, Rourke also said, "The guy's been doing the same effing part for 35 years. I got no respect for that." Cruise has mostly starred in action blockbusters like the "Mission: Impossible" franchise in recent years, but those films aren't irrelevant at the box office. "Top Gun: Maverick" is the most successful film of 2022 to date, grossing over $1 billion at the box office with a 97% score on Rotten Tomatoes. 
Rourke and Cruise have never worked together, and there's no evidence of a prior feud that may have caused Rourke's comments. But they were both A-listers in the 1980s and their careers are in very different places now. While Cruise hasn't commented on the interview, it's unlikely he's losing any sleep over Mickey Rourke's opinion.