Why Trixie Mattel Turned Down RuPaul's Drag Race: All Stars 7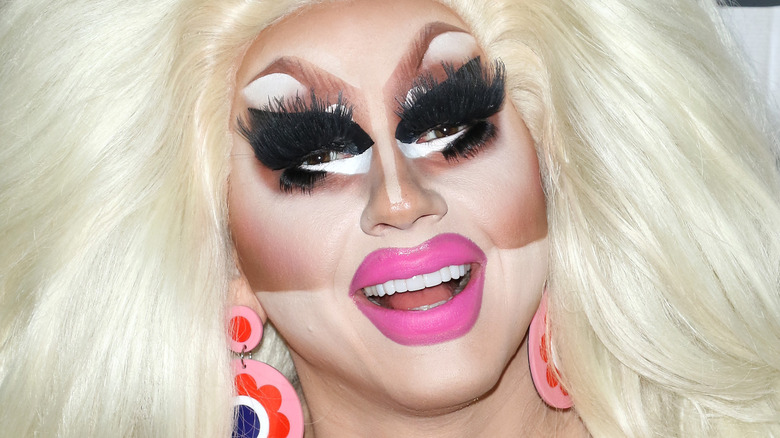 Jim Spellman/Getty Images
Trixie Mattel is arguably one of the most famous drag queens to ever have participated in "RuPaul's Drag Race."
Granted, she did not win the first time she joined the show. As a contestant in Season 7, Mattel was eliminated in episode four, but later re-entered the race when she won a challenge alongside fellow drag queen Pearl Liaison. She was in the running for the crown until episode 10, coming in sixth place despite missing a few weeks of challenges. Interestingly, she's also the first contestant to last more than one episode after re-entering the competition.
She may not have taken home the crown for that season, but what she definitely won were the hearts of fans. Mattel wasted no time dabbling in projects after "Drag Race," which included launching a podcast with Katya, making appearances on shows like "American Horror Story," releasing studio albums, and more. Eventually, she was asked to return to "Drag Race" as a participant in "All Stars," and while she did for the spin-off's third season — which she won — she declined to join when she had been tapped to partake for the second time.
Trixie Mattel was too busy to return to RuPaul's Drag Race All Stars Season 7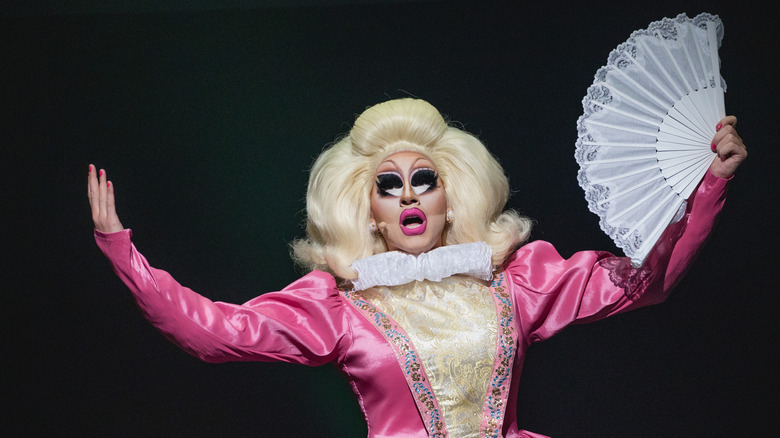 Rick Kern/Getty Images
The seventh season of "RuPaul's Drag Race All Stars" was controversial, to say the least. For starters, all of the invited participants had won the crown in previous "Drag Race" seasons, making the competition as tight as ever. But there were also queens who fans expected to join, but did not make the cut, like Bob the Drag Queen. According to Bob, she did not get the call at all.
"I want everyone to know I was not busy. I literally just did not get a call. They did not reach out to me," she told Out. "So I want everyone to know: I was free as a bird with its tail in the breeze. I was helping Monét [X Change] get ready, actually." Meanwhile, there are also stars like Trixie Mattel, who got the invite but declined to join. In Mattel's case, she simply had no time for it.
Mattel told Pink News that the "opportunity was definitely available to me," but at the time, she was set to kick off her tour and start working on her own reality series. "When I left, I said, 'Can you promise me that you'll invite me back for winners?', and [the production company] said, 'Yeah, we'll invite you back'," she added. While she admitted that she isn't "disappointed at all," she's definitely "sad" to skip hosting the recap show, "Pit Stop." She said, "I loved doing Pit Stop — it was like my favorite job."
Trixie Mattel is building her own empire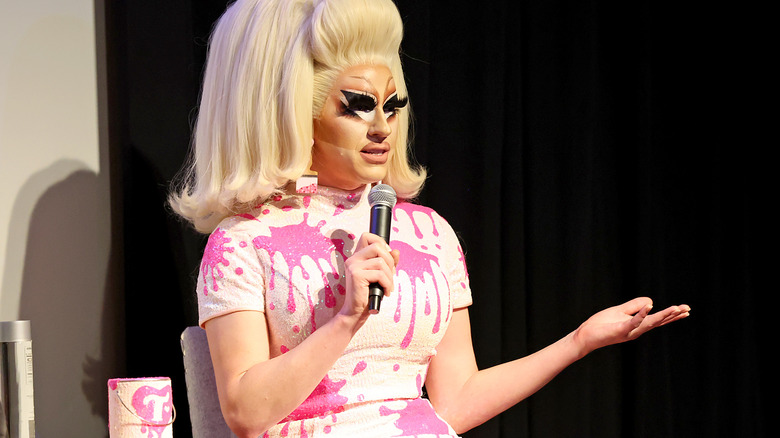 Monica Schipper/Getty Images
Trixie Mattel wasn't kidding when she said that she was busy. The drag superstar is elbows deep into building her empire, which she admitted she started from the ground up.
"I grew up in a trailer on a dead-end dirt road where we lived so far out, we couldn't even get public access television because it was too snowy. Now, I'm playing Jimmy Kimmel Live," she told Rolling Stone. "I have two billboards up in Times Square. Even this hotel room is bigger than the house I grew up in. And now I'm getting free wine. It's insane." Apart from her podcast with Katya, Mattel has since released a documentary, a comedy special, multiple albums, a comedy web series, a New York Times bestselling book, a cosmetics line, judged a drag singing competition, and even bought a bar.
And how does she do these projects simultaneously, you ask? Well, she just does. "The tour's all written, the music's written. I just keep going, 'What if I just did more? What if I just did more?' It's like I have a neighbor that doesn't like when I play loud music, but every day I turn the knob up a little bit and they don't complain anymore because they can't hear it," she told Metro Weekly. "As far as the amount of work on my plate, I think I just slowly dosed myself to the point of like, this is fine. I mean, I don't have any crying at work meltdowns or anything."