What Sarah Paulson Had To Say When Asked About Lea Michele's On-Set Behavior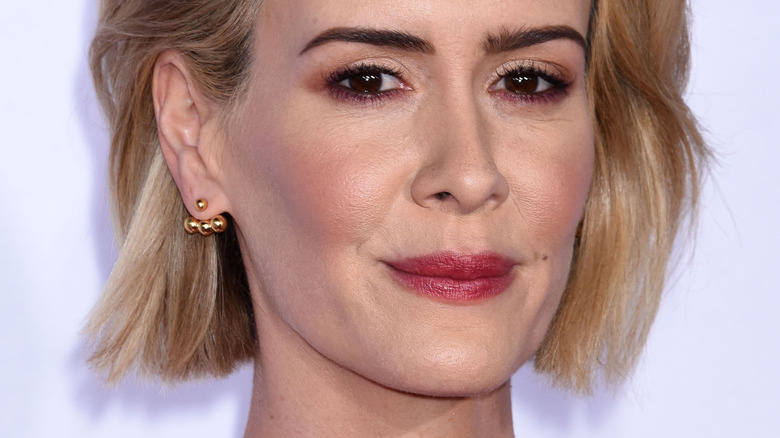 Ga Fullner/Shutterstock
In a 2014 interview with The Rainbow Times, Lea Michele addressed those who call her a "diva, saying "I applaud [her critics] when they call me a diva!" Not everyone has applauded Michelle, including some of her former "Glee" castmates, as per Us Weekly.
But all of these "diva" rumors ramped up to another level when "Glee" co-star Samantha Ware tweeted about Michele's behavior toward her.
"REMEMBER WHEN YOU MADE MY FIRST TELEVISION GIG A LIVING HELL?!?!" Ware said in a Tweet in 2020 that has since been deleted, reported by Glamour. "CAUSE ILL NEVER FORGET. I BELIEVE YOU TOLD EVERYONE THAT IF YOU HAD THE OPPORTUNITY YOU WOULD 'SHIT IN MY WIG!' AMONGST OTHER TRAUMATIC MICROAGRESSIONS THAT MADE ME QUESTION A CAREER IN HOLLYWOOD."
Ware stated how Michele didn't like her from the beginning, mentioning that Michele would be very passive-aggressive with her, as she gave her stare-downs and mumbled comments under her breath, per Variety. Ware then said that she tried to bring it up, but it was 'shrugged off.' Just like the "Glee" executives stayed silent, actor Sarah Paulson had a similar response.
Sarah Paulson pleads the fifth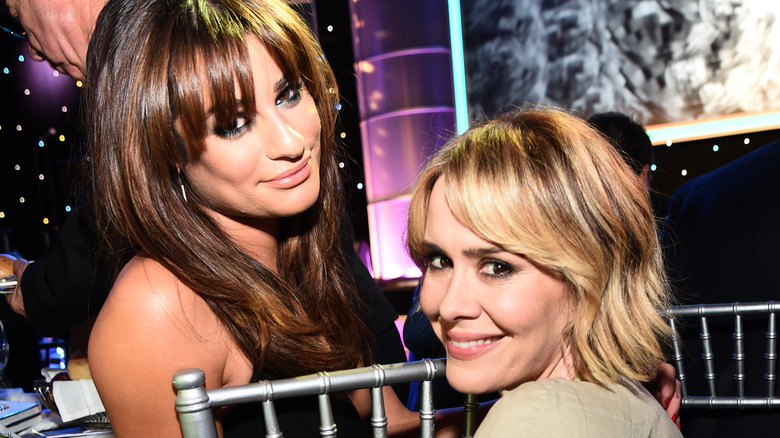 Michael Buckner/Getty Images
At a 2009 "Glee" Comic-Con panel, Michele's character on "Glee," Rachel Berry, was described as "written for Lea." Years after the series ended, former co-star Heather Morris continued to speak out on Michele's alleged on-set behavior (via Vanity Fair) claiming that all the rumors of Michele's diva-like behavior are "all very true." Morris went on to say, "It was something that was very hush-hush on set."
Sarah Paulson was asked about the claims of Michele's on-set behavior since both of the actors have been in Ryan Murphy productions — Michele in "Glee" and "Scream Queens," and Paulson in "American Horror Story." But Paulson avoided getting into the drama.
"I'm having a weird connection, I can't really hear you," Paulson joked to Andy Cohen in a 2020 interview when the question was brought up. Paulson "plead the fifth" on the question, as pointed out by the show's other guest, "Real Housewives of New York City" star Sonja Morgan. Cohen then moved on and asked the next question. While some of Michele's co-stars — most notably the late Naya Rivera — have spoken about their relationship with the actor, and have said that Michele was "unprofessional" during filming, it is unclear whether or not Paulson had a good or bad experience with the actor, especially after her response on "Watch What Happens Live."
Lea Michele still faces backlash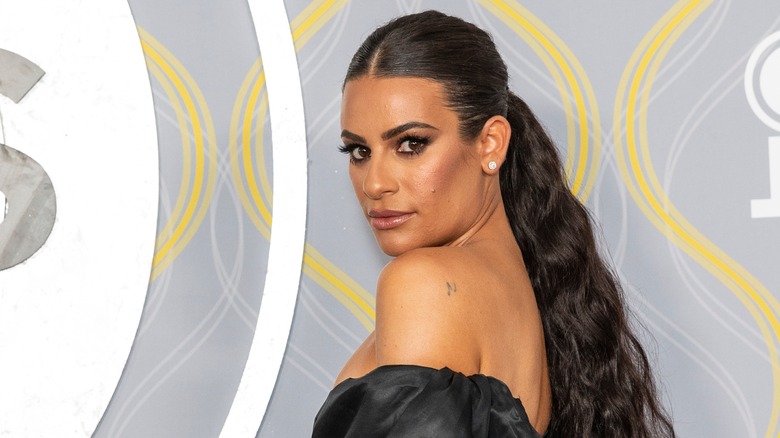 lev radin/Shutterstock
Although Lea Michele and Sarah Paulson have both worked with Ryan Murphy, a reason as to why Paulson stayed silent about Michele's on-set behavior could be because she hasn't worked directly with the "Glee" actor. According to Girlfriend, a number of Michele's "Glee" co-stars, as well as other people who have worked with her, have spoken about the issue.
"Was she unpleasant to work with?" Heather Morris, who portrayed Brittany on "Glee" said in a statement posted to Twitter in 2020. "Very much so; for Lea to treat others with the disrespect that she did for as long as she did, I believe she SHOULD be called out."
Michele issued an apology statement on Instagram saying, "I clearly acted in ways which hurt other people. I apologize for my behavior and for any pain which I have caused. We all can grow and change and I have definitely used these past several months to reflect my own shortcomings." But according to Insider, a list of colleagues and co-stars have come out with their experiences with the actor including Keith Powell and Gerard Canonico, so it seems the damage has already been done. Hopefully, with her recent casting in "Funny Girl," things will go more smoothly backstage.