Is Travis Barker Vegan?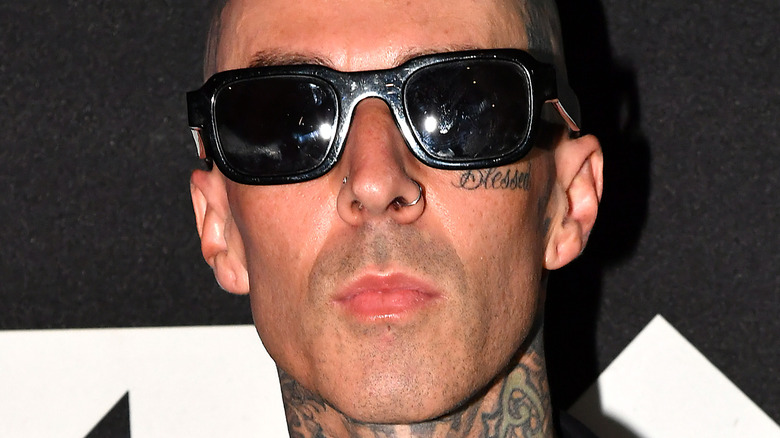 Jeff Kravitz/mtv Vmas 2021/Getty Images
In 2008, Travis Barker made headlines for reasons other than his proficiency with drumsticks. The Blink-182 drummer was involved in a tragic plane crash. Per Today, the plane in question "skidded off the runway and burst into flames after striking an embankment," ultimately killing all but two people on board: Barker and his friend, DJ AM. Both men suffered second- and third-degree burns when they were forced to jump through an emergency door to escape, according to CBS News. Barker then grappled with survivor's guilt in the aftermath of the accident, even more so following DJ AM's drug overdose death a year later, per ABC News. 
The incident left him with a whole new lease on life, leading him to revamp his diet and exercise routine, as he shared with Men's Health. To date, Barker's long-standing wellness plan, coupled with his recent marriage to Kourtney Kardashian, has enabled him to become his happiest and healthiest self.
Travis Barker switched to veganism following a tragedy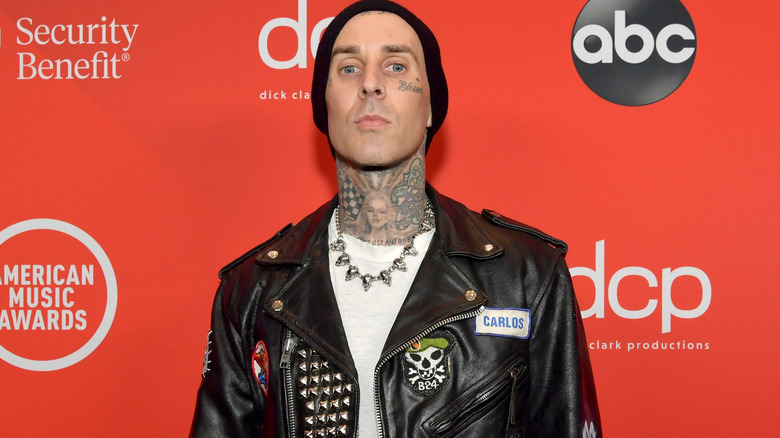 Emma Mcintyre /ama2020/Getty Images
In a 2019 episode of "The Joe Rogan Experience," Travis Barker shared that he became vegan following the plane crash, fulfilling a promise he made to himself. "I ate a bit of meat in the hospital and when I got out I just felt like the next evolution of my eating would be to try and be vegan," he said. The switch to veganism may have been sparked by tragedy, but Barker quickly discovered that the diet was ideal for fueling his on-the-go lifestyle. "Ever since I found this way of eating, I have endless amounts of energy," he told Men's Journal. "I can go all day, and after it all I never find myself getting tired."
In the same interview, Barker explained that he'd been a vegetarian since he was a teenager, but that a vegan diet made all the difference. "Right from the first time that I started to really eat vegan, I could feel how much it was affecting me," he said. "[Former NBA player] John Salley ... always told me how the players who ate that way outperformed the others. I started to see those results for myself as well."
It's easy for Barker to commit to a vegan diet in Los Angeles, where vegan restaurants are in high demand. Appearing in Harper Bazaar's "Food Diaries: Bite Size," the musician name-dropped his favorite local establishments, including Erewhon Market and Crossroads Kitchen. Barker further listed almond butter, pistachios, and bananas as his go-to vegan snacks.
Travis Barker bonds with Kourtney Kardashian over vegan fare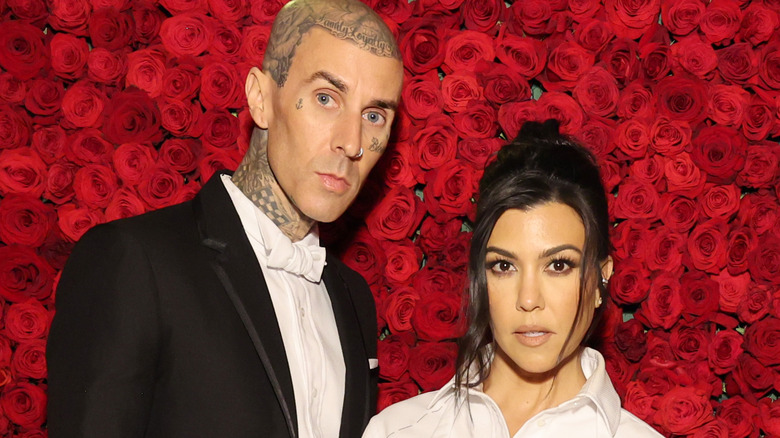 Cindy Ord/mg22/Getty Images
Travis Barker's vegan diet has also enabled him to connect with wife Kourtney Kardashian. While not a vegan herself, the Poosh founder's strict fitness and wellness regime has been well-documented on "Keeping Up With the Kardashians." In June, the duo collaborated on a campaign for vegan chicken brand Daring that featured seductive shots of them feeding each other food, per People. "I haven't eaten meat since I was 13 years old, so really good plant protein is important to me," Barker said, adding that he was "excited to see more plant-based choices on menus."
Along with encouraging fans to enjoy more plant-based fare, Kardashian is "obsessed" with Barker's diet. In November 2021, the musician posted a carousel of photos to his Instagram that showed him shopping at a gas station. Barker's then-fiancee showed her approval in the comments section, writing, "Obsessed with you and all your vegan stuff" (via Us Weekly). Over on her lifestyle site Poosh, Kardashian has discussed diet at length, letting fans know that she's about "95% vegan" at this point. "It's all about balance and finding how and when you're comfortable with incorporating the changes into your lifestyle," the blog post read. Judging by this, the couple that eats together ... stays together?
Outside of eating healthily, Barker's vegan lifestyle has influenced his career, too. He expanded his own wellness brand, Barker Wellness Co, to include vegan CBD products, and he is an investor in LA-based vegan restaurant Crossroads Kitchen.