The Wild Theory About Ivana Trump's Death That's Making The Rounds On Social Media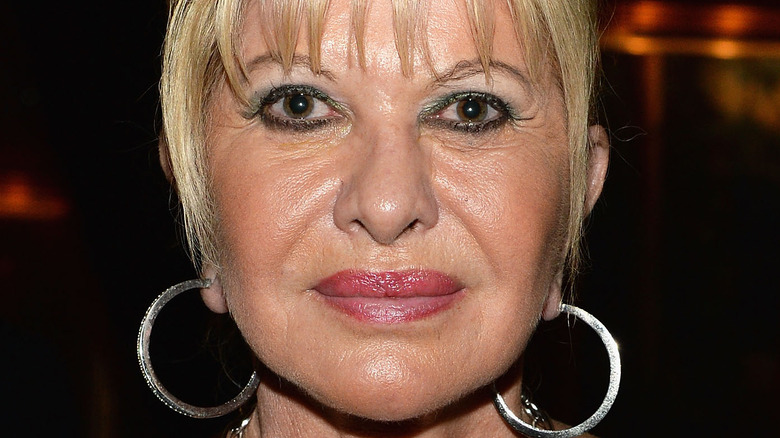 Slaven Vlasic/Getty Images
Although Donald Trump has left the presidential office and been banned from making more newsworthy tweets, he's still finding his way into headlines daily. Most notably, eyes have turned back to Donald because of his potential involvement in inciting the January 6 riot in Washington D.C. As CNN recaps, the House select committee has thus far heard from a multitude of witnesses in their efforts to prove Donald's efforts to overturn the election.
The twenty hours of public hearings have been filled with shocking moments. Business Insider reported on the testimony of a former aide, who shared that Donald would throw meals at the wall and flip tablecloths when angry. General William Barr shared that there was no evidence of election fraud, per CNN, and noted that Donald was made aware of this. 
Another investigation into the Trump family has been happening simultaneously, and capturing its own headlines. According to CNBC, the New York attorney general's office began scrutinizing the Trump Organization, which may have illegally manipulated real estate markets. The deposition of Donald, as well as that of his children, Ivanka Trump and Donald Trump Jr., was set to happen July 15. However, the death of Trump's ex-wife, Ivana Trump, introduced a hiccup in the trial and some conspiracy theorists are finding it all too convenient. 
Ivana Trump's death has caused the depositions to be delayed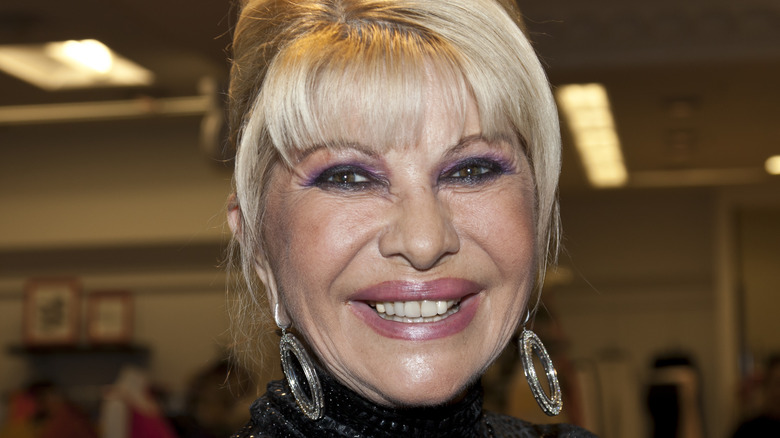 lev radin/Shutterstock
For over a month, the Trump family's depositions were scheduled for July 15. However, on July 14, The New York Times shared that Donald Trump's ex-wife, Ivana Trump, had died at age 73. As a result, ABC reported the attorney general understandably decided to delay all three depositions, allowing the family time to grieve. Yesterday, a devastated Ivanka Trump tweeted out a childhood image with her mother, writing, "Heartbroken by the passing of my mother." Donald Trump used his platform, Truth Social (via The Hill), to share, "She was a wonderful, beautiful, and amazing woman, who led a great and inspirational life."
However, following the announcement of the delayed depositions, some conspiracy theorists couldn't help but to point out the timing. "What an amazing coincidence," someone wrote under ABC's announcement. One user put the wild conspiracy in plain words: "Ivana Trump 'fell' down her stairs and died a day before Trump was due to give a deposition ... You can't make this s*** up." Notably, there is no evidence to support the theory that Ivana's death was planned or caused in relation to the trial. Some netizens were entirely unamused by the speculation, with one user tweeting, "Why would anyone make Ivana Trump's death political. That is ignorant and disrespectful. Not funny, not even close and I really dislike trump." 
Ivana Trump's death was officially ruled accidental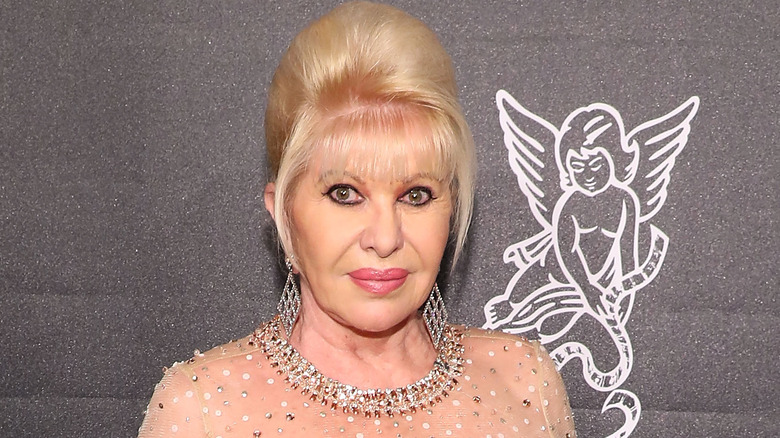 Taylor Hill/Getty Images
While conspiracy theories have swarmed Ivana Trump's sudden death and the specific timing of the incident, New York City's medical examiner has officially declared her death the result of an accidental fall, per CNN, with the official cause of death being "blunt impact injuries" to the torso. Although her cause of death — falling down a flight of stairs – may sound rather peculiar, there is no reason to suspect foul play. In fact, the CDC has reported that falls are the leading cause of "injury-related deaths" for Americans aged 65 and over (Ivana was 73). The ruling from the medical examiner seems to buttress suspicions by the NYPD, who announced previously that there did not "appear to be any criminality" involved.
However, despite the ruling, conspiracy theories still running wild online, in no small part due to the numerous ongoing criminal and civil investigations into Ivana's ex-husband Donald Trump, and their children, Donald Jr., Ivanka, and Eric, with some on Twitter even theorizing that she was "Epsteined." One user expressed their suspicions that the former president may have been behind the accidental death, writing, "Had she lived in Moscow would the official report have said that she accidentally slipped and fell from a 4th floor window instead?" Some were quick to point out that Donald had his own vice president on the chopping block, so why wouldn't the same logic apply to his ex-wife? 
Others expressed their wish that Ivana's ex-husband would have suffered her fate instead. Comedian Buddy Winston, for instance, tweeted, "In a perfect world Ivana Trump would have come down the escalator and Donald would have taken the stairs," echoing cries of the #WrongTrump tag, which was seen on social media after the death of Donald's younger brother Robert in August 2020.