The Sad Reason Maya Hawke Was Kicked Out Of School As A Child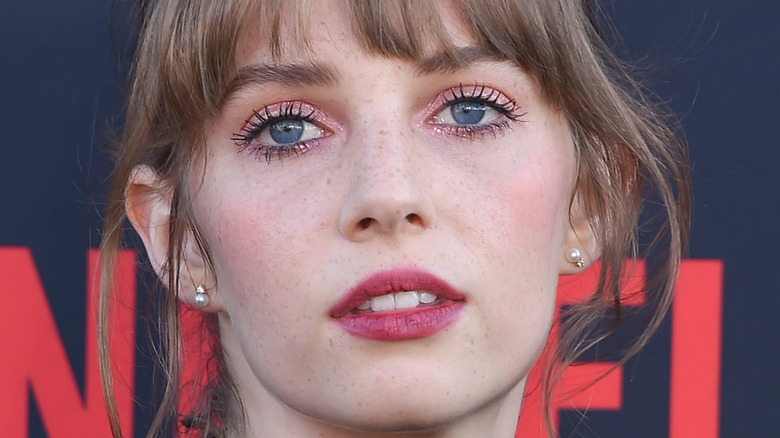 DFree/Shutterstock
Maya Hawke had set her heart on an acting career from a young age. Maya's parents, of course, are Uma Thurman and Ethan Hawke, so theatrics and good looks run in her genes. Still, her parents were hesitant about their daughter following in their footsteps. Eventually, though, they determined that if Maya really wanted a life in front of the camera, then she wouldn't achieve it because of nepotism — she'd get there on her own merit.
"They wanted to ensure I had a strong enough backbone, my own passion for it, and work ethic," Maya told The Guardian. "They didn't want to cart me along every red carpet or have me do bit-parts in their movies." It didn't take long for her to prove herself, though. Per IMDb, Maya made her acting debut at 19 in the period classic "Little Women." But the breakthrough role that shot her to stardom was playing Robin Buckley in the campy 1980s Netflix smash hit, "Stranger Things." Maya joined the cast in Season 3 and hasn't looked back since.
You'd think it would have been all plain sailing for Maya, thanks to her A-lister lineage. However, despite hitting the genetic jackpot, Maya still had to face her share of struggles and adversities along the way. Her school results had been less than stellar, and she was forced to drop out. It wasn't due to any Hollywood brat bad behavior, though. There was a sad reason Maya Hawke was kicked out of school as a child.
Maya Hawke refuses to allow past struggles affect her future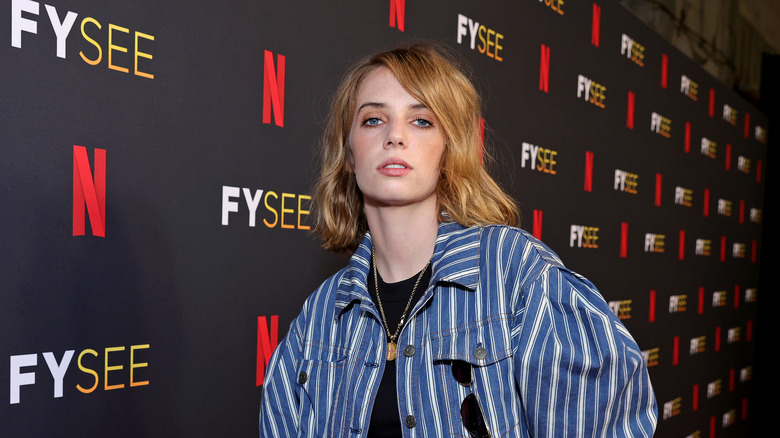 Emma Mcintyre/Getty Images
Maya Hawke's famous folks were determined for their daughter to carve her own path in life. She was lucky enough to inherit the looks of her mom Uma Thurman (her dad, Ethan Hawke, is pretty easy on the eyes too). So, like her mother, Maya became a model to support herself while building her acting career. She hit it straight out of the ballpark by booking Vogue as one of her first gigs.
When Maya learned that one of her mom's first modeling jobs had also been for the iconic fashion mag, she was both proud and humble. "I am not in denial about the fact that if it weren't for them, I wouldn't be here today," Maya told Vogue. "I've thought a lot about how to deal with that, and one way was to not take any opportunity unless I was absolutely positive that I'd earned every scrap of it."
The actor can rest easy knowing she's more than earned her stripes because, despite her privileged parentage, she's had to go the extra mile to make it to where she is today. Maya's other passion in life is music, and she's earned critical acclaim for it, in addition to praise for her acting skills. Per Celebrity Net Worth, she's also managed to build her own impressive fortune. Maya is reportedly worth a cool $3 million. Her achievements are made all the more commendable given her history of school struggles.
Maya Hawke turned her learning difficulties into positives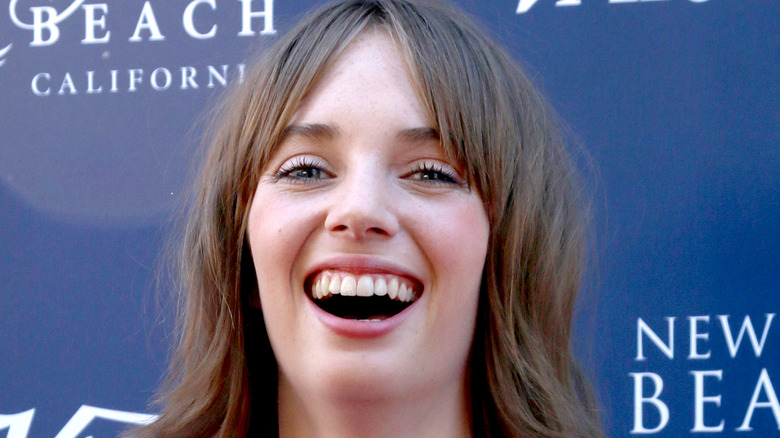 Kathy Hutchins/Shutterstock
The fact that Maya Hawke comes from Hollywood royalty didn't guarantee her an easy path in life. Maya has dyslexia, and it dramatically impacted her schooling as a child. She opened up about her reading disorder while promoting her debut album in an interview with NPR. Maya shared that the album's title, "Blush," was inspired by her "feeling tremendously embarrassed most of the time." She said it was also about using blush makeup to help "conceal your feelings."
Maya said her dyslexia had led to her being axed from the school she attended and sent to another. "I went to a special school for kids with learning disabilities. And it took me a long time to learn how to read, and I still am limited," she admitted. However, Maya has managed to turn the difficulty into a positive. She explained that dyslexia helped offer her insight into others' struggles in life and that it has made her all the "more determined" to succeed.
"When you're growing up with a learning disability, it shoots your confidence and belief in what you can accomplish academically; it really damages it," she told Vogue. Maya said her family has always been supportive and encouraging and there for her, no matter what. "We fight and we talk, and we lie, and we tell the truth — not usually in that order — and I really enjoy growing with them and fostering that dynamic," she said.