What Yara Shahidi Studied At Harvard
Kevin Mazur/mg21/Getty Images
Actor and activist Yara Shahidi has curated a remarkable resume, especially considering the fact that she's just 22 years old! Most people know her for her role on the hit TV show "Black-ish" as the daughter of Anthony Anderson as well as her spinoff, "Grown-ish," per IMDb. She has also dabbled in producing, as she became the executive producer of "Grown-ish" for its fourth season in 2021.
But one of her most impressive achievements was when Shahidi graduated from Harvard University as part of the class of 2022. In order to make room for filming "Grown-ish," Shahidi left "Black-ish" in its third season. Still, she was both starring and working behind the scenes on a network sitcom while also getting her degree. Plus, Shahidi managed to finesse a letter of recommendation from former first lady Michelle Obama herself! And it was well-deserved due to her activity in the Young Women's Leadership Network, according to The New York Times.
"I'm filming nine and a half hours a day five days a week," Shahidi told The Times in 2015. "But whenever I have a free moment, I'm talking to the U.N. or working on how to get Yara's Club launched. Giving back is not just something you do as an adult." So, she's both an entertainment industry insider and an activist, but what did Shahidi end up majoring in at Harvard?
Yara Shahidi studied in multiple majors at Harvard
As if she wasn't impressive enough, Yara Shahidi took classes in multiple majors during her time at the Cambridge-based university. Going into Harvard, she wanted to "double major in Interdisciplinary Sociology and African American Studies," per her interview with Refinery29 in 2018. After her four years were up, she earned a Bachelor of Arts from the African American studies department with a "[concentration] on Black political thought under a neocolonial landscape," per Vogue. She also revealed that the title of her thesis was "I Am a Man: The Emancipation of Humanness from Western Hegemony Through the Lens of Sylvia Wynter."
As a student, Shahidi was outspoken about issues affecting Black students on campus as well as her activism at large. For example, a conversation Shahidi had with one of her professors was published in the December issue of Harvard's Document Journal. The title alone — "Yara Shahidi and Sarah Lewis carve out new spaces for imagination in the pursuit of an equitable future" — proves the kind of remarkable work Shahidi was doing in her undergraduate studies.
"It's surreal to have finally hit this major milestone," Shahidi reminisced to Vogue after graduating. "I've known I wanted to go to college since I was four. By 17, I knew exactly what I wanted to study, so to see that come to fruition is a goal fulfilled."
Without school in the way, Yara Shahidi can focus on her artistry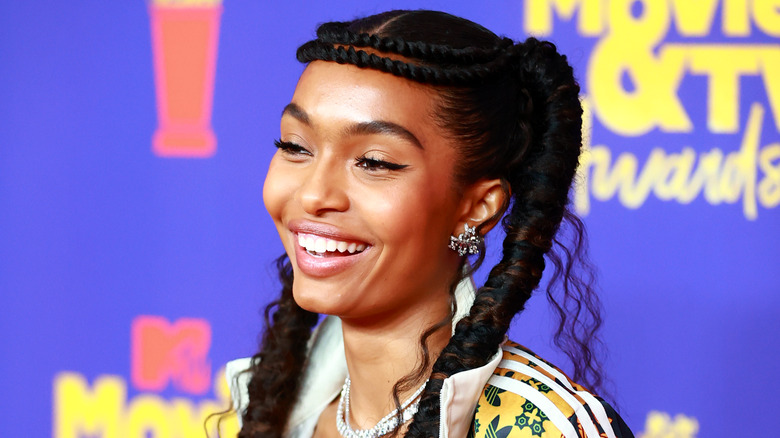 Matt Winkelmeyer/2021 Mtv Movie And Tv Awards/Getty Images
If this is how much Yara Shahidi has accomplished by the age of 22, we can only imagine what she is going to achieve in her future. Sadly, "Black-ish" aired its eighth and final season in 2022. But Shahidi will continue to reprise her role as Zoey and serve as executive producer for her spinoff "Grown-ish," which was renewed for its fifth season earlier this year, per Variety.
"I love what I do in the acting, entertainment, and producing worlds," Shahidi told Vogue in May. "I am so excited for this future moment of being able to pour my all into all of those areas. For the majority of my career, I've always had an essay or assignment due. This feels like a new chapter where I can invest time into more of what I love to do."
So if anyone was afraid that Shahidi was going to take her Harvard degree and exit Hollywood, there is no need to worry. If we know anything about Shahidi from her time at college, we know that she will continue to add things to her plate. In 2020, she and her mother established a production company under ABC called 7th Sun Productions, so we should be on the lookout for projects coming from the mind of Shahidi for a long time.