What Really Happened Between Kendall Jenner And Nick Jonas?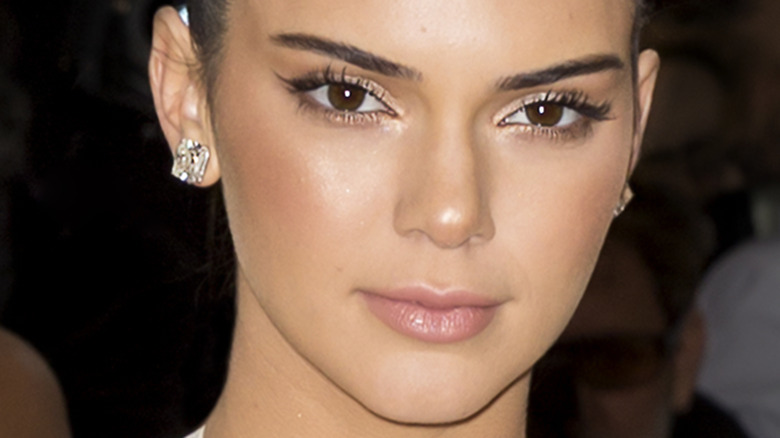 Ovidiu Hrubaru/Shutterstock
Between them, the Kardashian/Jenner and Jonas families boast some of the most eligible bachelors and bachelorettes in the world who, in turn, have also been fortunate to date some of the most eligible bachelors and bachelorettes in the world.
The Kardashian and Jenner clan have had quite a few rumored romances in their time, with Kendall Jenner, Kylie Jenner, Kim Kardashian, Kourtney Kardashian, and Khloé Kardashian being linked over the years to the likes of Harry Styles, Tyga, Nick Cannon, Justin Bieber, and French Montana. As for those Jonas boys? They too have had quite a few high-profile dates that have made the gossip columns. When it comes to the stars the JoBros have been linked to, count stunning and talented ladies like Selena Gomez, Miley Cyrus, Taylor Swift, and Olivia Culpo amid their reported A-List romances.
So, with genes that make us oh so jealous and such impressive Hollywood connections, it was really only a matter of a time until a Kardashian/Jenner dated a Jonas wasn't it? As for the lucky two who are reported to have gotten a little close? None other than Kendall and Nick! But what actually happened between the model and the musician?
Did Gigi Hadid set Nick Jonas and Kendall Jenner up?
Antonello Trio/Getty Images
For this one, we're throwing it back to August 2015 when Nick Jonas had just split from model Olivia Culpo and Kendall Jenner was pretty much the most eligible single model in the game. That summer, Kendall's close friend Gigi Hadid was dating Nick's brother, Joe Jonas, and the former reportedly hatched a plan to have her bestie around a lot more. A source claimed to Us Weekly that Hadid set Nick and Kylie Jenner's big sister up, claiming the two apparently had a lot of chemistry from the moment they laid eyes on each other. "Nick was single and looking to date and there was an obvious attraction. He absolutely thinks she's hot," the insider claimed.
So, why did we never see sight nor sound of the rumored couple on their own social media accounts? Well, it sounds like things just never got quite that far. Insiders claimed the two took things pretty slowly, and, seeing as Nick is now married to Priyanca Chopra and Kendall has dated a slew of other famous faces, including Devin Booker, things clearly fizzled before they could get more serious.
Fans clearly got pretty excited about the potential new couple on social media though. "Nick Jonas and Kendall Jenner are dating?? If that's true, that's cute as hecky," one person tweeted, while another wrote, "Kendall and Nick are a major power couple and im obsessed already."
Nick Jonas denied dating Kendall Jenner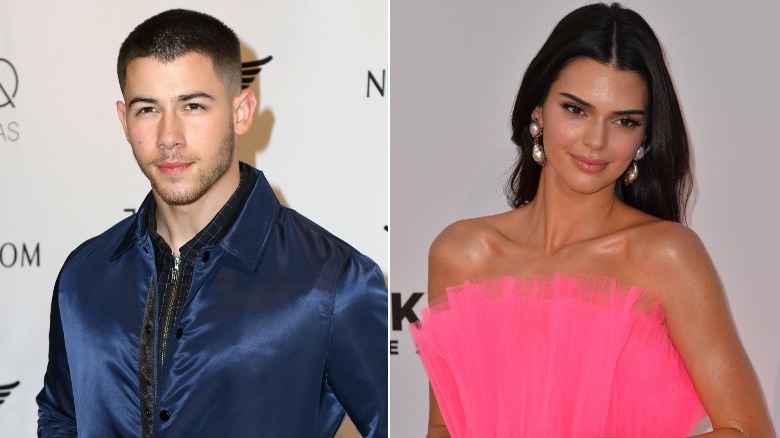 Kathy Hutchins & Featureflash Photo Agency/Shutterstock
But, just as quickly as this rumor started, Nick Jonas shut it down, as he claimed on "On Air With Ryan Seacrest" in August 2015 that he was a single pringle. "I'm single. Contrary to what people I think, think. It's just mind-blowing to me how these things start," he said. Nick also denied anything romantic was going on to E! News, telling the outlet in no uncertain terms that he and the former "Keeping Up with the Kardashians" star weren't together. "Kendall is great and naturally with her being good friends with Gigi [Hadid] and with Joe [Jonas] and Gigi dating, there are times we'll be in the same place and we all hang out," he added.
But that didn't stop the rumor mill from churning. A source claimed the two were together at one point but Nick decided to end things. "He thinks she's hot, but he thought she was a little annoying and just not his type," they told Hollywood Life, alleging that the two hung out around three times. "He didn't really want anything to do with it, but Kendall was definitely interested in dating him," they added.
But that wasn't the end. In November 2015, Nick joined Kendall for a Vogue photoshoot where she was joined by multiple famous faces, per The Fashionisto, while Just Jared shared paparazzi snaps of him attending the model's 20th birthday party that same month alongside the likes of Kylie Jenner's former boyfriend, Tyga.