The Shady Truth About Marjorie Harvey's Ex-Husband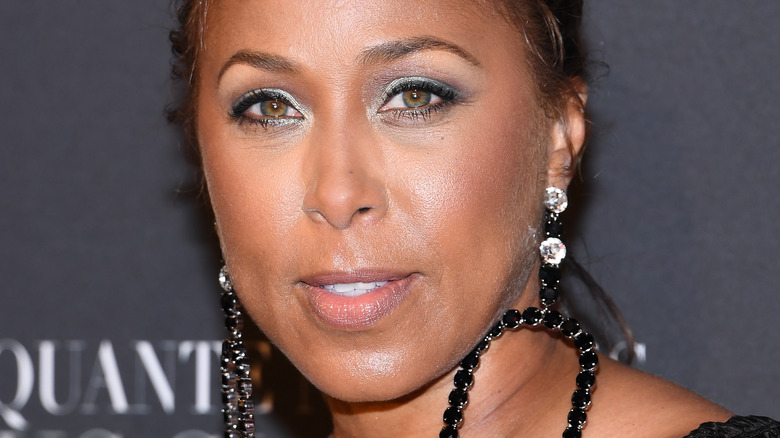 Pascal Le Segretain/Getty Images
When Steve Harvey and his wife, Marjorie Harvey, first met, they had both been married twice and had no idea that they'd one day blend their families, creating a modern-day version of "The Brady Bunch." The couple never had a biological child together, but their union made them a family of nine.
Steve and Marjorie first locked eyes during one of Steve's comedy shows. It was love at first sight for the "Family Feud" host, who noticed Marjorie when she showed up late. "When I saw her, I quit breathing," Harvey recalled to the studio audience of his talk show, "Steve." His long silence and the intense way he stared at his future bride made Marjorie uneasy. "I thought I was going to become part of the show," she explained. And she did. "He finally realized, 'Okay, I gotta say something,'" Marjorie continued. "He was like, 'Oh, I'm sorry. I don't know who this is, but I'm gonna marry her.'"
When Steve and Marjorie wed in 2007, it created some tricky family dynamics to navigate. Steve had four children from his past relationships, while Marjorie was already a mother of three. The couple confessed to People that their union wasn't immediately embraced by all of their kids but, said Marjorie, "Now, we're Mom and Dad to everybody." Unfortunately for the couple, their children's displeasure wasn't the only issue they had to deal with — one of Marjorie's ex-husbands threatened to stir up some trouble years after they tied the knot.
Marjorie Harvey's first husband spent decades in prison
According to her ex-husband Jim Townsend, Marjorie Harvey almost did hard time during her first marriage. Per a 2017 Radar report, Townsend was a major drug dealer who served almost 30 years in prison after he attempted to purchase an amount of cocaine weighing as much as an average 12-year-old boy. "We were legally married when I got arrested. We lived in Memphis and had a great life together," Townsend told the Globe of his relationship with Marjorie.
Townsend claimed that the FBI possessed proof that his brother and Marjorie were both involved in his criminal enterprise, but he told Radar, "We cut a deal that they wouldn't indict them." Marjorie owned her own bar at the time, Townsend revealed to the Globe, but federal officials shut the business down because they suspected that it had been purchased with his ill-gotten wealth.
Townsend was supposed to spend his entire life in prison, but he was pardoned by former president Barack Obama in 2017, per Radar. While he and Marjorie had separated while he was incarcerated, Townsend claimed that they remained in contact until she started seeing Steve Harvey. In 2019, Townsend told Radar that he spent some of his free time behind bars writing a memoir. He hadn't completed it at the time of the interview, but teased that it would include details about his relationship with Marjorie. "I have no allegiance to Marjorie, she showed her hand," he said.
Who are Marjorie Harvey and Jim Townsend's kids?
Jim Townsend and Marjorie Harvey had two children together, a daughter named Morgan Hawthorne and a son named Jason Harvey. Per Radar, Morgan was 5 when Townsend was sentenced to prison, and Marjorie was due to give birth to Jason soon. Townsend told the Globe that he and his kids started spending time together after he got out of prison, but he accused Steve Harvey of forbidding Marjorie to talk to him. "All those years, I could call night or day, and she was always there for me. But when she met him, that phone was cut off the next day," he said.
Townsend credited Morgan with contacting the lawyer who helped him get a pardon, per Radar, and she and Jason both appear in the handful of photos on Townsend's Instagram page. In one throwback pic, the sister and brother are pictured posing with their half-sibling Lori Harvey, whose father is Marjorie's second husband, another convicted drug dealer named Donnell Woods.
Morgan is a passionate cook with a degree from the Culinary Institute of America. She created the website I Need Some Mo as a space to share her favorite recipes, party ideas, cooking hacks, and more. She's married to a DJ named Kareem Hawthorne, and the couple has two daughters. As for Jason, he's the creator of a clothing brand called Worldly. He's married to a model named Amanda, per Hollywood Life, and the couple has four children.