The Messiest Part Of Jennifer Aniston And Justin Theroux's Divorce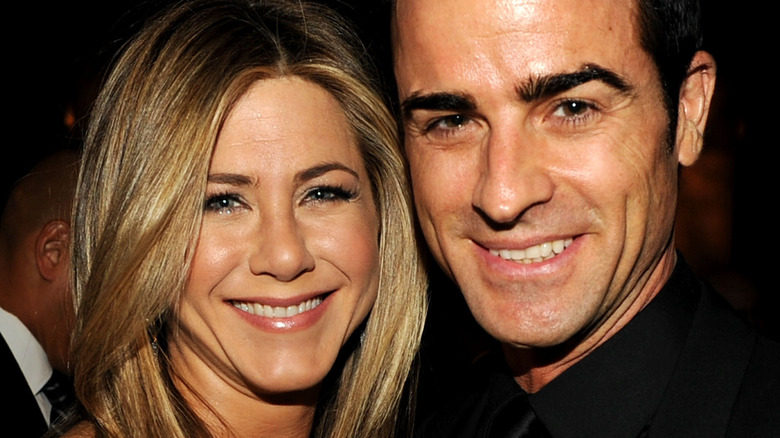 Kevin Winter/Getty Images
It's been a few years since Jennifer Aniston and Justin Theroux announced their split, but many are still wondering what went wrong, especially since their relationship had been largely drama-free. The former lovebirds were married for more than two years before parting ways, but they had been together for nearly a decade overall.
In their joint statement announcing their separation, they assured fans that it had been an amicable split. "This decision was mutual and lovingly made at the end of last year. We are two best friends who have decided to part ways as a couple, but look forward to continuing our cherished friendship," the twosome wrote (via E! News). "Normally we would do this privately, but given that the gossip industry cannot resist an opportunity to speculate and invent, we wanted to convey the truth directly. Whatever else is printed about us that is not directly from us, is someone else's fictional narrative. Above all, we are determined to maintain the deep respect and love that we have for one another."
While Aniston and Theroux were adamant that they were civil, there were still reports here and there that claimed to reveal the true nature of their relationship. There was even one source who said their marriage was doomed from the start.
Jennifer Aniston and Justin Theroux were supposedly never meant to be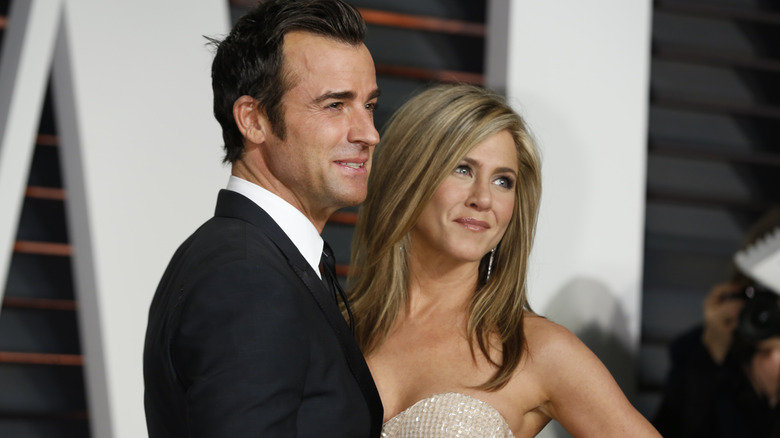 Kathy Hutchins/Shutterstock
Jennifer Aniston and Justin Theroux made an effort to keep their split free of controversy, but there were still some reports that attempted to shed light on what supposedly happened. An insider told Life & Style that Thoreaux supposedly put Aniston "through hell" and that they often quarreled, especially toward the end of their marriage. "It was never a real marriage to start with," they claimed.
It was also a matter of opposite personalities, per the source. They had varying views, so they ended up butting heads quite often. "It didn't take long for their different personalities and relationship expectations to clash. They'd fight for weeks at a time!" the insider added. When their fights blew up, Aniston apparently ran to her friends for help. "There'd be many times when Jen would drive to Courteney Cox's house in tears because Justin was 'being a nightmare,'" they dished.
Another source confirmed the couple's apparent incompatibility with E! News. "Jennifer and Justin fell in love hard and fast and yet they were never really suited to one another. He was a New York hipster that loved the alternative lifestyle and Jennifer was living a much more reclusive life when they first started to fall in love," the insider said. "The initial chemistry between them made it easy for them to ignore their differences and incompatibility."
Jennifer Aniston and Justin Theroux remain friends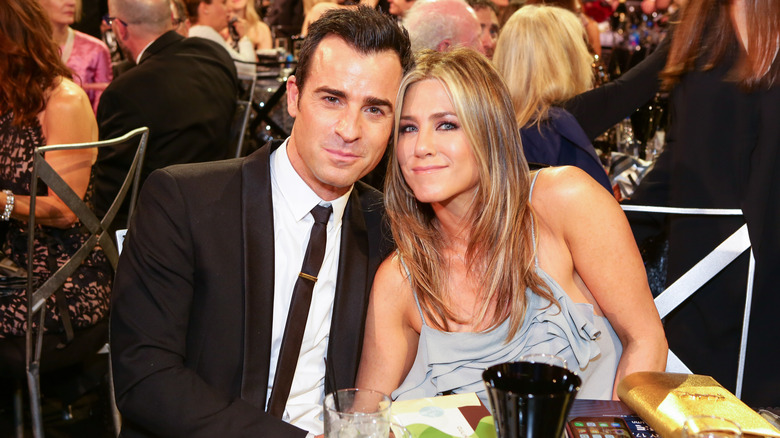 Tiffany Rose/Getty Images
Speculation aside, Jennifer Aniston and Justin Theroux remain friends. Months after they announced their separation, the "Inland Empire" actor told The New York Times that they were cordial, and the hardest part was dealing with the media fallout.
"That was probably the most — I'm choosing my words really carefully — it was kind of the most gentle separation, in that there was no animosity," he said in September 2018. "In a weird way, just sort of navigating the inevitable perception of it is the exhausting part." Speaking with InStyle, Aniston said that she wasn't as devastated as people thought she would be. "With all due respect, I'm not heartbroken. And second, those are reckless assumptions," she said of rumors that she can't keep a partner. "No one knows what's going on behind closed doors. No one considers how sensitive that might be for my partner and me. They don't know what I've been through."
And while they're not as close as they used to be, they make it a point to keep in touch. "We don't talk every day, but we call each other. We FaceTime. We text," Theroux told Esquire. "Like it or not, we didn't have that dramatic split, and we love each other. I'm sincere when I say that I cherish our friendship. We can not be together and still bring each other joy and friendship. Also, she makes me laugh very, very hard. She's a hilarious person. It would be a loss if we weren't in contact, for me personally. And I'd like to think the same for her."