Why People Are Calling Out Rebel Wilson's Latest Instagram Post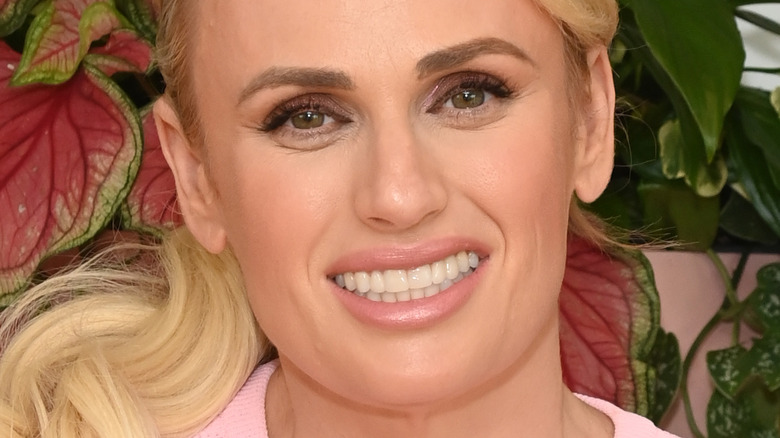 David M. Benett/Getty Images
When most people hear Rebel Wilson's name, they think of her career in film, which includes starring in hit movies like "Pitch Perfect" and "Bridesmaids." But there's a lot more to Wilson than just appearing in movies. In recent years, the actor's health has been very important to her and she's spoken about it on several occasions. 
Wilson sat down for an interview with People in 2019, where she shared that her longing to be a mother is what put her on the path to a healthier lifestyle. She explained that her doctor told her she would have much better luck with freezing and harvesting her eggs if she shed a little bit of weight. Wilson then proclaimed 2020 as the "year of health," and she shed 80 pounds. "It wasn't a goal to get to a certain weight," Wilson told the outlet. "It was just being the healthiest version of myself." The star also explained what an eye-opening experience it had been since people began treating her differently once she lost weight. 
"Now I know what's it's like to get attention in the positive. There is a societal bias towards what society deems as good-looking," she said, stating that "it's unfair." Wilson continued, "I feel sad if somebody doesn't love the body they're in. You want to celebrate all body types, but I also want to encourage people to be healthy." Now, she's keeping with the healthy lifestyle theme, but some fans are taking issue with it.
Rebel Wilson's luxurious health retreat has fans seeing red
Rebel Wilson stirred up some controversy with her latest Instagram post. In the July 22 post, the "Pitch Perfect" star shared a photo of herself enjoying a little bit of fresh air. Wilson dressed to impress in a black sports bra, bike shorts, and a windbreaker to match. She shielded her eyes from the sun with a pair of reflective aviator sunglasses and pulled her hair back into a messy bun. The landscape behind her looked picture-perfect, with a large mountain and a sparkly body of water. The actor kept the caption to her post simple: "Living that @vivamayraltaussee lifestyle Health = Wealth."
While some fans commented on the post to applaud Wilson for getting a little rest and relaxation, several others slammed her for posting about the luxurious resort, which costs over $4,000 a week, per the Daily Mail. "I'm so happy for you and your transformation; however when you post please be mindful that the majority of people cannot afford and do not have access to the therapies of your choice," one person wrote, asking her to keep things "authentic." Another added, "Literally though because the only people that can afford that place are wealthy ones." One more wrote, "Very nice but regular people can't afford a place like that !!!!!"
Earlier in the trip, Wilson shared another snapshot that captured her posing at the luxurious resort. The star mentioned how good it felt to be back, as this seems to be a yearly ritual.