The Truth About Paul Sorvino's Ex-Wives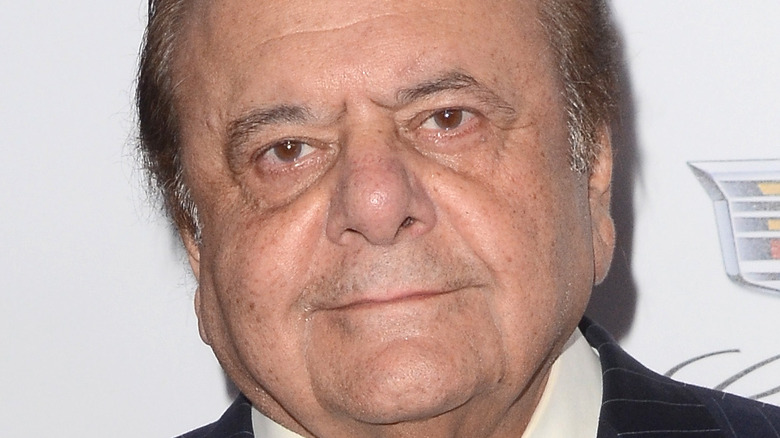 Kathy Hutchins/Shutterstock
While movie fans the world over struggle with two more tragic celebrity deaths in David Warner and Paul Sorvino, no one feels the sorrow quite as acutely as their family members do. "I am completely devastated," Sorvino's wife Dee Dee Sorvino (née Benkie) tweeted on July 25, confirming her husband's death. "The love of my life & the most wonderful man who has ever lived is gone. I am heartbroken."
The politically outspoken couple has been married since December 2014, per the Los Angeles Times, after they immediately hit it off when they both did guest spots on the Fox News program "Your World with Neil Cavuto." Both are fervent supporters of Donald Trump and felt a certain animosity from other Hollywood types because of it. "It's these actors, these crazy actors ..." Dee Dee told Fox Business in 2017. "Unless you say you hate Trump, you are not part of their club." Paul also offered to help celebrities leave the country after Trump's election win. "Where are all the people who are going to Canada?," Paul said. "I have a lot of money saved. I put it aside to give them all tickets and I haven't seen anybody take it up." He also said his friend and former "Goodfellas" costar Robert De Niro, who was very outspoken against Trump, should stay out of politics.
But Paul's marriage to Dee Dee was his third walk down the wedding aisle. What do we know about his first two wives?
Paul Sorvino had his three children with first wife Lorraine Davis
Paul Sorvino was first married to Lorraine Davis for 22 years. The couple wed in 1966 and divorced in 1988, per The New York Times, after welcoming Sorvino's three children: Mira, Amanda, and Michael. Davis gave up acting and became a "drama therapist, working with mostly elderly people," Amanda, a writer, told the Daily News in 1996. "She loves it. But I don't think she would have ever fallen into it if my dad hadn't left." Mira, the actor whose Twitter bio reads "activist" and seems more left-leaning politically than her dad, tweeted on Davis' birthday that her mom "marched on Washington w/Dr. Martin Luther King. Gave me my moral compass." She also tweeted in 2021, "Dr. King was one of my father Paul Sorvino's greatest heroes."
1996 was a big year for the Sorvino family. Mira took home an Oscar for her role in "Mighty Aphrodite," and thanked Lorraine and Paul in her speech, crediting him for "[teaching] me everything I know about acting." Paul responded visibly with tears. Amanda, who wrote and produced a play that year, told the Daily News, "The whole world was watching, but I remember thinking, 'Oh, just another of Dad's crying episodes.' He's very in touch with his emotions." Youngest son Michael, an actor, also appeared in Amanda's play, and started college at Rutgers that fall.
1996 was also the year Paul divorced his second wife, Vanessa Arico, after five years of marriage. Not much is known about her, but The New York Times reports she is a real estate agent.