Brittney Griner Shares Touching Message To Wife From Russian Courtroom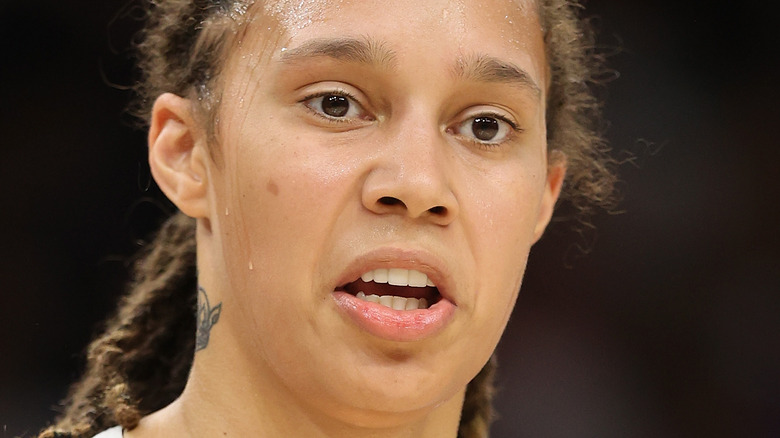 Christian Petersen/Getty Images
Brittney Griner's trial is currently underway in a Russian courtroom, but the WNBA player has still found time to send a loving message to her wife, Cherelle. Griner has been in foreign custody since February when she was arrested for possession of illegal vape cartridges. The trial for the two-time Olympic gold medalist began in July, with the athlete's lawyers arguing that she was prescribed medical marijuana for chronic pain.
"The defense today provided written evidence, including character support material, medical records, and tax returns," Griner's team wrote in a letter to the court, per CNN. "Among the medical documents is a doctor's prescription for the substance that, due to an oversight, Brittney Griner left among her belongings when crossing the border."
Since her arrest, several celebrities, professional athletes, and politicians have called for Griner's release. Griner herself has also shared messages to fans from behind bars. Now, the baller is taking it a step further and is sending a touching note to her wife.
Brittney Griner sent her wife well wishes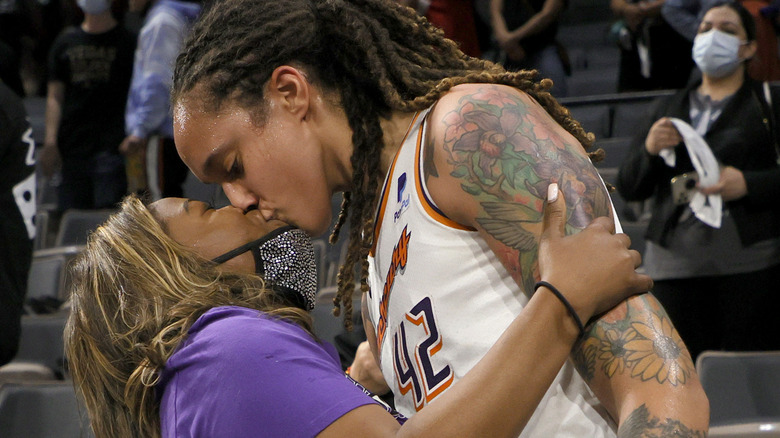 Ethan Miller/Getty Images
Phoenix Mercury baller Brittney Griner is sending a sweet message to her wife, Cherelle, amid her own legal obstacles. As her trial resumed in a Russian courtroom on July 26, Brittney made it a point to give a message to an ABC News Producer. When asked if she wanted to say anything to her wife — who recently graduated from Law School — Brittney sent her well wishes. "Good luck on the bar exam," Brittney said. The baller was then asked if she had any complaints about her treatment in Russia, to which she responded, "No, no complaints. Just waiting patiently."
For her part, Cherelle has been advocating for Brittney's release for months. After speaking with President Joe Biden, Cherelle held a Bring BG Home Rally, to help increase support for the player. "I assure you that what and how I feel is no longer hurt by the impact of this tragedy," Cherelle said at the rally, per ESPN. "What and how I feel today is a deeper emotion than hurt. I'm frustrated."
Griner is set to take the stand herself on July 27.