Jack Osbourne Reveals Baby No. 4's Unique Name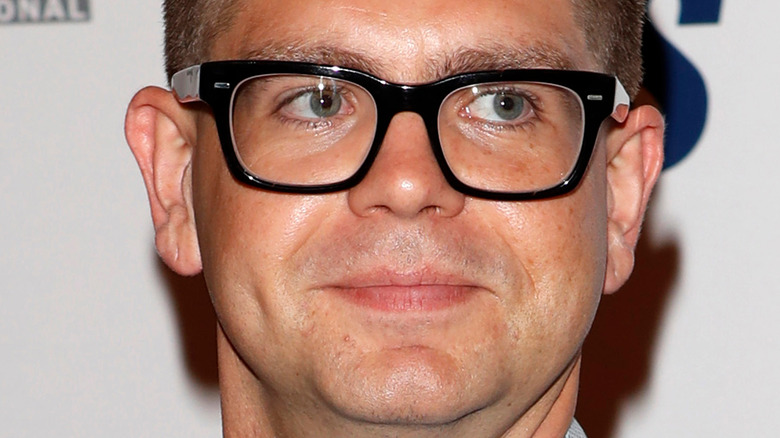 Kathy Hutchins/Shutterstock
Fans first fell in love with the Osbourne clan on their hit reality show, "The Osbournes." According to IMDb, the show ran from 2002 through 2005, and it undoubtedly paved the way for other reality shows that came after it. Yep, Kim Kardashian should write them a thank you note. The show proved very popular with fans, but the famous family opted to pull the plug because they couldn't stand filming any longer. "​​The level of success that TV show got us was too much," Ozzy Osbourne confessed to NME in 2020. "I'm not upset that I did it, but I wouldn't do it again. People were going: 'Aren't you worried about losing your fans?' I said: 'I'm not worried about losing my fans – I'm worried about losing my f**king mind.'"
Still, the family has remained in the public eye and they boast an extensive fanbase. In June, Sharon Osbourne informed fans that Ozzy was set to undergo a "life-altering" surgery that happened to be pretty risky. Luckily, things went smoothly, and on June 15, Ozzy took to Instagram to inform fans he was doing well. "​​I am now home from the hospital recuperating comfortably. I am definitely feeling the love and support from all my fans and send everyone a big thank you for their thoughts, prayers, and well wishes during my recovery," he wrote.
So, it's about time that the family got some more welcomed news, this time from Jack Osbourne.
Jack Osbourne gushes over his new daughter
Jack Osbourne is a proud dad, and he introduced the world to his new baby girl on July 27 while also revealing her unique name. "I'm very happy to announce Maple Artemis Osbourne," Jack tweeted. "Born 7-09-2022. 7.13lbs. Aree and Maple are doing great and are happy and healthy." The post also included a photo of the adorable baby Maple (think she'll mind if we call her "Mapes?"), who looked cozy as could be in a knit brown sweater and matching cap. According to Page Six, this is Jack's first child with fiancee Aree Gearhart, but he shares three children with his first wife, Lisa Stelly.
Jack's mom, Sharon Osbourne, also showed off the newest addition to the family by sharing the same photo as Jack and a sweet caption detailing how thrilled she and Ozzy were to have another grandchild. "Maple Artemis Osbourne Born 7-09-2022. 7.13lbs Ozzy and I are over the! Aree and Maple are healthy and happy. Fasten your seatbelt," Sharon wrote on Twitter.
The Osbourne family has been growing at a rapid pace. In May, Kelly Osbourne also shared some good news of her own on Instagram. "I know that I have been very quiet these past few months so I thought I would share with you all as to why... I am over the moon to announce that I am going to be a Mumma," she gushed. "To say that I am happy does not quite cut it. I am ecstatic!" Maybe they need a new reality show?