Why Heather Locklear Didn't Want To Go On A Second Date With Tom Cruise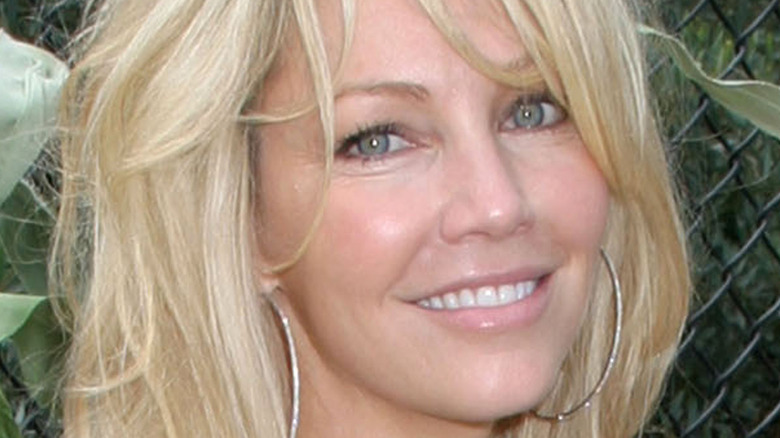 carrie-nelson/Shutterstock
In her personal life, "Melrose Place" star Heather Locklear has consistently chosen hair-metal rock stars as husbands. First, she married Mötley Crüe drummer Tommy Lee in 1986, but they divorced in 1994 after rumors of Lee's on-tour infidelity, per Entertainment Weekly. The outlet reports that she said at the time of their split, "I'm not devastated or destroyed. It's mostly just sad." So it's understandable there's no Hulu dramatic miniseries about that à la "Pam and Tommy." 
And then she married Bon Jovi guitarist Richie Sambora later that same year, and for 11 years, it seemed they were livin' on a prayer, but perhaps he gives love a bad name, because in 2006, ABC News reported he was "blindsided" by her divorce petition. Together, the exes share one daughter, Ava Sambora. 
Now, Locklear is engaged to her high school sweetheart from 40 years ago, Chris Heisser, so it may surprise some to learn that the "Dynasty" star once dated outside her type with "Mission Impossible" superstar Tom Cruise. And according to her, their first — which was also their last — date was full of, ahem, risky business.
Tom Cruise did the Risky Business dance on his first date with Heather Locklear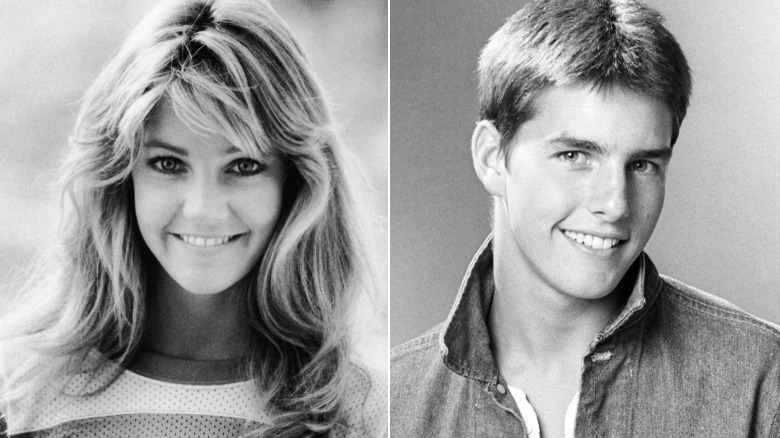 Hulton Archive & Michael Ochs Archives/Getty
In 2013, as a guest on Chelsea Handler's talk show "Chelsea Lately," "T.J. Hooker" star Heather Locklear revealed that in the '80s, she went on one date with "Jerry Maguire" star Tom Cruise. Of course, back then, he wasn't the massive box-office draw that he is today, but he had just starred in "Risky Business" opposite Rebecca De Mornay where he did a famous dance in his underwear. According to Locklear, they went to a nightclub on their date, and Cruise inexplicably replicated the movie dance, without "Old Time of Rock and Roll" by Bob Seger playing this time. And it killed any chance of a second date.
"You know in 'Risky Busines's where he does that dance in his underwear and does the splits? We were dancing at a club and he went into that!" she recalled (via Us Weekly), while the audience howled with laughter. "He starting doing the splits. You just kind of stand there and don't know what to do! Do you dance around him? So, I was like, 'I'll just sit down and you can..." 
That's pretty much in line with what other women he dated have said about early-'80s Cruise, like De Mornay, who recalled to Celebrity Page, "I thought he was very annoying when we first started. He was extremely annoying, but he came to grow on me."
Toom Cruise has a better reputation with the ladies these days
Georges De Keerle/Getty Images
These days, "Jack Reacher" star Tom Cruise has no problem with the ladies. After his one-and-done date with Heather Locklear, he went on to date some high profile names like Cher, Sophia Vergara, and Penelope Cruz, per Cosmopolitan. He also married actors Mimi Rogers, Nicole Kidman, and Katie Holmes. And these women have, for the most part, insisted that Cruise was no slouch in bed.
During her appearance on "Watch What Happens Live," Cher told Andy Cohen that, in ranking her many lovers, Cruise was "in the top five." After her divorce from Cruise was finalized, Kidman was still willing to gush about her undying devotion to him. "He basically swept me off my feet. I fell madly, passionately in love," she told Vanity Fair in 2002. "I was consumed by it, willingly. And I was desperate to have a baby with him. I didn't care if we were married." And who could forget the era of "TomKat," when Holmes gushed to W magazine in 2005, "I've found the man of my dreams."
We're willing to bet none of these ladies were subjected to the "Risky Business" dance though.