How Many Kids Does Marie Osmond Have?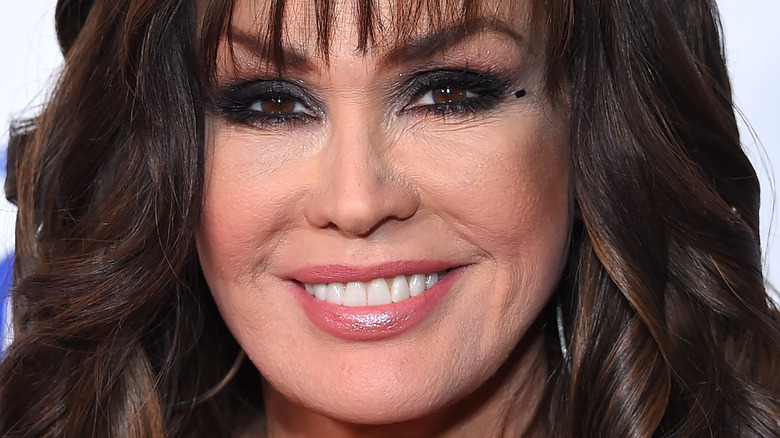 DFree/Shutterstock
Marie Osmond is just part of the singing sensation that fans lovingly known as The Osmonds. According to Closer Weekly, the singer is the eighth of nine children, and she also happens to be the only girl in the bunch. Marie's brothers include Virl Osmond, Tom Osmond, Alan Osmond, Merrill Osmond, Wayne Osmond, Jay Osmond, Donny Osmond, and Jimmy Osmond. Marie and her brother Donny are perhaps the closest out of the bunch, as the two sang together through most of their careers. The duo also landed a pretty sweet residency in Las Vegas that ran for 11 years at the Flamingo, per Good Morning America.
Outside of her career, Marie has had quite an interesting personal life as well. According to Good Housekeeping, Marie married her first husband, Stephen Craig, in 1982. The couple were married for a few years before calling it quits in 1985. Marie then married Brian Blosil. Closer Weekly reports that the couple wed in 1986 but ended things in 2007. Marie remarried her first husband Craig in 2011. "Nothing is an accident," she told People after the remarriage. "I am a spiritual person. So [I believe] God has his timing." Marie added, "I love being with my husband. He is the sweetest man I know. He lives to serve and really listens to people's needs."
During both marriages, the star welcomed several children into her life.
Marie Osmond is a mother of eight kids
Singer Marie Osmond has quite the brood of kiddos. Marie came from a big family, so it's only fitting that she has a large family of her own. According to Country Thang Daily, Osmond is the proud mother of eight (yes, eight) kids. Marie adopted five of her children, while three of them are her biological kids. The star's eldest son, Stephen James Craig Jr., was born in 1983 and is the son of Marie and first husband Stephen Craig. Next, she adopted her daughter, Jessica, in 1987 with Blosil.
If you are keeping up, Blosil and Osmond welcomed their first biological child, Rachael, in 1989. The pair then adopted Michael in 1991 and Brandon in 1996. Next came Brianna in 1997, and then in 1999, Marie and Blosil welcomed their second biological child, Matthew. Daughter Abigail is the youngest of the crew, and she was born in 2002.
Sadly, Marie's son, Michael, died by suicide in 2010, per Closer Weekly. Marie told the outlet that she used music to help deal with the loss. Initially, many judged her because they felt like she moved on too quickly by going back to work, but the star defended herself. "​​I have seven other children who needed to keep living, and that was how I processed my pain. Music is a powerful thing," she said. "When you stop loving music, you die. Music has always been there for me, through the highs and the lows."
If you or anyone you know is having suicidal thoughts, please call the National Suicide Prevention Lifeline by dialing 988 or by calling 1-800-273-TALK (8255)​.
Marie Osmond loves her kids but won't give them her fortune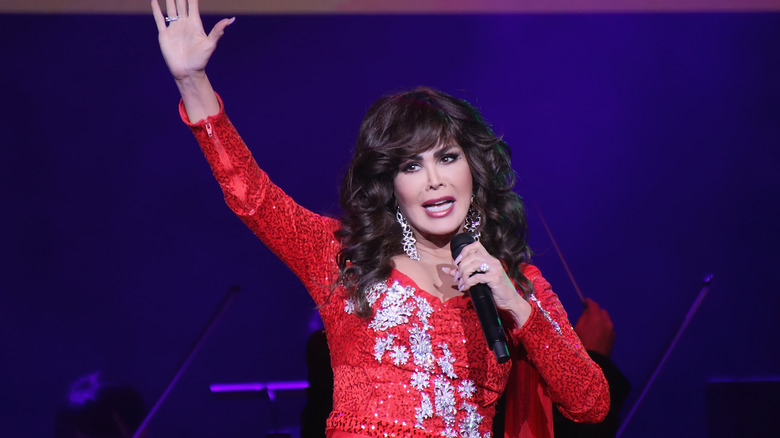 Donald Kravitz/Getty Images
Marie Osmond regularly shares photos and videos of her kids on Instagram. In April 2022, she wished her eldest child a happy birthday with a sweet carousel of images and a caption to go along with it. "Happy 39th birthday to my oldest son Stephen! Couldn't be more proud and love you with all my heart," she wrote on the post. She did the same on December 17, 2021, wishing her daughter Jessica the best on her special day. 
Although Marie has nothing but love for her kiddos, she made headlines after announcing that she doesn't plan on leaving any of them her fortune when she dies. According to USA Today, Osmond talked about the decision to not leave her kids any money during an episode of "The Talk." "My husband and I decided that you do a great disservice to your children to just hand them a fortune because you take away the one most important gift you can give your children, and that's the ability to work," Osmond explained to her co-stars. "You see it a lot in rich families. Where the kids don't know what to do so they get in trouble, so I just let them be proud of what they make." She also said that at this moment, she plans on giving her money to charity instead.