What's The Real Meaning Of America Has A Problem By Beyoncé? Here's What We Think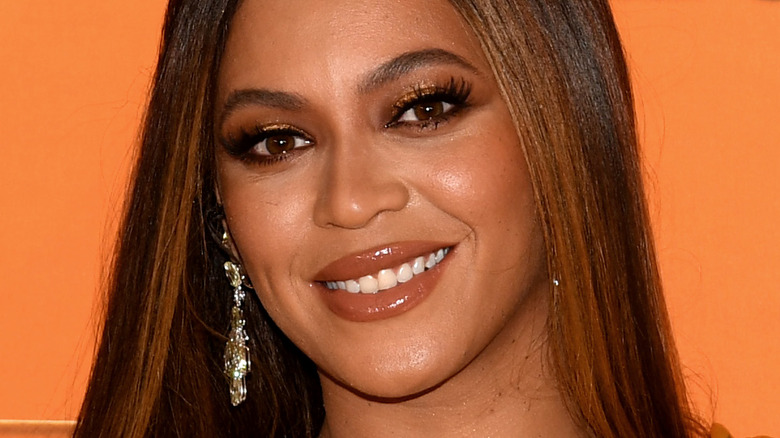 Gareth Cattermole/Getty Images
July 29 is Beyoncé album release day, so get all your Beyhive puns in formation. Long reported to be a 16-track-long dance-fest, Beyoncé recorded "Renaissance" during the COVID-19 pandemic, telling fans in a June Instagram post that "it allowed me to feel free and adventurous in a time when little else was moving." 
From the first single off "Renaissance," "Break My Soul," it was clear the album is thematically focused on what Beyoncé sings best about — self-love. The mid-tempo R&B-tinged bop even earned public praise from former First Lady Michelle Obama on Twitter. "Queen Beyoncé, you've done it again! 'Break My Soul' is the song we all need right now, and I can't help but dance and sing along while listening to it," Obama gushed. Likewise, another track, "Cozy," is a love letter to Beyoncé's LGBTQIA+ fanbase. Sampling "B***h I'm Black" by trans personality Ts Madison, per GAY TIMES, Beyoncé rattles off a powerful litany of similes during the disco-flavored dance track, utilizing all the colors of the Pride Flag. "Black like love too deep ... Green eyes envy me / Paint the world p***y pink / Blue like the soul I crowned / Purple drank and couture gowns" (and so on), she croons, per Genius. 
Many, however, have been particularly curious about one track on "Renaissance" — the sternly titled "America Has a Problem." After a listen, however, many might find the jam isn't what they would have expected.
America has a problem — and it's Beyoncé's bad self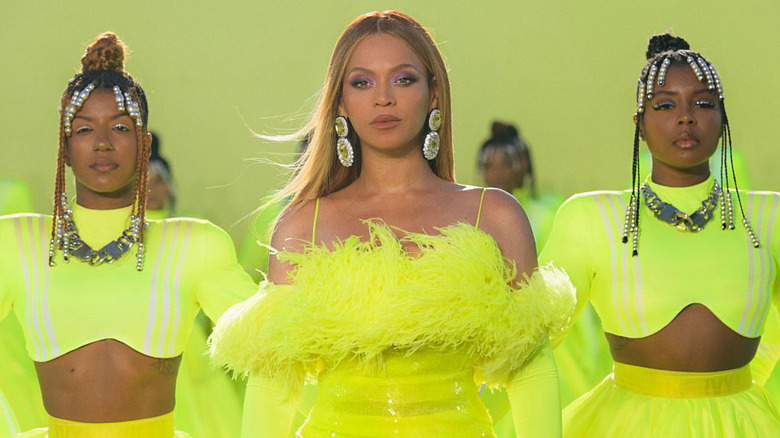 Handout/Mason Poole/A.M.P.A.S. via Getty Images
With a title like "America Has a Problem," the 14th track off Beyoncé's album "Renaissance" is bound to address some heavy sociopolitical stuff, right? Color us shocked when a few seconds into the song's militant drumbeat, Queen Bey starts singing about (and only about) how she wants to get down. ("Pray your love is deep for me / I'ma make you go weak for me / Make you wait a whole week for me" is just a sampling of the first verse per Genius.) On the song's blunt refrain (sporting lines like "I know you see these rack-rack-racks on me / Now come and get hi-i-i-i-i-igh"), Beyoncé even raps in a Dua Lipa-esque fashion.
"Renaissance," as Beyoncé's June Instagram post told fans, was an opportunity for her to inspire fans to "release the wiggle ... and to feel as unique, strong, and sexy as you are." No song on "Renaissance" embodies this more than "America Has a Problem." 
And despite Beyoncé's seemingly subversive message, her song's title comes from Kilo Ali's 1990 track, "Cocaine (America Has a Problem)," which addressed a pressing sociopolitical issue at the time. No drug references in Beyoncé's work, but perhaps the apolitical lyrics are her own protest against an all-too-political world? Is she telling the rest of us to lighten up, get in the moment, and feel ourselves? 
Beyoncé seemingly trolled fans with America Has a Problem's title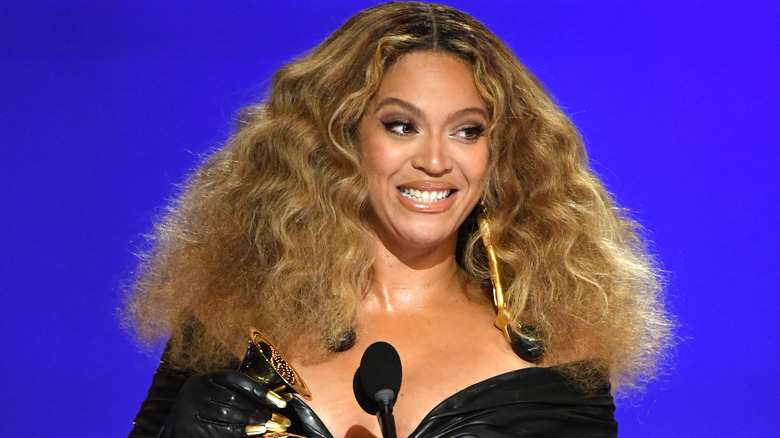 Kevin Winter/Getty Images
Needless to say, "America Has a Problem" was not what fans were expecting. "'America Has A Problem' OH MOTHER HAS SOMETHING TO SAYYYYYY," one fan speculated on Twitter. wrote. Another user even preemptively noted the Grammy Awards' "new category for 2023 'Best Song For Social Change,'" writing hopefully, "America Has a Problem got it in the BAG!"
Expecting a protest anthem, fans got a raunchy and ebullient track about self-love instead. All were shocked, with some loving Beyoncé's subversion of their expectations and some, less so. "The fact we all thought 'America has a Problem' was gonna be political when Beyoncé basically said ... 'I'm the baddest b***h in America, and I'm THEE problem!'" one fan tweeted. A more disgruntled fan wrote, "How can a song titled 'America Has A Problem' have the lyric 'that booty gon' do what it want to'... I thought this track was gonna be about George Floyd."
Fans can be forgiven for their preconceptions about "America Has a Problem"; Beyoncé has never shied from political messaging. Her single "Formation," off of 2016's "Lemonade," ushered in what the Beyhive labeled the singer's "Montgomery Bus Boycott era." With "Formation's" music video containing references to Hurricane Katrina and Black Lives Matter protests, the song's lyrical call for Black female solidarity garnered critical and fan adoration. At least one lesson is clear from all this — it's Beyoncé's world and we are merely living in it.