What's The Real Meaning Of Cozy By Beyonce? Here's What We Think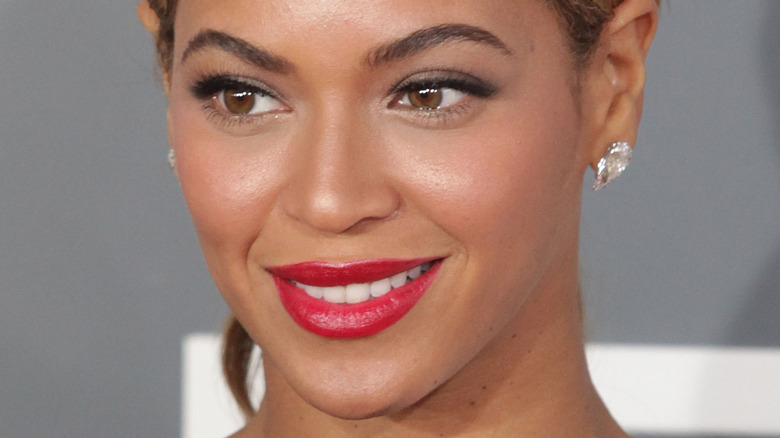 DFree/Shutterstock
The dawn of Beyoncé's "Renaissance" has arrived — and something tells us, the queer-positive messaging of the album is about to secure her a cozy spot on the charts. Tidal first confirmed what Beyoncé fans suspected for some time on June 16, when they posted a black square bearing only the words, "act i ... RENAISSANCE" to their Twitter account, along with a promise of an album release on July 29. A few days later, the first single for the album, "Break My Soul" was released, and the song was soon dubbed a Pride Month anthem. 
Since then, Beyoncé herself has confirmed that "Renaissance" is dedicated to her LGBTQIA+ fanbase. In a letter published to her website shortly before the album launch, she took a moment to reference her late uncle, Jonny, as one of her inspirations. "A big thank you to my Uncle Jonny," she wrote, adding, "He was my godmother and the first person to expose me to a lot of the music and culture that serve as inspiration for this album."
Beyoncé previously spoke about her uncle in her acceptance speech for the GLAAD Vanguard Award, which she won with husband Jay-Z. Referring to him as "the most fabulous gay man I've ever known," she gushed over his commitment to staying true to who he was, adding, "He was brave and unapologetic during a time when this country wasn't as accepting" (via CBS News). "Cozy" shines a spotlight on that exact bravery.
Cozy is all about queer self-love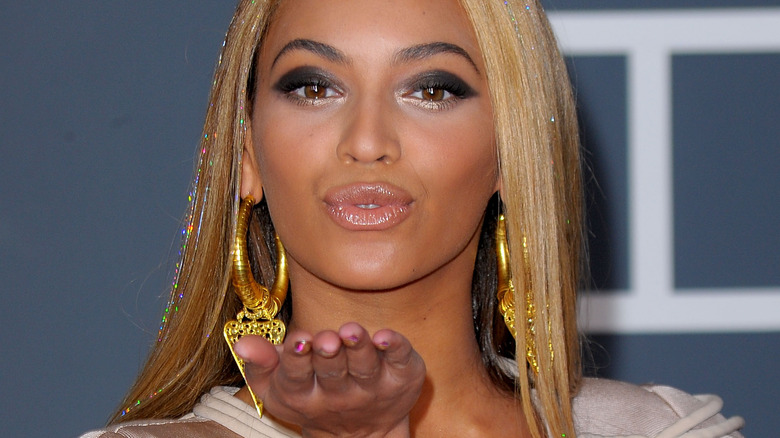 Jason Merritt/term/Getty Images
There can be no denying that "Cozy" is an ode to radical self-love. After all, the song begins with Beyoncé shrugging off a hater's insults. "Damn I love the burning of the dagger from the words that you say," she sings, before taking a moment to appreciate the "scars" she's gained over the years: "because I love what they made." However, just in case there was any confusion, Queen Bey spells out the message in the chorus. "Comfortable in my skin / Cozy with who I am," she sings over a nostalgic house beat. 
"Cozy" could easily apply to anyone in need of a healthy boost of confidence. However, in the build up to the chorus, the words, "She's a hero / She survived all she been through" allude not only to what Beyoncé has previously said of her Uncle Jonny, but something she said of the queer community in general, years ago.
Speaking with Pride Source back in 2011, Beyoncé gushed over the resilience of her LGBTQIA+ fanbase. "If anyone is brave and true to themselves," she shared, "it's my gay fans." She added that the community's "confidence and fearlessness" was a constant source of inspiration to her. "That's like the ultimate dream," she concluded — "to be that brave."
Once again, Beyoncé is waving the pride flag high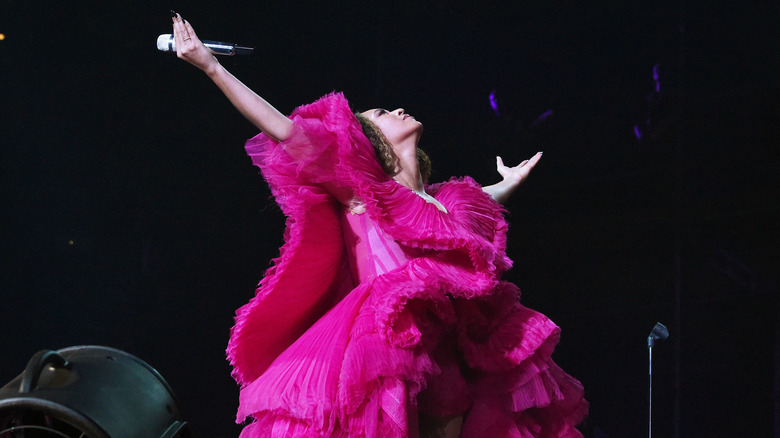 Kevin Mazur/Getty Images
References to bravery and self-love aren't the only lyrics that tie "Cozy" to the queer community, however. For anyone missed the other references, Beyoncé spells it out at the end of the song, with a verbal homage to the Pride flag. 
Starting off the list with, "Black like love too deep," Queen Bey makes sure to include as many colors of the spectrum as possible. "Green eyes envy me / Paint the world p***y pink / Blue like the soul I crowned / Purple drank in couture gowns / Gold fangs a shade God made / Blue, black, white, and brown / Paint the town red like cinnamon / Yellow diamonds Limoncello glistering," she sings. And, just in case she missed anything, she finally concludes with, "Rainbow gelato in the streets." 
This isn't the first time Beyoncé has celebrated the rainbow flag. As some may remember, her 2018 Global Citizen performance saw her and her backup dancers clad in an array of bold colors — effectively embodying the symbol, per Billboard. And, just as it isn't the first time, it certainly won't be the last. "Renaissance" in its entirety is a celebration of the LGBTQIA+ community — and to say we're here for it would be an understatement.