The Secret Jason Momoa Kept From Lisa Bonet Until They Had Kids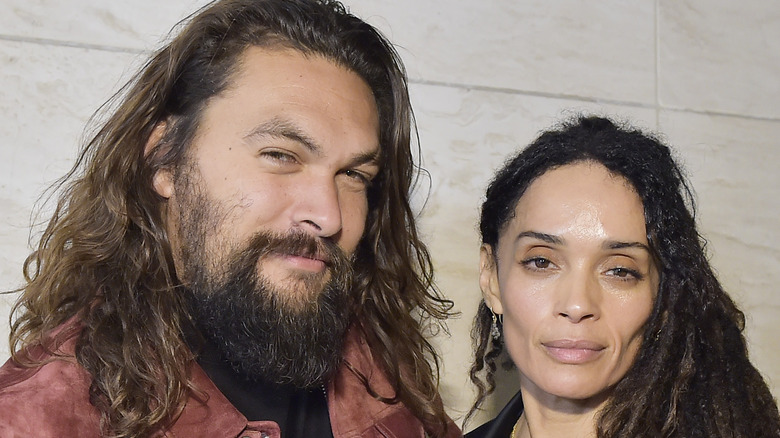 Stefanie Keenan/Getty Images
When it comes to powerful American supercouples, there's no doubt that, while they were together, Jason Momoa and Lisa Bonet ranked near the top of the list. Momoa — who made his mark as Khal Drogo in the first season of HBO's highly-acclaimed "Game of Thrones" in 2011 — is, unsurprisingly, widely considered one of America's biggest sex symbols, in no small part due to his chiseled physique and charming personality. 
Bonet, ex-wife of musician Lenny Kravitz and mother of actor Zoë Kravitz, on the other hand, first became a household name in the '80s when she starred as Denise Huxtable in NBC's "The Cosby Show." Highly acclaimed for this role as one of the most popular characters of the show, she was even nominated for a Primetime Emmy Award in 1986, at only 18 years old. After divorcing Kravitz in 1993, she and Momoa began a relationship in 2005. Together, they had two children — a daughter born in 2007, and a son born in 2008 — and subsequently wed in 2017. This relationship continued until their recent divorce, which they announced in January 2022. 
However, there are some little-known secrets about the relationship between Momoa and Bonet which they seemed to have understandably kept under wraps, at least for as long as they could. In fact, there is one secret in particular which Jason Momoa decided to keep from his wife until after they had kids, several years into their relationship.
Jason Momoa was once Lisa Bonet's stalker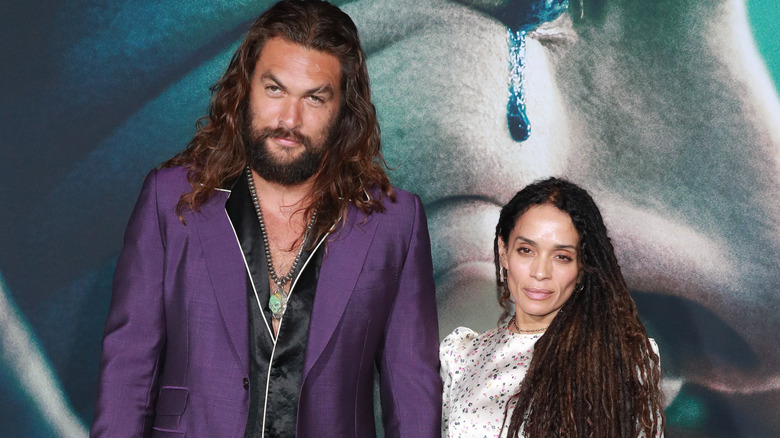 Rich Fury/Getty Images
Anyone who followed "The Cosby Show" back in the '80s will recall that Lisa Bonet, who played Denise Huxtable, became one of the biggest teenage stars of her era. Many young men across the country became enamored with the attractive young star, and Jason Momoa — her future husband — was no exception. In fact, he would go so far as to humorously call himself a "stalker" of hers, years after he ended up marrying her. 
In a 2019 interview with Esquire, Momoa revealed that this was something he did not disclose to her until after they had their children in 2007 and 2008. Bonet, he said, was "literally my childhood crush." He added, "I mean, I didn't tell her that. I didn't let her know I was a stalker until after we had the kids."
In a 2017 episode of "The Late Late Show with James Corden," Momoa reiterated this description, describing his first interaction with Bonet as "more" than love at first sight. "Ever since I was, like, 8 years old, and I saw her on the TV, I was like, 'Mommy, I want that one,'" he said. "I'm like, 'I'm gonna stalk you for the rest of my life, and I'm gonna get you.'" He jokingly added, "I'm a full-fledged stalker! I didn't tell her that till we had two babies, otherwise that'd be creepy."
Jason Momoa and Lisa Bonet will forever be 'family'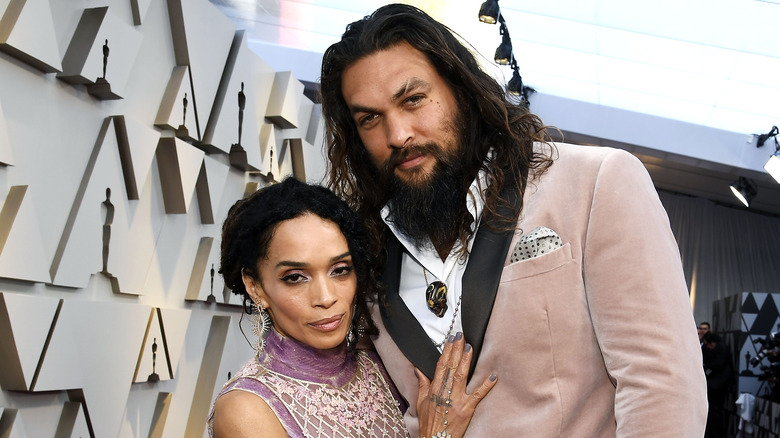 Kevork Djansezian/Getty Images
In his 2017 appearance on "The Late Late Show with James Corden," Jason Momoa also discussed his first time meeting his future wife in person, and explained just how flustered he felt. He said that he first met Lisa Bonet at a jazz club in 2005 after being introduced to one another by a mutual friend. "We just happened to be in the right place at the right time," he said, adding that he had "fireworks going off inside, man." "I had always wanted to meet her, and she was a queen, always." 
Of course, as many fans of Momoa and Bonet are aware, the couple sadly announced that they would be separating in January after about 18 years together. "We have all felt the squeeze and changes of these transformational times," the two of them said in a since-deleted Instagram post in January (via CNN). "A revolution is unfolding, and our family is of no exception ... and so – We share our Family news – That we are parting ways in marriage." 
Although rumors naturally began to circulate within a few months that the beloved couple were getting back together, Momoa denied these rumors in a March Access Hollywood interview, but assured that their bond is unbreakable. "We're not back together," he said. "We're family, you know? ... We have two beautiful children together ... We're family forever."