What Happened To Venus D'Lite After RuPaul's Drag Race?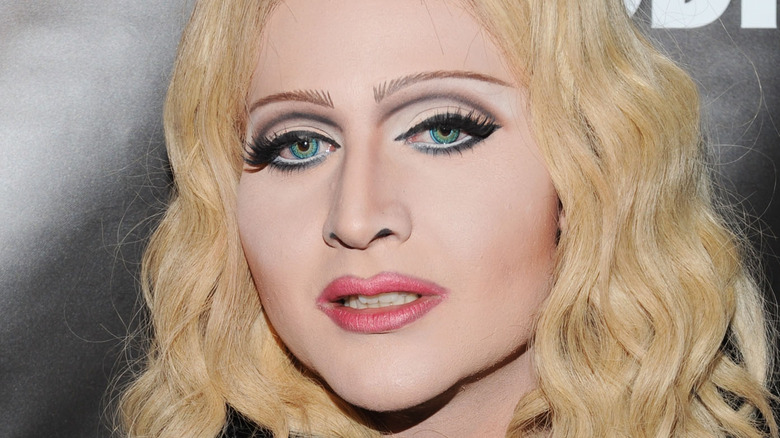 Amanda Edwards/Getty Images
Venus D'Lite was the first contestant to sashay away on Season 3 of "RuPaul's Drag Race," but what ever happened to her, post-departure?
As longtime fans of the show will remember, Madonna impersonator D'Lite was eliminated after a particularly messy Lip Sync For Your Life. Wigs were thrown, "A Star is Born" actor Shangela was pushed ... and while guest judge Vanessa Williams was spotted laughing, it's safe to say RuPaul was not impressed. "Ladies, I must admit that made me feel uncomfortable," she began. "I expect my ladies to outshine each other," she went on, "not outgun each other." A few years on, Season 6 winner Bianca Del Rio took a look back at the performance with WOWPresents, and had much the same reaction. "All of a sudden, it goes from 'RuPaul's Drag Race' to WWF," she complained. "I know Shangela, and she deserves to be beat up every now and then, but this is uncalled for!" 
However, even though the raucous performance prompted D'Lite's elimination, it's worth noting that RuPaul had kind words for the contestant upon her exit. "Tonight you may be leaving 'RuPaul's Drag Race,' but you're returning to the constellation of great drag stars. Shine on Venus," she urged, "shine on." So, did she heed the advice? 
RuPaul's Drag Race was just her first stint on reality TV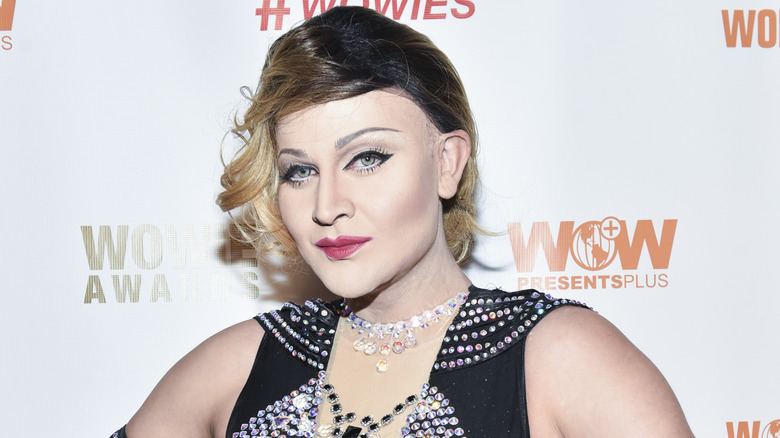 Rodin Eckenroth/Getty Images
Venus D'Lite may have left "RuPaul's Drag Race" early on, but it seems she was determined to be a reality star, with or without the competition. 
In response to Bianca Del Rio's WOWPresents video, which saw her not only criticize D'Lite for her lip sync tactics, but even comment, "I don't know who that is," D'Lite starred in a WOWPresents video of her own. Unsurprisingly, she took the opportunity to clap back. "Well in case you can't see through those fake eyelashes," she quipped, "you would have noticed that I've not only been on one, not two, but three reality TV shows." 
In a 2014 episode of "Botched," D'Lite sought to fulfill her goal of truly becoming Madonna, this time by way of a nose job. Drs. Terry DuBrow and Paul Nassif ultimately declined her request, and after learning that her own nose was "better than Madonna's" (much to her d-lite), her journey on the show was cut short. However, the next year, she was back on screens. This time, she was forced to come to terms with her "unhealthy" obsession with Madonna on "My Strange Addiction" (via the Daily Mail). However, it seems she isn't completely done with that stage of her life after all.
Deciding to quit helped resurrect her career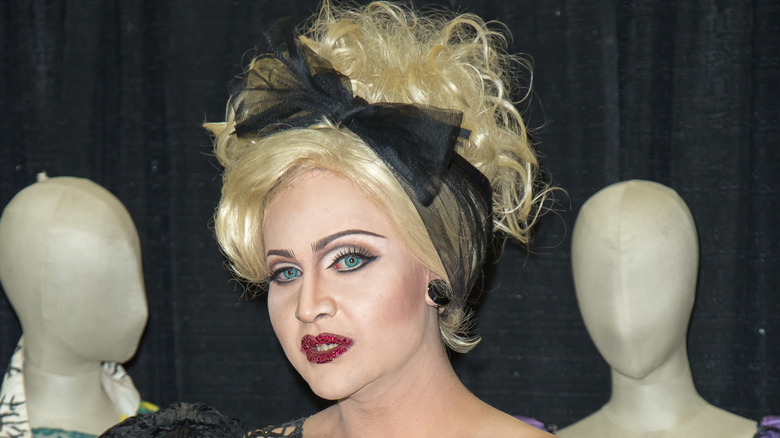 Michael Boardman/Getty Images
Venus D'Lite's "My Strange Addiction" episode ended with a statement that she had gone back to being Adam Guerra on a permanent basis, and had given up Madonna impersonation altogether (via the Daily Mail). However, in a sit-down interview with Joseph Shepherd last year, she revealed that her decision to walk away actually breathed new life into her career. 
In wake of the show announcing her retirement, D'Lite revealed that she received an outpouring of support. In addition to the media reaching out, urging her to continue and even asking her to be on their shows, fans far and wide contacted her to say how much they connected with her story. More importantly, they also pointed out something D'Lite needed to hear. That is, "I was doing something that wasn't hurting anybody." 
With the exception of a few cancelled appearances in August 2020 — as revealed in a press release on PR.com, she experienced a health scare after undergoing surgery — today, D'Lite is back to impersonating her icon to her heart's content. She may have sashayed away from "RuPaul's Drag Race" early on, but when it comes to Madonna, her commitment clearly goes over the borderline.