Why Leah Remini Hates Being Asked About Jennifer Lopez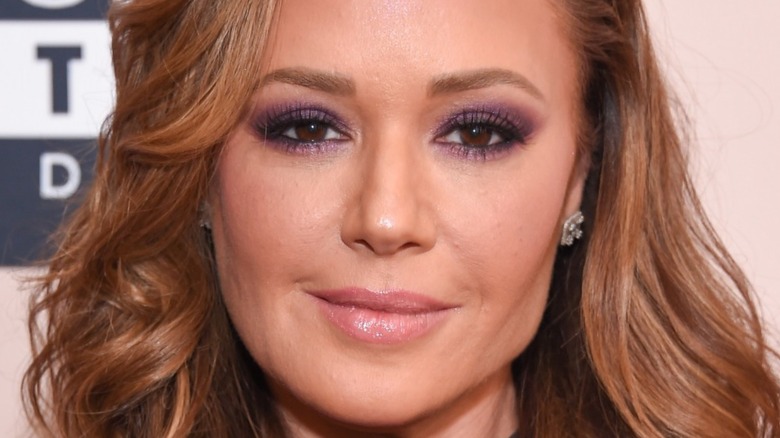 DFree/Shutterstock
Leah Remini had to sever some relationships after publicly renouncing Scientology. However, there is one particular bond that she holds dear to her heart: her friendship with Jennifer Lopez.
From the moment the two met years ago (thanks to Lopez's ex-husband Marc Anthony), it appeared as if fate brought them together. "It was one of those instant chemistry things, where you just feel like, 'I love this person. I love being around this person. This person makes me laugh,'" Lopez admitted to Entertainment Tonight. The actors have spent hours at each other's homes, chatting and laughing the time away. Remini and Lopez were even able to work together on-screen for the first time, co-starring in the 2018 rom-com "Second Act." They still stay connected to this day, with Remini famously trolling her popstar BFF on TikTok.
Because they're close, it's understandable that interviewers may ask Remini some questions about J. Lo now and then. Though Remini loves her famous friend, she actually prefers to not talk about her during interviews. And she has a perfectly good reason.
Leah Remini thinks interviewers mostly want J. Lo gossip
s_bukley/Shutterstock
According to a "Today" interview with Savannah Guthrie in February 2021, the podcast host hates when interviewers ask questions about her famous gal pal. "Not because I don't love talking about my friend, but I feel a lot of times it's for gossip purposes," Leah Remini clarified. "Especially if I am trying to talk about something that is important, like our podcast, or exposing the abuses that we're talking about in Scientology and the victims of Scientology and somebody asks me about Jennifer's wedding. I just find it utterly annoying."
To Remini, it's not even her business to share personal details about Lopez's life. Guthrie went on to compliment the actor for being loyal to her friend, expressing that's probably part of the reason they've remained so close. Another part of their bond is due to how they treat each other. In an interview with "The View," Remini described Lopez as "loving, warm, fiercely loyal, courageous, brave, true, [and] authentic," while Lopez described Remini as "courageous, caring, and generous."
With that great friendship, it makes sense Remini would also want to keep any private information between them.
The duo's roles in Second Act mirrored their real-life friendship
In "Second Act," Leah Remini and Jennifer Lopez had the chance to bring pieces of their friendship to the big screen. Lopez played Maya Vargas, a talented but undervalued shop employee who snags her dream job due to a fake résumé. Meanwhile, Remini played her straight-shooter friend Joan, who pushes Maya to make this "second act" in her life something to remember. Of course, comedy and drama ensue, but the two of them together in a movie is truly a sight to see.
On a press run for the film, Lopez herself admitted that she loved that everyone could see their bond play out in the film. "The relationship that Maya and Joan have is very special and the relationship that we have is very special," Lopez said. "I knew that if we could capture our real honesty, our real love, our real humor, then that would be something really entertaining and fun for everybody to see." Cheers to real friends!