How Leah Remini Really Feels About Katie Holmes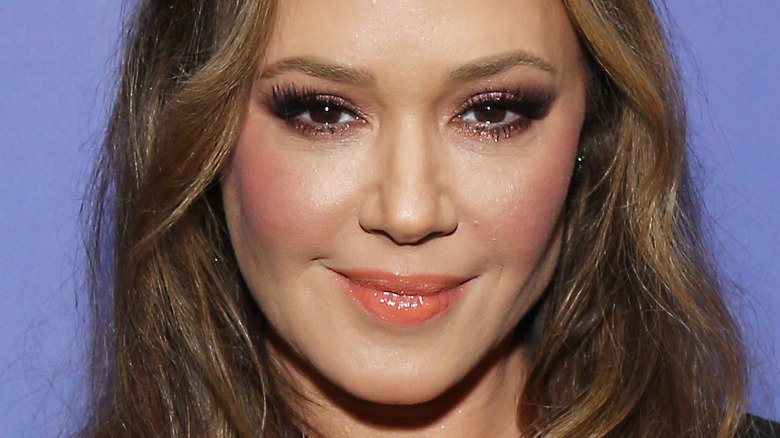 Michael Tran/Getty Images
Leah Remini is everyone's favorite troublemaker — everyone except the Church of Scientology, that is. Since leaving the church, Remini has gone scorched earth and exposed as much dirt about its inner workings as she possibly can. Most notably, she filed a missing person report in 2013 for Shelly Miscavige, the rarely-seen wife of Scientology leader David Miscavige. Remini also produced and presented the A&E documentary series "Leah Remini: Scientology and the Aftermath," and followed it up with a podcast, "Scientology: Fair Game." While the series is over and the podcast is currently on hiatus as Remini judges "So You Think You Can Dance," she remains the most high-profile figure ever to challenge the Church of Scientology.
While she's certainly the most vocal about it, Remini isn't the only famous actor to exit the doors of the Scientology Celebrity Centre for good. All three of Tom Cruise's past wives, Mimi Rogers, Nicole Kidman, and Katie Holmes, left Scientology after their divorce. While Rogers grew up in the church like Remini, Kidman and Holmes both became involved due to their affiliation with Cruise and ended it shortly thereafter. Remini and Holmes were close during their overlapping time in the church, with Remini even attending Holmes and Cruise's wedding, but was their friendship able to survive the upheaval of leaving Scientology?
Katie Holmes wrote an internal report on Leah Remini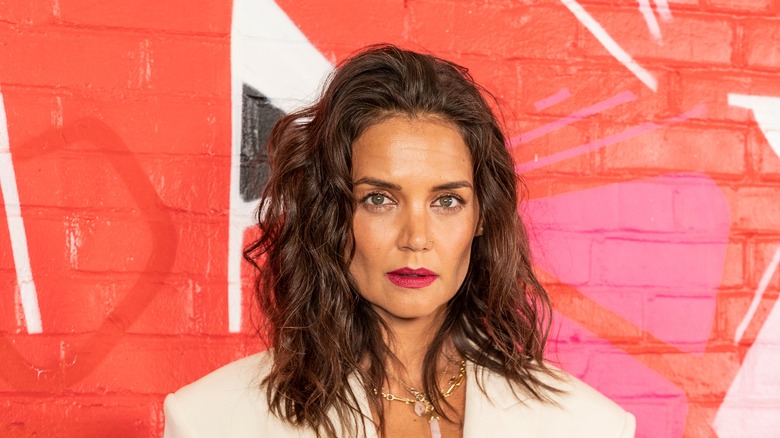 lev radin/Shutterstock
Before leaving the Church of Scientology, Leah Remini was in deep trouble after her appearance at Tom Cruise and Katie Holmes' Rome wedding, an event she later recounted in her memoir "Troublemaker." Remini claimed she had a deal with the church that she could only come to the wedding if she recruited her A-list friends, Jennifer Lopez and Marc Anthony. Throughout the party, Scientologists kept trying to separate Remini from Lopez to charm the "Jenny from the Block" singer. 
After the wedding, Remini said Holmes had her written up for "disrupting the party" and "being a poor example to others," per Entertainment Tonight. In a 2017 interview on "The Adam Carolla Show," Remini revealed why she got reprimanded, saying, "I was seeing behavior from senior executives of the church that was out of line with our policy. Then I started to get accused of being out of line." Afterwards, she was interrogated over her pot-stirring at the Celebrity Centre.
After she left the church, Holmes released a short statement apologizing to Remini, saying, "I regret having upset Leah in the past and wish her only the best in the future." Remini accepted, tearfully replying on Good Morning America, "At the time, I was thinking of myself and my family and what we were going through. And although painful, I had no idea she was going through probably a lot more."
Leah Remini and Katie Holmes haven't spoken in years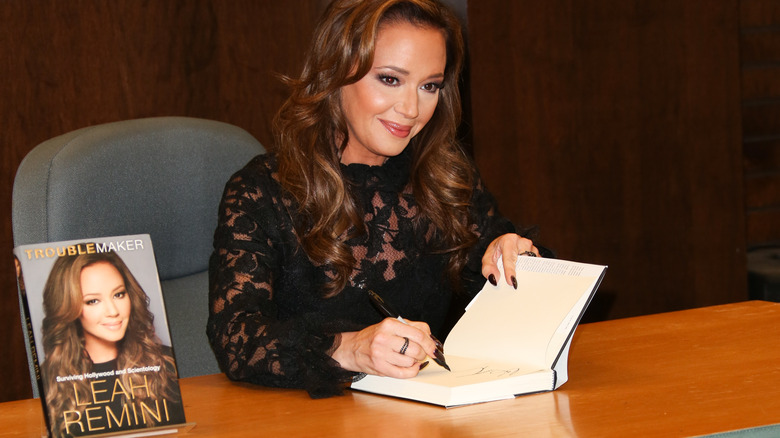 Paul Archuleta/Getty Images
Unfortunately, Leah Remini and Katie Holmes have yet to reconnect after leaving the Church of Scientology. Despite no longer being active Scientologists, Remini claims they aren't exactly out of the woods to do as they please. In a 2018 interview with LaPalme magazine (via Us Weekly), Remini said, "I keep wondering— why haven't Katie Holmes or Nicole Kidman spoken out? I assume they were forced to sign prohibitive documents. Trust me, Katie's not allowed to have a meal with me and we used to be close friends. She could lose custody of Suri [Cruise]. It's quite sick, really."
It's sad that Remini and Holmes never got to sit down, as so much has happened since they've last spoken and they could easily relate to each other's stories of leaving the church. Both are now considered "suppressive persons" by the Church of Scientology, and also returned to their Catholic roots after leaving. Although Remini joined Scientology at a young age, she was raised Catholic even earlier and went back after deciding she still wanted religion in her life.
While a reunion between Remini and Holmes would be great not only for them but for everyone else affected by Scientology, it's understandable that it hasn't occurred if Holmes' family situation stands in the way. There's still no tell-all book or interview in sight ten years after Holmes' divorce from Cruise, so Remini might not get to see Holmes speak up after all.