How Bobby Brown Really Felt About Britney Spears' Cover Of His Hit Song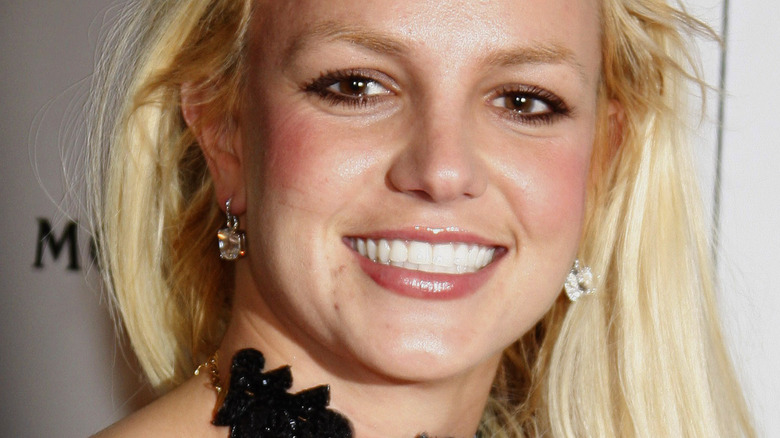 Tinseltown/Shutterstock
Britney Spears' legions of loyal fans know she has dominated the world of music for over two decades. In many ways, her sound and style defined pop music in the 2000s. However, one of her most popular, and arguably most well-known, songs was actually a cover by another well-known artist: "My Prerogative." Co-written and performed by R&B star and Whitney Houston's former husband, Bobby Brown in 1988, Spears released her cover of the classic track in 2004. She included it as the lead single for her compilation album, "Greatest Hits: My Prerogative," (via Discogs) which was the only album she released that year.
Although it received a mixed to negative response from music reviewers at the time, fans responded well to the single, with it topping the charts in several European countries — she even named her first-ever unisex fragrance after it. But how did the man who started it all — Bobby Brown himself — feel about it? Well, perhaps unsurprisingly, he did not mince words when it came to the song itself. 
Bobby Brown warned Britney Spears: Don't do that again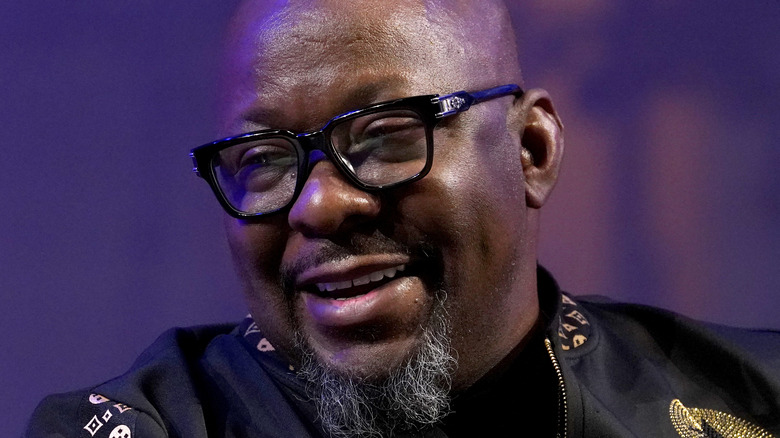 Bennett Raglin/Getty Images
In 2005, the year after Britney Spears' cover of "My Prerogative" was released, Bobby Brown gave an interview to New York Magazine in which he was asked about the cover of his hit song. "I loved the video," he responded. When pressed about the song specifically, Brown only said, "Why try to fix something that ain't broke? That's what I say." However, he added that he was "grateful" that someone covered one of his songs, adding humorously that "the [royalties] check wasn't bad either." 
In addition, Contact Music revealed in 2004 that Brown only agreed to allow Spears to cover his hit song because of the royalties he would earn, perhaps echoing his "if it ain't broke" mantra. He reiterated in an interview with the outlet that he "love[d] the video," however, he was "not impressed with the music," as it was "not [his]." He went on to address Spears directly, saying, "Call me, Britney, we'll get together and I'll show you how to really do it. Don't do that again."
"That is my anthem and I wouldn't mess with 'Toxic' or anything like that," he added, "but I love Britney."
Did fans agree with Bobby Brown?
Contemporary reviewers seemed to agree with Bobby Brown's assessment of Britney Spears' cover at the time — while the music video, which has racked up close to 44 million views as of August 2022, was highly acclaimed, reviews for the song itself were more mixed. After all, Brown and his original version of the song are both considered to be pioneers in the new jack swing (via Rolling Stone), while the cover was revised by Spears to have a more synth-pop style. 
In fact, Stephen Thomas Erlewine of All Music mentioned in his review of the "Greatest Hits" album that the song was a "useless remake" that "seems to exist solely for its video." Christy Lemire of Today said the song was "entirely unnecessary," and was only made for the trendiness at the time. IGN's Spence D., who was more favorable to the song, even mentioned that the album left the listener "smiling while simultaneously cringing at the '80s excess funneled into the late '90s and early double-0's."
However, in the years since, many fans have found a deeper meaning to Spears' cover. Though her conservatorship of over a decade did not start until several years after the release of the song, many connections (via The Sun) have still been drawn between the undue control her family and professional team had on her and her musical performance in the early 2000s, meaning that sometimes, it may just take some time for artwork to be truly appreciated.